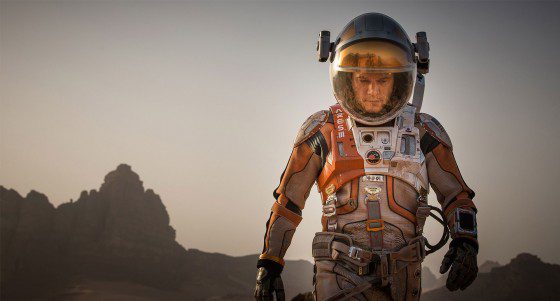 October 2nd
The Martian: During a manned mission to Mars, Astronaut Mark Watney is presumed dead after a fierce storm and left behind by his crew. But Watney has survived and finds himself stranded and alone on the hostile planet. With only meager supplies, he must draw upon his ingenuity, wit and spirit to subsist and find a way to signal to Earth that he is alive.
Sicario: An idealistic FBI agent is enlisted by an elected government task force to aid in the escalating war against drugs at the border area between the U.S. and Mexico.
October 9th
The Walk: In 1974, high-wire artist Philippe Petit recruits a team of people to help him realize his dream: to walk the the immense void between the World Trade Center towers.
Pan: 12-year-old orphan Peter is spirited away to the magical world of Neverland, where he finds both fun and dangers, and ultimately discovers his destiny — to become the hero who will be forever known as Peter Pan.
October 16th
Bridge of Spies: An American lawyer is recruited by the CIA during the Cold War to help rescue a pilot detained in the Soviet Union.
Crimson Peak: In the aftermath of a family tragedy, an aspiring author is torn between love for her childhood friend and the temptation of a mysterious outsider. Trying to escape the ghosts of her past, she is swept away to a house that breathes, bleeds…and remembers.
Goosebumps: A teenager teams up with the daughter of young adult horror author R.L. Stine after the writer's imaginary demons are set free on the town of Greendale, Maryland.
October 23rd
Burnt: Adam Jones is a Chef who destroyed his career with drugs and diva behavior. He cleans up and returns to London, determined to redeem himself by spearheading a top restaurant that can gain three Michelin stars.
Jem and the Holograms: As a small-town girl catapults from underground video sensation to global superstar, she and her three sisters begin a journey of discovering that some talents are too special to keep hidden.
The Last Witch Hunter: The last witch hunter is all that stands between humanity and the combined forces of the most horrifying witches in history.
Rock the Kasbah: A down-on-his-luck music manager discovers a teenage girl with an extraordinary voice while on a music tour in Afghanistan and takes her to Kabul to compete on the popular television show, Afghan Star.
Paranormal Activity: The Ghost Dimension: A family discovers old VHS tapes and a camera that lets them see into another dimension in the final chapter of the Paranormal Activity series.
October 30th
Our Brand is Crisis: A feature film based on the documentary "Our Brand Is Crisis", which focuses on the use of American political campaign strategies in South America.
Scouts Guide to the Zombie Apocalypse: Three scouts, on the eve of their last camp-out, discover the true meaning of friendship when they attempt to save their town from a zombie outbreak.
I'm like the J. Jonah Jameson of Everything Action, writing and editing and constantly demanding pictures of Spider-Man.
bridge of spies
burnt
crimson peak
goosebumps
jem and the holograms
october movie preview
our brand is crisis
pan
paranormal activity: the ghost dimension
ridley scott
rock the kasbah
scouts guide to the apocalypse
sicario
spielberg
the last witch hunter
the martian
the walk