The Pull List One Shot: James Bond #1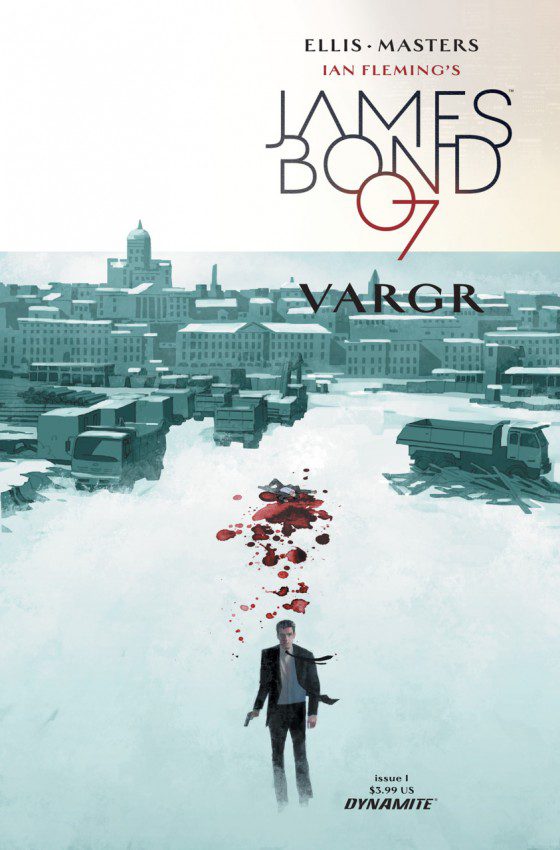 With Spectre hitting theaters, Dynamite took the opportunity to launch their new on-going James Bond series with comics legend Warren Ellis on board to write.  *Spoilers for Issue #1*
The first arc, titled Vargr, starts out in a much grittier place than the typical Bond cold open, as Bond hunts down and kills the man who killed 008.  After returning back to MI6, Bond is informed by M that he will have to pick up 008's caseload, the main case being investigating a new synthetic drug that has started to appear in London.  Bond heads to Berlin to meet a contact of Felix Leiter and that's basically it for the issue.  Well, there is the foreshadowing of the new Bond villain, an assassin who is neurlogically unable to feel or process pleasure.  Outside of the fantastic opening sequence, this issue is a lot of setup and doesn't have any of the typically over the top Bond action yet.  Even Q branch doesn't have anything too special to give Bond outside of a new ammunition type for his Walther PPK that contains eight projectiles in a single bullet.  It's possible that things will get crazier and more world spanning in the next few issues, but right now it almost feels like the story was already setup and then Bond was sort of placed over top.
While it feels closest in tone to Daniel Craig's Bond, it's kind of strange that the Bond of the comic is a black haired Bond who looks more similar to a Pierce Brosnan or Timothy Dalton.  Moneypenny seems to be modeled on Naomie Harris but M in the comic universe is not a Ralph Fiennes type but is black as well but they all seem like their movie counterparts, like Moneypenny and Bond's banter or M's frustrations with his best agent.  There's some interesting things you don't normally see or that is never mentioned that is brought up here, like Bond eating lunch with Bill Tanner to get the details on the mission or Bond being separated from his Walther because the British government is cracking down on their guns laws.
Warren Ellis' writing is typically excellent and the art by Jason Masters is also great, especially the cinematic wide panels of the opening chase.  Ellis is no stranger to the world of espionage, having written the comic book Red that the movies were based on.
James Bond #1 is not quite what you would expect from the world's greatest spy but I trust Warren Ellis to bring it in an interesting direction, especially after his recent amazing run on Moon Knight over at Marvel.  I feel like we we're being setup for the first big Bond sequence in the next issue or two as Bond's meeting with Felix's contact is definitely not going to go as planned.
(James Bond #1 is in comic stores right now and also on Comixology)
I'm like the J. Jonah Jameson of Everything Action, writing and editing and constantly demanding pictures of Spider-Man.
berlin
bill tanner
comics
daniel craig
dynamite
dynamite comics
felix leiter
james bond
james bond #1
jason masters
MI6
moneypenny
pierce brosnan
q
revenge
synthetic drug
timothy dalton
vargr
warren ellis