The Pull List: 451's Launch Titles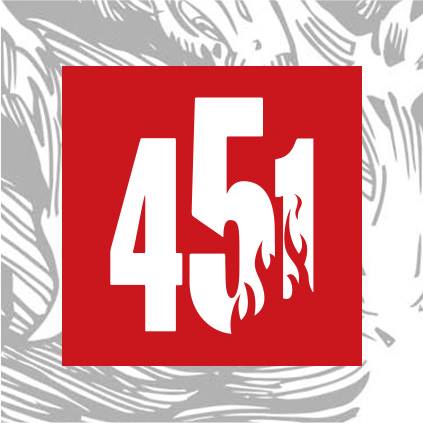 Having a huge presence at last month's NYCC was the new comic company 451, which was co-founded by Michael Bay and was giving away the first issues for their launch lineup, which we obviously picked up.  The lineup is all genre fare, with most falling into the horror genre (and coincidentally two involve werewolves) and each comic comes with a card that lets you use the 451 app (which is on the App store and Android) to unlock additional features like concept art and the digital version of the comic.  I finally had the chance to check out all the titles and see what this new publisher had to offer.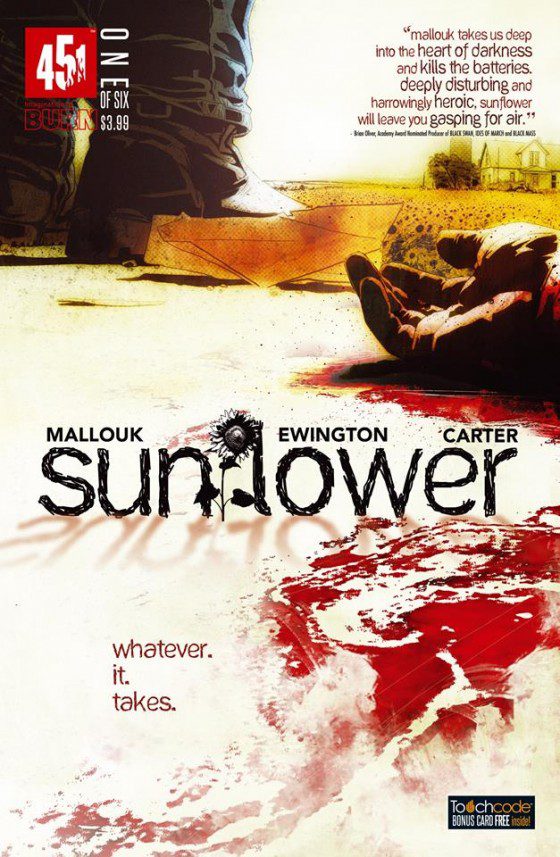 Sunflower: Written by Mark Mallouk, who wrote the screenplay for last month's Johnny Depp movie Black Mass, and drawn by Lee Carter, Sunshine delivers the most down to Earth 451 title, even though it still involves a possible Charles Mansonesque cult of killers.  CJ Pierce is a woman who lost her husband and daughter to a killer, Rush Bridges.  Ten years later, CJ gets a mysterious postcard that seems to be in her daughter's handwriting and she sets out to investigate and hopefully find her daughter.  She finds a town that is scared to death of Bridges and talks to another family that lost members but basically gets no help anywhere.  CJ seems like an interesting protagonist and feels like if there was a movie version of this comic, she'd be played by someone like Charlize Theron.  It feels like the first chapter of a crime thriller and if you're into that genre, definitely worth checking out.  Issue #1 is out now and the second issue is in December.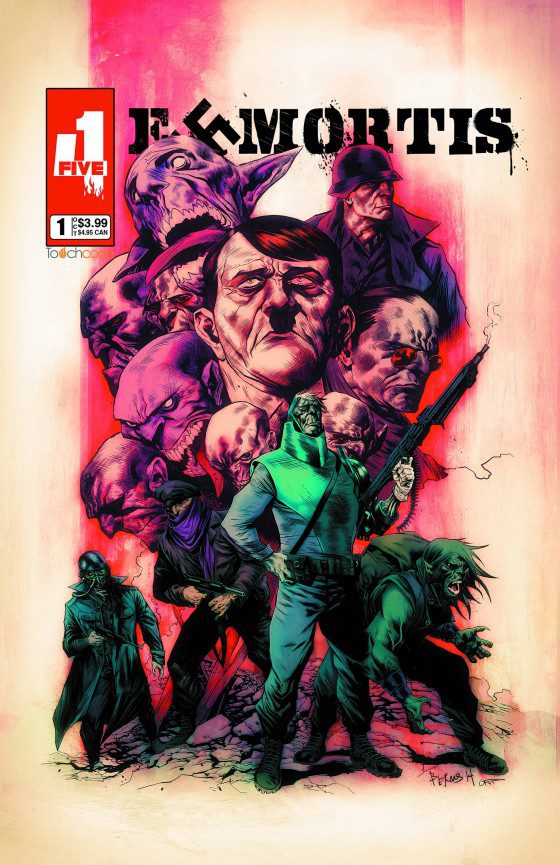 Ex Mortis: Written by The Williams Brothers with art by Ramond Bermudez and probably the funnest of the 451 launch titles and the one with the best hook, Ex Mortis is set during World War II and finds a secret unit of supernatural agents being formed by the US to stop Hitler from using the secrets of Victor Frankenstein's research to create an army of unstoppable monster soldiers.  It feels a lot like Hellboy, there's even a sort of Abe Sapianesque creature on the team, and the main character is a US marine who is a werewolf.  The team is tasked with attacking the mountain fortress of Joseph Mengele, who already has a squad of monsters being trained.  It seems like there could be some potentially crazy action in future issues and it's just a fun, Grindhouse style mashup.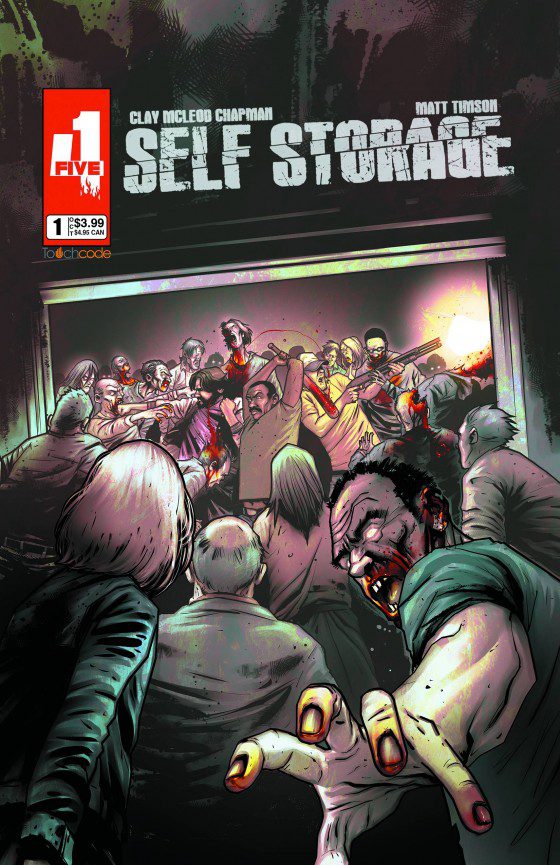 Self Storage: Written by Clay Mcleod Chapman and illustrated by Matt Timson, Self Storage is 451's zombie title but it has a slightly different spin on the genre.  The book follows Chris, who makes his living buying and selling storage units.  After a string of kind of terrible deals, Chris is given the chance to buy a mysterious unit from codgery storage facility manager Walt that he says was paid for by a rarely seen man for years before he vanished.  Chris pays and finds that the only thing in the unit is a vicious and naked zombie woman.  There's only one real zombie attack in the issue but it does a great job of setting up a group of unique characters and it leaves things on a great cliffhanger and interested in why a zombie was locked in the unit, and how no one noticed it until now.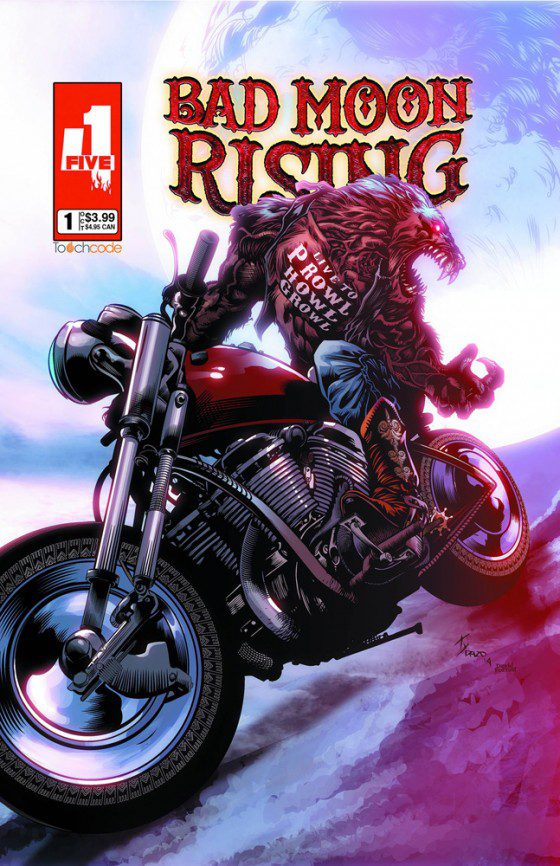 Bad Moon Rising: Probably the weakest of the launch titles, despite the awesomeness of the idea of a werewolf biker on the cover.  Written by Scott Rosenberg and illustrated by Ty Dazo, the book is a bit of a mess setting up tons of characters, who all end up in the small town of Talbot, WV for various reasons.  It's hard to keep track of the relationships as the book just kind of throws names out and then moves on to the next scene.  From what I get, there's a man, Teddy Hanlon, returning home when his father is killed by what seems like an animal and there's a biker gang who are celebrating the release of one of their own from jail.  There's also a detective investigating a string of murders in NYC and a crackpot doctor who sees a gypsy woman.  It just feels like way too much jammed into one issue.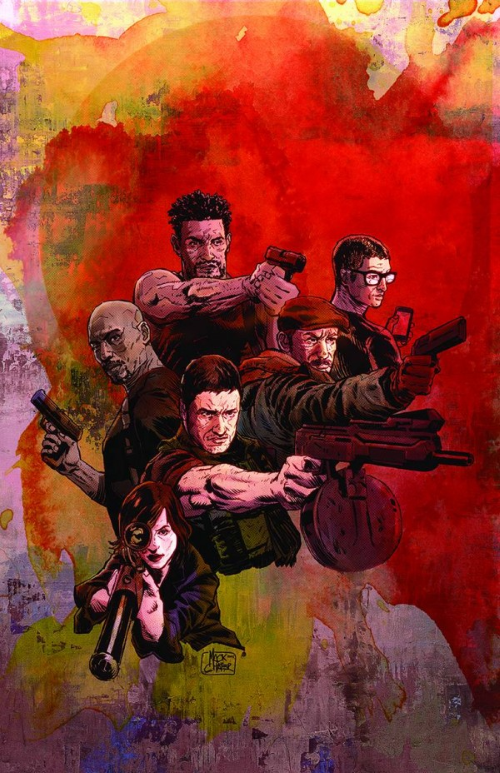 The Six: Created by George Pelecanos, who worked on The Wire, written by Andi Ewington and illustrated by Mack Chater, The Six follows a marine squad who discovers a cache of gold while fighting in Iraq and decides to fake their deaths and keep the cash.  Years later, the widow of one their members needs help and the squad comes out of hiding to assist.  There's some good action in the flashback to Iraq but the characters seem to be a little stereotypical right now and there isn't a great hook or cliffhanger at the end to keep you interested.  It seems like it's trying to go for something like The Losers but it's not quite there.
I'm like the J. Jonah Jameson of Everything Action, writing and editing and constantly demanding pictures of Spider-Man.
451 media
bad moon rising
comics
ex mortis
greg pelecanos
mark mallouk
michael bay
review
self storage
serial killer
special forces
sunflower
the pull list
the six
werewolves
world war II
zombies