Review: Ash vs. Evil Dead Ep. 2 – 4
By Chris
A quick recap of Ash vs. Evil Dead Episodes 2 -4 with MINOR SPOILERS, read with caution.
Episode 2: "Bait"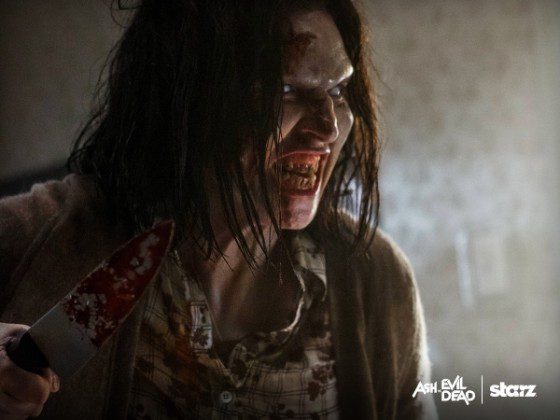 Picking up from the extraordinary introduction of the series, episode 2 starts with Ash and friends trying to figure out the next move in combating the evil forces. Kelly quickly leaves the the group to go find what happen to her parents them, leaving Ash and Pablo chasing after her. When they arrive at Kelly's house, everything seems to be calm. Even with the sudden arrival of Kelly's mother (Played by Mimi Rogers)  returning from the dead. However, Ash senses Kelly's mother to be an actual deadnite and stays for dinner to see if he can lure the deadnite out in the open. Ash sucker punches Kelly's mother into revealing herself and he cuts her down in a blood fashion.
Episode 3: "Books From Beyond"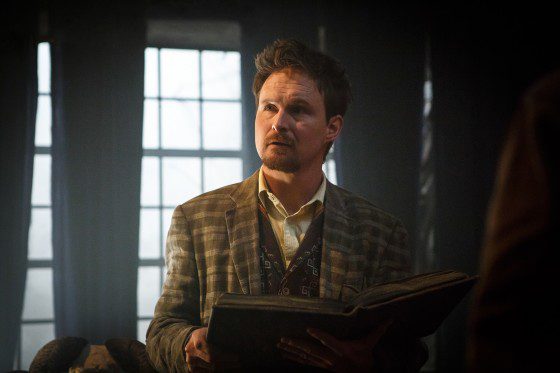 The group then leaves to visit "Books From Beyond" where a occult specialist may know how to stop the evil. Meanwhile, Amanda Fisher is on the trail Ash from all the bodies he leaves behind and finds a clue that leads her to the same book store. Following another trail, Ruby is tortures a deadnite to reveal that she too is looking for Ash. When Ash and the group meet the occult specialist Lionel Hawkins (Played by Kelson Henderson) and encounter Amanda Fisher who has finally caught up with Ash and planned to arrest him. She is subdued and Ash convinces Lionel to summon a demon named Eligos to get some answers about the Book of the Dead. However, the group cannot control Eligos and gets loose in the book store, killing Lionel and wrecks havoc until Kelly smashes it away with the Book of the Dead as a weapon. This leaves the group to turn to Pablo's mystic uncle Brujo (Played by Hemky Madera) to help them. Meanwhile, Ruby finds Amanda in the wrecked book store and they team up to hunt down Ash together.
Episode 4: "Brujo"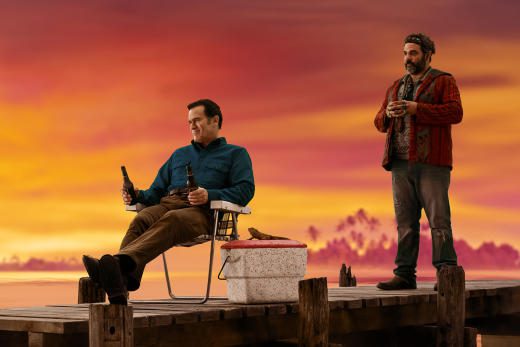 Ash and the group arrive at Brujo's home, where Pablo is scolded by his uncle for abandoning his mystical practices and Ash is tasked with a inner spirit quest. With the use of a potent herbal remedy, Ash is able to delve into his mind and find his happy place and better understand himself as the savior of mankind. Meanwhile, Kelly reveals she is possessed by Eligos and tries to sabotage Ash's spirit quest. Ash manages to find some answers in his mind, but Eligos has convinced the rest of the group to think that Ash is the possessed one.
Ray Santigo as Pablo Simon Bolivar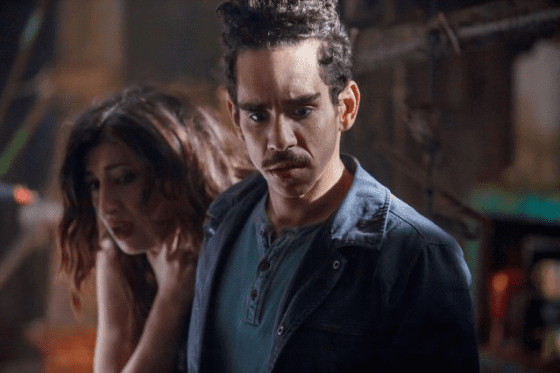 Episodes 2 to 4 starts the process of evolving each character to show how much they are growing from their horrific experience. One of the major characters to undergo major transformation is Pablo Simon Bolivar. Played by Ray Santiago, Pablo looks up to the character of Ash as a leader and a hero, and is now pushed into this world that Ash has talked about in the past. Santiago explains how Pablo sees beyond the lazy and corny exterior of Ash and looks to see the better traits in him.  "…it's not like he necessarily wants to be Ash but in idolizing him, he, sort of, finds the road to becoming the man that he wants to be. And so I think he chooses when he wants to see Ash's faults, the pros and cons,  who he is and sees the inner hero in him when he wants to". After the second episode, the bond between Pablo and Ash is strength and there is mutual respected. "…as you see throughout the season, Ash is sort of spur of the moment gives him the love and acceptance that he's sort of been seeking from the world".
In later episodes, we see Pablo being the most caring of the group, and well as the most skilled with technology and magic. Santiago explains there is still more to develop with Pablo's skill and emotions. "Episode 4, he's pretty tech savvy and we haven't really explored that side of him or showed that side of him other than this episode. But, you know, he's there to give Ash a hand in fighting evil and he's pretty much doing that as you can see. So along with Pablo being the heart of this team and always being the good conscience and making sure that everybody's mind is in the right place and doing the right thing, Pablo's smarter than most people would expect him to be."
I asked Ray what was his previous experience to the Evil Dead series was like and how it helped his role as Pablo. "So I watched 1 and 2 as a kid, as a teenager in high school one Halloween with all my friends. We just like watched both of them and we really loved it, just like the practical effects and just how cheesy it was and how it, sort of, made you laugh but also scared you. I didn't really watch Army of Darkness until I was in New Zealand shooting the show. And I guess for me, Evil Dead One was the scariest. And I loved how it just linger on random shots of you know, the girlfriends were sort of, like laughing demonically, you know. I just appreciated Sam as the director in 1 and 2 and also Army of Darkness. But as a kid I was just, sort of, like wow, this is really interesting. I could see what was going on and now I get to be a part of the future".
Ray Santigo is living the Evil Dead fanboy dream and working hard as Pablo, "Ash vs Evil Dead" is on the Starz channel  Saturday at 9 p.m. ET.
Bitten by a radioactive video store rental employee and overcome by Pac-Man fever, Chris seeks new comic books, games, and movies to review.
ash vs evil dead
ray santiago
starz