Best of 2015: Zach's Top Ten New TV Shows
By Zach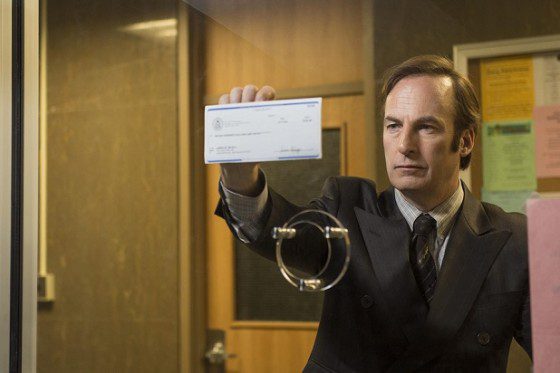 With Netflix, Amazon and even Hulu adding original shows in addition to the main networks and cable, 2015 was jam packed with great TV and here our my picks for the ten best new shows of the year.
Better Call Saul: There was a ton of pressure on Better Call Saul as the follow up to Breaking Bad, widely and rightfully considered one of the best TV shows of all time, but Saul managed to forge it's own path as a perfect blend of drama and comedy as we follow Bob Odenkirk's Jimmy McGill start his evolution into Saul Goodman, even though he tries at first to do good with his legal business but things keep escalating that forces him to get shadier and shadier.  The other thing that makes Better Call Saul great is that we get a ton more from Jonathan Bank's Mike and his backstory episode of how he ended up in Albuquerque is one of the best episodes of the year.
Daredevil: Netflix's first entry into the Marvel Cinematic Universe set the bar incredibly high with it's dark and thrilling take on the Man Without Fear.  Charlie Cox was perfectly cast as Matt Murdock as he captures both the exterior charm of Matt and the brooding brutality of Daredevil and he was up against the one of the most interesting MCU villains yet, Wilson Fisk, played by Vincent D'Onofrio.  There was some incredible fight sequences, like the much hyped one take hallway fight early in the seasons and a duel with a ninja and with the addition of Punisher and Elektra for the next season, I cannot wait to see what happens next.
Ash vs Evil Dead: Perfectly capturing the tone of the original trilogy, Ash vs Evil Dead is just an absolute blast full of great Bruce Campbell one-liners, crazy fights against Deadites and a pair of great sidekicks for Ash with Pablo (Ray Santiago) and Kelly (Dana DeLorenzo).  It hasn't wrapped up yet as of this list but I can't see how it could blow everything they've built up so far, especially now that *spoilers* they are back at the Evil Dead cabin for what Ash hopes is the final battle with evil.
Jessica Jones: The second Netflix Marvel show, Jessica Jones was just barely below Daredevil but still fantastic and while Daredevil was a martial arts filled battle, Jessica Jones was a creepy noir toned story where Jessica has to deal with her past and face off against maybe the creepiest villain in the MCU so far, Killgrave, played perfectly by David Tennant.  There was some great supporting work from Mike Colter as Luke Cage and Rachael Taylor as Trish Walker but it felt like the series peaked a bit at the mid-point, after which it felt like the show was in a holding pattern till the finale.  It's still overall excellent and I can't wait to see both Luke Cage on his own and both Jessica and Luke meeting Daredevil for the inevitable team-up.
The Muppets: The amount of hate this show received is baffling to me because I thought this new take on the Muppets was hilarious and tons of fun.  The setting of backstage at Miss Piggy's late night talk show was a perfect fit and a great way to bring in the hallmark celebrity cameos and it's fun to spend an extended amount of time with the Muppets and start learning more about their lives, whether it's Scooter's Prinicipal Skinneresque relationship with his mother or Electric Mayhem's drug addled weirdness, I want to see more and I hope this supposed "reboot" when it comes back after break doesn't drastically change things.
Wet Hot American Summer: First Day of Camp: The movie Wet Hot American Summer is one of my all time favorite comedies with it's wonderfully bizarre changes in tone and a murder's row of some of the best actors in the genre.  The fact that everyone came back, plus had new additions like John Slattery, Jon Hamm, Michael Cera, Lake Bell and Chris Pine makes this prequel series just as great as the movie and the extended run time just gives more chances for all kinds of great bits, like the one day production of the camp musical, Electro City.
The Grinder: Wonderfully meta and led by the fantastic pairing of Rob Lowe and Fred Savage, The Grinder is just a ton of fun as Dean Sanderson (Lowe) returns home after starring in the, by the brief glimpses we've seen, terrible but popular legal thriller, The Grinder, and now wants to keep Grinding by helping his brother Stewart (Savage) at his actual law firm in Boise.  Lowe is hilarious as Dean, treating real life like it's still a TV show and drawing in almost everyone but Stewart into his delusions.  Some excellent guest roles from the likes of Timothy Olyphant and Jason Alexander also makes this one of the best new sitcoms of the year.
Limitless: Probably the biggest surprise of the new TV season, Limitless seemed like a dumb, souless cash-in like Fox's Minority Report show but Limitless quickly shed it's procedural structure and just became this weird, fun hangout show where our hero Brian Fitch imagines black ops missions as Ferris Bueller's Day Off or hatches an NZT powered scheme to catch all the criminals on the FBI's most wanted list to get himself a clubhouse in the FBI headquarters.  Althought I've never seen it, if you were a fan of Psych, I've heard a lot of people say Limitless feels like that show's spiritual successor.  Plus, Bradley Cooper actually shows up occasionally as possible future president, Eddie Morra.
Fear the Walking Dead: Although it was short, Fear the Walking Dead was a solid prequel to the events of The Walking Dead and gradually ramped up the crisis until all hell breaks loose in the final few episodes.  It has a really strong cast, including Kim Dickens and Cliff Curtis, and some solid zombie action but hopefully it ramps things up in the second season because it's still nowhere near the brutality and insanity of the main show.
Wayward Pines: Originally seeming like a modern spin on Twin Peaks, Wayward Pines quickly launched into the stratosphere of craziness that actually required an entire episode of explanation about what was happening and it was a pretty fun roller coaster ride over the summer.  I'm not sure where it will go in it's second season but I'm pretty interested to see if it can top the madness of this first season.
Honorable Mentions
The Spoils Before Dying: That's Jazz, you dig?
Moonbeam City: Rad Cunningham for life
I'm like the J. Jonah Jameson of Everything Action, writing and editing and constantly demanding pictures of Spider-Man.
ash vs evil dead
best of 2015
better call saul
blindspot
daredevil
fear the walking dead
jessica jones
limitless
moonbeam city
new tv shows
the grinder
the muppets
the spoils before dying
top ten
wayward pines