Best of 2015: Brian's Top Ten Movies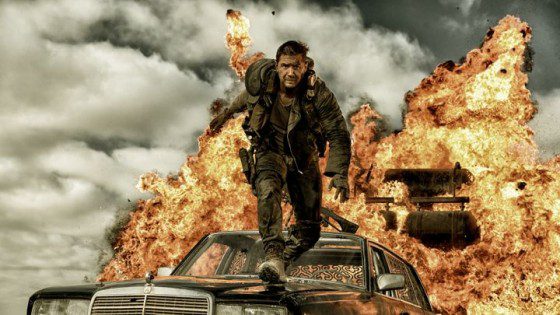 If you take a look at the list below you may be a bit disappointed. Ten movies. Seven sequels. Four of them technically reboots. Hollywood's really run out of ideas, huh? Well, never fear. Even though sequels and reboots are all over this list, it doesn't matter. These are the ten best movies of the year and they are deserving. Check them out below.
Mad Max: Fury Road – It's been 15 years since Russell Crowe's Maximus bellowed to us the question: "Are we not entertained?". Every year action movies get brasher and bolder and either just live up to the promise or fall woefully short. So who was to expect a franchise 30 years dormant to come back out of nowhere and rock our collective socks off? With O.G. director George Miller at the helm and buoyed by strong performances by Charlize Theron and Tom Hardy, the latest entry in the Mad Max saga was a more than pleasant surprise. Gripping, thrilling, and just overall bonkers, "Fury Road" grabs a hold and never looks back. The best action film of the year and the best film of the year, period.
Star Wars: The Force Awakens – The most hyped movie of the year delivered. Not only at the box office, but in content as well. A great mix of old and new characters come together for a fun and exciting space opera that will wipe the bad taste of the prequels out of your mouth. Yes, the plot does seem a bit too similar to "A New Hope", but what's important is that the heart from that movie is there as well. And in a long, long time I'm pumped to see what next. "Star Wars" is back.
Mission Impossible: Rogue Nation – MI films are like Lay's potato chips: you can't have just one. The fifth overall installment in the MI franchise never seems stale or forced. All you need is Tom Cruise's Ethan Hunt, a formidable foe, and Simon Pegg's Benji as the plucky sidekick. More, please.
Jurassic World – See what I said about sequels and reboots? Little-known indie director Colin Trevorrow was handed the keys to another long-dormant franchise and capitalized big time. Remembering the thrills and the heart that make the original a classic 20 plus years ago, "World" is an excellent addition to the franchise. And gives it a much needed shot in the arm.
Inside Out – Disney/Pixar's track record recently hasn't been much to write home about, so it's not hard to see why some people have felt their recent films have lost their touch. Then comes "Inside Out", with a wonderfully original story and great voice acting. It also nails Pixar's greatest edge: that some problems kids face are just relevant as an adult.
SPECTRE – The rule of thumb is that every even Bond film is good while the odd ones aren't much. "SPECTRE" might not have set the world on fire or left a bigger and better impression than "Casino Royale" or "Skyfall". But it's still a hell of a lot better than "Quantum of Solace". Craig gives another steely performance as Bond and Lea Seydoux does well as a Bond girl with a big connection. And then there's Christoph Waltz's main villain who takes on a greater form in a solid twist. A tad overstuffed and overlong like "Skyfall", "SPECTRE" isn't a spectacle but it's still a solid flick.
Creed – Another long-running franchise left on the mat, "Creed" makes all the right moves. First is bringing in Ryan Coogler, director of the wonderful "Fruitvale Station", at the helm. Second was casting Michael B. Jordan as the titular character: the son of the late famed Apollo Creed. Third was having Sly Stallone to return in a supporting role as Rocky. The result is a purely exciting boxing film. Jordan proves he can lead a film like this and Sly brings his best acting performance in what seems like forever.
Kingsman: The Secret Service – Inventive action flms like these are difficult. Get too wacky and your audience starts to roll their eyes. Get too droll and the audience gets bored. Fortunately director Matthew Vaughn has "Kick-Ass" under his belt so he's familiar with this territory. What results is the most surprisingly exhilarating action movie of the year, with the most inventively-framed fight scenes this side of "Kung Fu Hustle". Not to mention you have Colin Firth at his most stoic British-ness and Samuel L. Jackson in his most giddy role since "Snakes on a Plane". If you skipped over this assuming the worst, let me plead with you: "Kingsman" is definitely worth a visit.
Trainwreck – Amy Schumer's filthy but funny comedy is a love-it-or-hate-it type deal, and one wonders if the up-and-coming comic can lead a comedy film, much less one directed by Judd Apatow. The results are pretty damn great with Schumer's personality leading the way (in a script she wrote). Bill Hader does a charming job as the main love interest. But it's LeBron James and John Cena in smaller supporting roles that steal the most laughs. Don't let Schumer's comedy turn you off, "Trainwreck" is the best Apatow film since "Knocked Up".
Avengers: Age of Ultron – Joss Whedon has lamented in the press for the movie his opinion that this film, his second in the MCU, is overstuffed. I completely agree. While the first film is a near-perfect blend of fun and fury, "Ultron" seems like it wants to prove that bigger is better. The result isn't bad per se, but that mentality hurts it. Especially in comparison to the first film. It's not all bad: "Ultron" does set up some interesting plot lines for the MCU's future.
Techie guru, who also posts sometimes.
avengers: age of ultron
best of 2015
brian
creed
inside out
jurassic world
kingsman: the secret service
list
mad max: fury road
mission impossible: rogue nation
spectre
the force awakens
top ten
trainwreck