Battle at the Box Office 3/7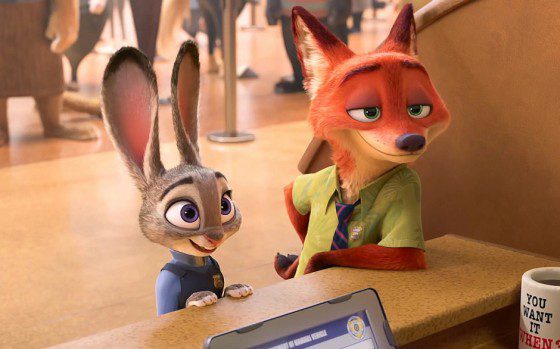 After four weeks of domination, Deadpool dropped to third as two of the new releases passed it.
Zootopia took over the top spot with the highest ever opening for Disney Animation Studio, $73.7 million.  That's not including Pixar films, as there's three of those that have higher openings but it's still huge considering that Zootopia opened higher than the juggernaut that was and still is Frozen.  Worldwide, Zootopia made $158 million, bringing it to $232 million so far in total gross.  Zootopia is also the best reviewed film of 2016 so far.
London Has Fallen took second with $21.7 million, down about $9 million from Olympus Has Fallen's opening weekend but it has the same audience rating than it's predecessor, meaning that the general public is enjoying it much more than the critics did.
Deadpool took in another $16.4 million, putting it over $311 million total domestically and joins American Sniper and The Passion of the Christ as the only three R rated movies to ever cross $300 million domestic.  It's the 12th highest grossing superhero movie of all time now, sitting between Iron Man 2 and Man of Steel.
Whiskey Tango Foxtrot took fourth with $7.6 million, which is below the expectations of Paramount and on the low end for Tina Fey starring films, it's eighth as far as her openings between This Is Where I Leave You and The Invention of Lying
Gods of Egypt dropped to fifth with $5 million, which is almost 65% drop from last weekend and it's only made $22.8 million domestic so far off of a budget of $140 million.
Elsewhere on the list, The Revenant got a boost from it's big Oscar wins and jumped back up to eighth from tenth with $3.3 million and it's made over $175 million total.
Eddie the Eagle and Triple 9 both took massive nosedives from last week's opening, with Eddie dropping down to ninth with only another $3.1 million while Triple 9 fell off the top ten completely, dropping from fifth to eleventh with only $2.1 million.
Battle at the Box Office
deadpool
disney animation
eddie the eagle
gods of egypt
london has fallen
record breaking
the revenant
triple 9
weekend box office
whiskey tango foxtrot
zootopia