Are You Not Entertained by the New Ben-Hur? (Trailer)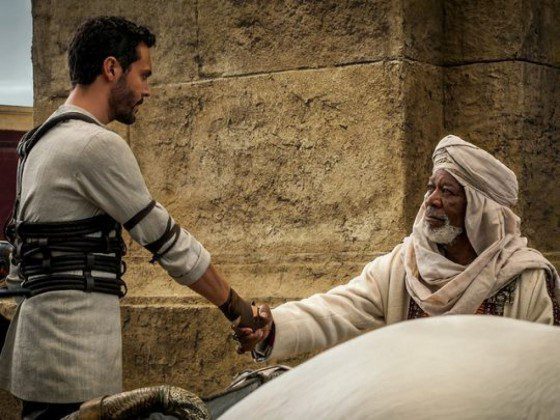 Ben-Hur, the 1959 Charlton Heston classic, is up there in contention on the "best movies of all time" lists and the definition of Classic Hollywood, but apparently even a classic like Ben-Hur is not immune to a remake, as a new take on the story is hitting this summer.  Starring Boardwalk Empire's Jack Huston as Judah Ben-Hur, he's betrayed by his adopted Roman brother Messala (Toby Kebbell) and sold into slavery and spends five years in the galley of a Roman ship.  Upon escaping the ship, he meets Idarin (Morgan Freeman), who trains him in the ways of chariot racing so he get revenge on Messala, who is the chariot racing champion.  Since it's coming from Wanted director Timur Bekmambetov, it's probably not surprising that this looks more like 300 than the classy epic of the original and it feels like, at least to me, that it's trying way too hard to be bad ass, with Huston and Kebbell trading heated glares and ridiculous one-liners ("Are we having fun brother?!").  There's also 0 reference to Jesus in this first trailer, who Judah Ben-Hur bumps into several times over the course of the original movie but the marketing team is probably trying to not scare off everyone who doesn't get hyped about the latest Risen or Miracles from Heaven.  Ben-Hur arrives on August 12th and you can check the trailer below.
I'm like the J. Jonah Jameson of Everything Action, writing and editing and constantly demanding pictures of Spider-Man.
1959
300
august 2016
ben hur
chariot racing
charlton heston
classic hollywood
idarin
jack huston
judah ben-hur
messala
morgan freeman
remake
summer 2016
timur bekmambetov
toby kebbell