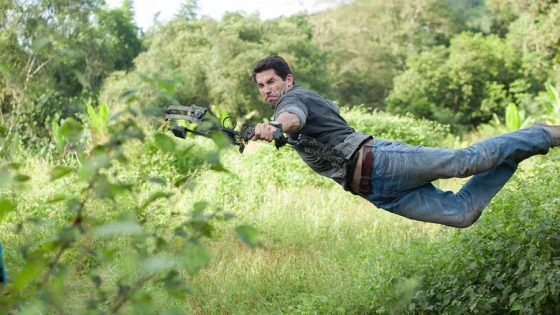 Hard Target was John Woo's glorious introduction to Western cinema and is one of most fun, over the top, ridiculous action movies ever made.  John Woo himself could barely top it (except arguably with Face/Off) and Hard Target 2 definitely doesn't live up to it's predecessor, as it's just a passable DTV action movie.
Having no ties to the original except a few prop and visual homages, Hard Target 2 stars Scott Adkins as Wes "The Jailer" Baylor, a kickboxer who kills his best friend in the ring during a match to try and earn a shot at the title and he banishes himself to Thailand to fight in increasingly dangerous illegal kickboxing matches.  He draws the eye of Jonah Aldrich (Robert Knepper), who offers him a large purse for a special fight in Myanmar.  Baylor accepts but finds out that instead of a kickboxing match, he's the prey for a group of big game hunters and has to make it to the Thai border to keep his $1 million prize of rubies.  If you've seen any of the movies inspired by "The Most Dangerous Game", Hard Target 2 doesn't really do anything that sets itself apart from those other movies.  The plot is straight forward and predictable where every 10 to 15 minutes, Baylor will have to face off against one of the hunters, who get whittled down one by one until Baylor has to face off against Aldrich himself and his partner Madden, played by Jango Fett himself, Temuera Morrison.  One of the hunters is played by Rhona Mitra, still doing her best Kate Beckinsale impression, but she doesn't really have much to do besides sneering and be condescending to the other hunters and Baylor.
Action wise, Hard Target 2 deserves credit for doing everything pretty much practically but nothing really stands out.  Adkins gets into generic shootout and fights and there's a lot of unnecessary slo-mo giving the impression of things being more exciting than they are.  The original Hard Target is full of some of the most insane, memorable moments in action movie history, from JCVD punching a snake to dropping grenades down Lance Henriksen's pants to standing on a motorcycle that somehow continues to accelerate.  HT 2 doesn't do anything memorable and even pales in comparison to other Scott Adkins movies like Ninja 2, Universal Soldier: Day of Reckoning or even last year's Close Range.  The scenery looks amazing though, as they filmed on location in Thailand, and there are some pretty spectacular helicopter shots of the waterfalls and jungles of that country.
Hard Target 2 is a fairly generic action movie that doesn't live up to the lofty expectations set by it's predecessor.  If you're a fan of Scott Adkins, it's serviceable but it's far from his best movie but it is available on Netflix, so it might be worth a watch on a lazy weekend afternoon.
I'm like the J. Jonah Jameson of Everything Action, writing and editing and constantly demanding pictures of Spider-Man.
2016
hard target
hard target 2
jcvd
john woo
kickboxing
netflix
review
rhona mitra
robert knepper
scott adkins
temuera morrison
thailand
the most dangerous game
wes baylor