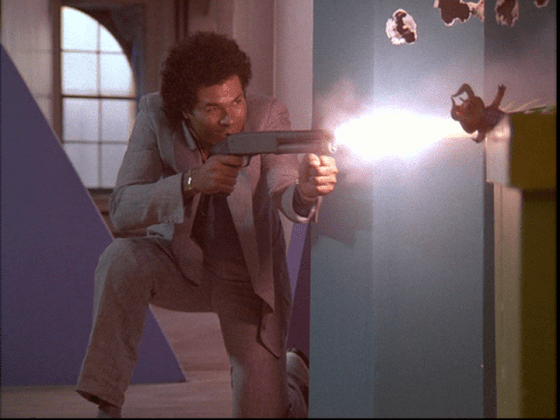 Aquaman casting: Temuera Morrison aka Jango Fett, has been cast as the father of Jason Momoa's Aquaman, Thomas Curry while Aquaman's main nemesis, Black Manta, has been cast with The Get Down's Yahat Abdul-Mateen II taking on the role.
Conjuring spin-off The Nun gets a director: The next Conjuring spin-off focusing on the evil demonic nun from The Conjuring 2 has a director in Corin Hardy, who directed the horror film The Hallow and was attached to the ill fated Crow reboot but he left that project about a year ago.
Kevin Sorbo and Teri Hatcher coming to Supergirl: Hatcher will follow in her Lois & Clark co-stars footsteps by coming to the new Supergirl/Superman universe, as the big bad of the second half of the season while Sorbo will also play some sort of mysterious villain.
ABC orders pilot for Goldbergs spin-off: The spin-off to the Goldbergs following Bryan Callen's Coach Mellor in the 90's has gotten a pilot order from ABC.  Tim Meadows may co-star as constantly intimidated guidance counselor Mr. Glascott.
Black Lightning coming to The CW: Originally going to be a new Fox DC show, Greg Berlanti is bringing Black Lightning to The CW Arrowverse.  Black Lightning is Jefferson Pierce, who can generate electro-magnetic energy within his body to use against objects or stun (and kill if enough is built up) enemies.  In the show he'll be coming out of retirement to protect his daughter and a star student who is in danger of being dragged into a local gang.
Sharknado 5 announced: Ian Ziering and Tara Reid will return for a fifth entry in the Sharknado franchise, this time with a global Sharknado storm effecting cities around the world.
The Runaways cast for Hulu: Rhenzy Feliz will play child prodigy and master strategist Alex Wilder, Lyrica Okano will play witch Nico Minoru, Virginia Gardner will play solar powered alien Karolina Dean, Ariela Barer will play Gert Yokes, who has a telepathic link with a dinosaur, Gregg Sulkin will play Chase Stein, who steals his evil mad scientist father's flame generating gauntlets and Allegra Acosta is playing Molly Hernandez (but the comic character is Molly Hayes), a super powered and invulnerable mutant.  The show is coming to Hulu and starts shooting this month.
EA confirms Battlefront II single player campaign: In a tweet, EA confirmed that the upcoming Battlefront II will feature multiple eras and a single player campaign, so hopefully what the first game should have been.
Clive Barker offering $300,000 to an aspiring horror filmmaker: Barker is working with Shudder and Project Greenlight for a new contest called Reel Fear, where you can submit a 1-3 minute pitch for an original horror film and, if voted on, you'll receive $300,000 from Barker to get started on it.  The contest starts February 13th and goes to March 17th.
Mel Gibson and Vince Vaughn teaming up for Dragged Across Concrete: Gibson and Vaughn will be police partners who go overboard interrogating/arresting criminals and are suspended.  They head into the criminal underworld to make some money but get in over their heads. S. Craig Zahler, who directed Bone Tomahawk, is directing Dragged Across Concrete.
New Game of Thrones short story coming: While the next book may never come out, George RR Martin announced a short story called The Sons of the Dragon will be featured in a new short story anthology called The Book of Swords.  The story will be an account of the reigns of second and third Targaryen kings in Westoros.
Emma Stone and Jonah Hill starring in new Netflix series: Cary Fukanaga, director of all episodes of True Detective season 1, will direct Emma Stone and Jonah Hill in a new Netflix comedy series called Maniac.  A remake of a Norwegian show, Stone and Hill living out rich fantasy lives but are, in reality, mental patients in an asylum.
Johnny Knoxville starring in Action Park movie: Knoxville is starring in a new movie called Action Park, which "…imagines what would happen if Knoxville and his cohorts irresponsibly designed and operated their own theme park" but it's not clear if it's a prank/stunt movie like Jackass or a scripted movie.  It's also not clear, but implied by the title, if it's related or based on the infamous NJ water park of the 80's and 90's.
Denis Villeneuve officially directing new Dune: Villeneuve, after Blade Runner 2049, will reboot Dune for Legendary Pictures.  All adaptations so far have not fared well but Villeneuve's track record is very strong, so maybe he can finally track it.
Ben Affleck no longer directing The Batman: Ben Affleck has stepped down from his dual duty of directing and starring in The Batman.  He will still star and produce and still has a writing credit with Geoff Johns but the hunt for a new director is on.  Names like Matt Reeves, Matt Ross, George Miller, Denis Villeneuve and more are being thrown around by places like Forbes and Deadline.
Liam Neeson's next thriller is Hard Powder: Neeson will play a snow plow driver who's son is murdered by a Colorado drug lord and he seeks vengeance.  It's a remake of a Norwegian move called In Order of Disappearance and that movie's director, Hans Petter Moland, is coming to direct Neeson's version.
John Wick may get a prequel TV series: Lionsgate is apparently interested in a TV series following the early years of John Wick and the director Chad Stahelski said they have a ton of ideas about Wick's early career but the movies (which will hopefully be a complete trilogy) will not dive into any of that material.
Diego Luna is the new Scarface: Rogue One star Diego Luna will star in a new reboot of Scarface, this time focusing on a Mexican immigrant who comes to LA and rises in the ranks of the criminal world.  Antoine Fuqua was originally supposed to direct but has dropped out.
Cloak and Dagger cast for new show: Freeform, the network formerly known as ABC Family, has cast Cloak and Dagger for their TV show.  Oliva Holt will play Dagger and Aubrey Joseph will play Cloak and it seems like it will be in the MCU but will focus less on superheroics and more on the romantic relationship between the pair.
The Good Place renewed for second season: Michael Schur's amazing afterlife comedy will be back for another season on NBC, which is great news because of the incredible cliffhanger the first season ended on.
Behind Enemy Lines getting a TV series: Fox ordered a pilot for a show based on the Owen Wilson action movie from the early 2000's where a pilot crash lands in hostile territory and has to evade capture while crews back home to try to find and rescue him.  The way Fox describes it makes it seem like it's going to have a similar vibe to USA's recent remake of Shooter into a TV show.
First Look at Ocean's 8 crew: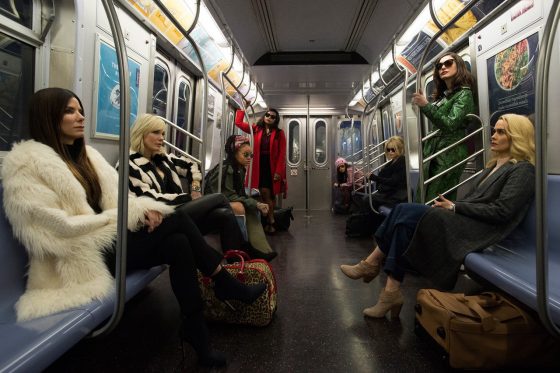 I'm like the J. Jonah Jameson of Everything Action, writing and editing and constantly demanding pictures of Spider-Man.
action park
aquaman
battlefront II
behind enemy lines
ben affleck
black lightning
black manta
clive barker
cloak and dagger
corin hardy
denis villeneuve
diego luna
dragged across concrete
emma stone
game of thrones
hard powder
john wick
johnny knoxville
jonah hill
kevin sorbo
liam neeson
maniac
mel gibson
News
news shotgun
ocean's 8
scarface
sharknado 5
supergirl
temura morrison
teri hatcher
the batman
the conjuring 2
the goldbergs
the good place
the nun
the runaways
vince vaughn
yahat abdul-mateen II