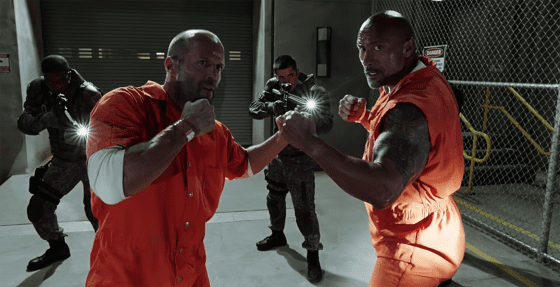 April 7th
Smurfs: The Lost Village: In this fully animated, all-new take on the Smurfs, a mysterious map sets Smurfette and her friends Brainy, Clumsy and Hefty on an exciting race through the Forbidden Forest leading to the discovery of the biggest secret in Smurf history.
The Case for Christ: An investigative journalist and self-proclaimed atheist sets out to disprove the existence of God after his wife becomes a Christian.
Going in Style: Desperate to pay the bills and come through for their loved ones, three lifelong pals risk it all by embarking on a daring bid to knock off the very bank that absconded with their money.
April 14th
The Fate of the Furious: When a mysterious woman seduces Dom into the world of crime and a betrayal of those closest to him, the crew face trials that will test them as never before.
Spark: A Space Tail: Spark, a teenage monkey and his friends, Chunk and Vix, are on a mission to regain Planet Bana – a kingdom overtaken by the evil overlord Zhong.
April 21st
Born in China: Venturing into the wilds of China, "Born in China" captures intimate moments with a panda bear and her growing cub, a young golden monkey who feels displaced by his baby sister, and a mother snow leopard struggling to raise her two cubs.
Free Fire: Set in Boston in 1978, a meeting in a deserted warehouse between two gangs turns into a shootout and a game of survival.
Phoenix Forgotten: 20 years after three teenagers disappeared in the wake of mysterious lights appearing above Phoenix, Arizona, unseen footage from that night has been discovered, chronicling the final hours of their fateful expedition.
The Promise: Set during the last days of the Ottoman Empire, The Promise follows a love triangle between Michael, a brilliant medical student, the beautiful and sophisticated Ana, and Chris – a renowned American journalist based in Paris.
Unforgettable: A woman sets out to make life hell for her ex-husband's new wife.
April 28th
The Circle: A woman lands a dream job at a powerful tech company called the Circle, only to uncover a nefarious agenda that will affect the lives of her friends, family and that of humanity.
How to be a Latin Lover: Finding himself dumped after 25 years of marriage, a man who made a career of seducing rich older women must move in with his estranged sister, where he begins to learn the value of family.
Sleight: A young street magician is left to care for his little sister after their parents passing and turns to illegal activities to keep a roof over their heads. When he gets in too deep, his sister is kidnapped and he is forced to use his magic and brilliant mind to save her.
I'm like the J. Jonah Jameson of Everything Action, writing and editing and constantly demanding pictures of Spider-Man.
april movie preview
born in china
free fire
going in style
how to be a latin lover
phoenix forgotten
sleight
smurfs: the lost village
spark
the case for christ
the circle
the fate of the furious
the promise
unforgettable