Rico Defends Mars in the Latest Starship Troopers Movie (Trailer)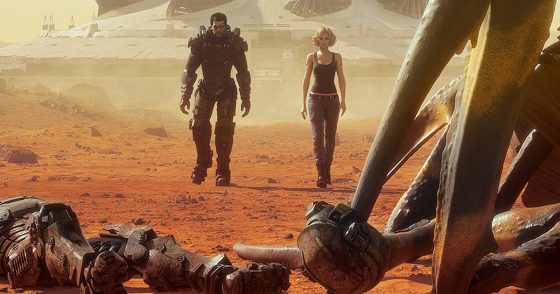 The original Starship Troopers is a ridiculous 90's action schlockfest with a hidden heart of razor sharp satire and, probably unknowingly to most people, it's continued in the decade since the first film into sequels and spin-off animated series and coming this August is the latest entry, Traitor of Mars.  The follow-up to the animated movie Starship Troopers: Invasion, which retconned the two prior live action sequels out of existence and was the "true" sequel to the original, Traitor of Mars finds Rico (voiced by Casper Van Dien) demoted and sent to Mars with a small force of rookie troopers to defend the Federation's facilities there while the main fleet continues to push toward the Bug homeworld.  A Bug attack, of course, happens and Rico and his squad have to try and survive and there's also the insane development that Dizzy Flores (with Dina Mayer back to voice her) is somehow still alive after seemingly being pretty definitively killed in the original film.  Ed Neumeier, who wrote Robocop and the original Starship Troopers, is directing and Fathom Events is having a one night only screening across the country on August 21st, and presumably shortly after it will hit DVD and Blu-Ray.  Check out the trailer below.
I'm like the J. Jonah Jameson of Everything Action, writing and editing and constantly demanding pictures of Spider-Man.
1997
august 2017
bugs
casper van dien
dina mayer
dizzy flores
ed neumeier
fathom events
federation
johnny rico
mars
sony
starship troopers
starship troopers: traitor of mars
Trailer Park