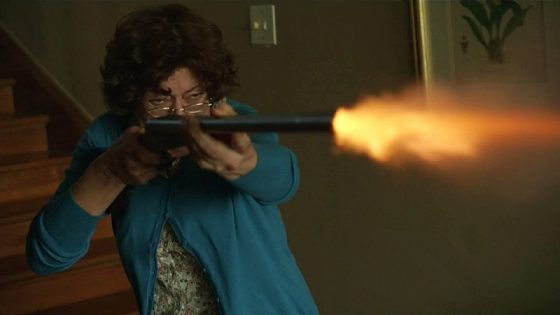 RIP Harry Dean Stanton: The legendary character actor Harry Dean Stanton passed away on Friday this week at age 91.  Stanton had over 100 credits over six decades acting including Alien, The Godfather Part II, Twin Peaks, Cool Hand Luke, Red Dawn, The Green Mile, Repo Men and so many more.
Fox Rebooting True Lies as a TV Show: Following up the shockingly good reboot of Lethal Weapon last year on Fox, the network is reteaming with McG to bring the Arnold action comedy classic True Lies to the network as a TV show.  There's not really any details about what it will be about but I would wager it will be Harry Tasker going on episodic spy missions and then trying to cover it up in a wacky manner with his family.
Jamie Lee Curtis back in the new Halloween: Speaking of True Lies, Arnold's co-star Jamie Lee Curtis is returning to the Halloween franchise in the new film from Danny McBride and David Gordon Green. Blumhouse tweeted out a photo of Curtis in character as Laurie Strode and, since this new film is essentially only acknowledging the first two Halloween films, her death in Halloween: Resurrection will be ignored.
Jon Hamm voicing Boba Fett for a new short story: For the audiobook of the upcoming anthology Star Wars: From A Certain Point of View, a slew of celebrities have been assembled including Neil Patrick Harris, Clone Wars' Ashley Eckstein, Battlefront II's Janina Gavankar and Jon Hamm, who will be voicing Boba Fett in a story written by none other than Batman: TAS legend Paul Dini.  The audiobook and book will be out on October 3rd.
Blade Runner getting anime short film: Shinichiro Watanabe, the creator of Cowboy Bebop, is creating one of the short film prequels that are leading to the release of Blade Runner 2049.  His is called "Black Out 2022" and is set a year after the original movie.  It will debut on Sony's Japan Pictures youtube page on September 26th.
John Wick Chapter 3 gets a release date: With Episode IX forced to leave May 2019, John Wick has snuck in to take it's place, claiming the May 19th, 2019 release date for the third chapter of the franchise.  An Avengers movie is set to kick off that month and Guy Ritchie's live action reboot of Aladdin is set for the weekend after on 5/24.
Tim Miller directing a Terminator film for James Cameron: Although it's been talked about pretty concretely for a while, this week it was officially confirmed that Tim Miller, director of Deadpool, wiil be directing a new entry in the Terminator franchise for James Cameron when he regains the rights in 2019.  Arnold will be back as the T-800 and this new film will only acknowledge Terminator 1 and 2 but, other than those details, there are no story details.
RIP Frank Vincent: Along with Harry Dean Stanton, another great character actor passed away with Frank Vincent dying at age 78 from complications due to heart surgery.  Vincent appeared in numerous Scorsese movies like Raging Bull, Goodfellas and Casino and played Phil Leotardo on The Sopranos.
First Look at David Harbour's Hellboy: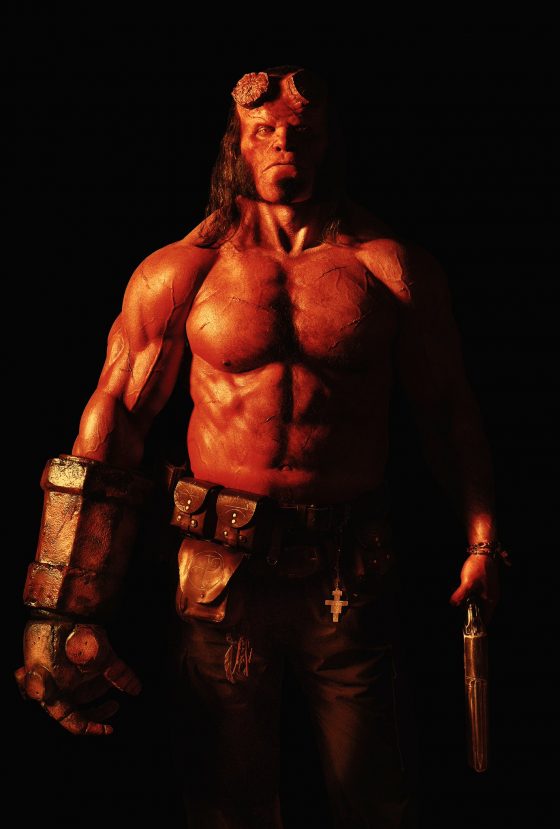 I'm like the J. Jonah Jameson of Everything Action, writing and editing and constantly demanding pictures of Spider-Man.
blade runner
boba fett
cowboy bebop
daniel dae kim
david harbour
deadpool
episode IX
frank vincent
halloween
harry dean stanton
hellboy
james cameron
jamie lee curtis
JJ Abrams
john wick chapter 3
jon hamm
laurie strode
len wein
liam neeson
McG
mouse guard
News
news shotgun
nicolas cage
patty jenkins
primal
RIP
star wars
the boys
the terminator
tim miller
true lies
vikings
wes ball
wonder woman 2