October Movie Preview
By Zach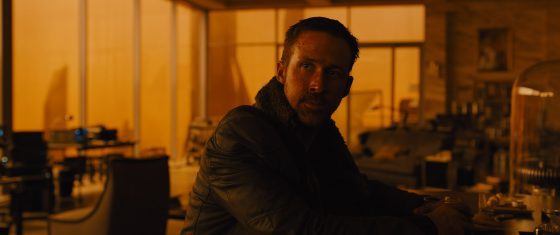 October 6th
Blade Runner 2049: A young blade runner's discovery of a long-buried secret leads him to track down former blade runner Rick Deckard, who's been missing for thirty years.
The Mountain Between Us: Stranded after a tragic plane crash, two strangers must forge a connection to survive the extreme elements of a remote snow covered mountain. When they realize help is not coming, they embark on a perilous journey across the wilderness.
My Little Pony: The Movie: A dark force threatens Ponyville, and the Mane 6 embark on an unforgettable journey beyond Equestria where they meet new friends and exciting challenges on a quest to use the magic of friendship to save their home.
October 13th
The Foreigner: A humble businessman with a buried past seeks justice when his daughter is killed in an act of terrorism. A cat-and-mouse conflict ensues with a government official, whose past may hold clues to the killers' identities.
Happy Death Day: A college student relives the day of her murder with both its unexceptional details and terrifying end until she discovers her killer's identity.
Marshall: About a young Thurgood Marshall, the first African-American Supreme Court Justice, as he battles through one of his career-defining cases.
Professor Marston and the Wonder Women: The story of psychologist William Moulton Marston, the polyamorous relationship between his wife and his mistress, the creation of his beloved comic book character Wonder Woman, and the controversy the comic generated.
October 20th
Geostorm: When the network of satellites designed to control the global climate start to attack Earth, it's a race against the clock to uncover the real threat before a worldwide geostorm wipes out everything and everyone.
Only the Brave: A drama based on the elite crew of firefighters from Prescott, Arizona who battled a wildfire in Yarnell, AZ in June 2013 that claimed the lives of 19 of their members.
Same Kind of Different As Me: International art dealer Ron Hall must befriend a dangerous homeless man in order to save his struggling marriage to his wife, a woman whose dreams will lead all three of them on the journey of their lives.
The Snowman: Detective Harry Hole investigates the disappearance of a woman whose pink scarf is found wrapped around an ominous-looking snowman.
Tyler Perry's Boo 2: A Madea Halloween: Madea, Bam, and Hattie venture to a haunted campground and the group must run for their lives when monsters, goblins, and the boogeyman are unleashed.
October 27th
All I See Is You: A blind woman's relationship with her husband changes when she regains her sight and discovers disturbing details about themselves.
Jigsaw: Bodies are turning up around the city, each having met a uniquely gruesome demise. As the investigation proceeds, evidence points to one man: John Kramer. But how can this be? The man known as Jigsaw has been dead for over a decade.
Suburbicon: A home invasion rattles a quiet family town.
Thank You For Your Service: A group of U.S. soldiers returning from Iraq struggles to integrate back into family and civilian life, while living with the memory of a war that threatens to destroy them long after they've left the battlefield.
I'm like the J. Jonah Jameson of Everything Action, writing and editing and constantly demanding pictures of Spider-Man.
all i see is you
blade runner 2049
geostorm
happy death day
jigsaw
marshall
my little pony
october 2017
october movie preview
only the brave
professor marston and the wonder women
same kind of different as me
suburbicon
thank you for your service
the foreigner
the mountain between us
the snowman
tyler perry's boo 2: a madea halloween