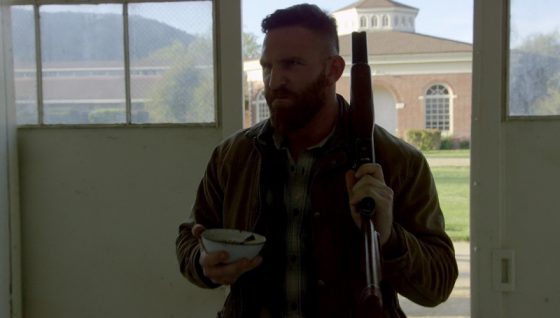 Shazam cast for the DCEU: Zachary Levi, formerly of Chuck, will be starring as Shazam for the upcoming DCEU movie featuring Billy Batson and his superhero alter ego.  Levi has been a supporting character in the MCU as Thor's friend Fandral.  David F. Sandberg, director of Annabelle: Creation and Lights Out, will be directing.  The Rock has been cast as Shazam's nemesis Black Adam but apparently won't be featured in this solo Shazam movie.
WB exploring a possible Lethal Weapon 5: Mel Gibson, Danny Glover and Richard Donner have apparently been meeting with WB to explore the possibility of a Lethal Weapon 5 with Donner directing.  Apparently everyone is on board if all the pieces can come together.
Morgan Creek rebooting a bunch of franchises: Morgan Creek, who have put out movies like Ace Ventura, True Romance, Robin Hood: Prince of Thieves and more are apparently looking to reboot a bunch of the movies in their catalog as either new movies or TV shows.  They are behind The Exorcist TV series on Fox and apparently are looking to create a Young Guns TV series along with a new Ace Ventura that is not a straight remake but "in the spirit of the original" and could be a movie or a TV show.
Konami announces a Contra movie and TV show: Konami announced that they will be creating a live action Contra movie and TV series with a Chinese film partner and will feature commandos Bill and Lance being sent to an island under control of the evil Red Falcon terrorist organization in the South China Sea that 30 years earlier was struck by a mysterious meteorite.
Preacher renewed for Season 3: AMC renewed Preacher for a third season to air next year as Jesse Custer (Dominic Cooper) continues his hunt for the missing God and season 2 ended on a cliffhanger that would have sucked to have never got a resolution to if the show had been cancelled.
What We Do in the Shadows TV series in development: Thor: Ragnarok director Taika Waititi is apparently looking to develop a US TV version of his hilarious vampire spoof What We Do in the Shadows and he also mentioned their still trying to develop and write a sequel to the movie called We're Wolves that would feature Rhys Darby and his clan of werewolves.
Bad Boys TV spin-off in the works: Bad Boys for Life, the third Bad Boys movie, is apparently in development limbo but a new spin-off was announced to be in development that will be a TV show following Gabrielle Union's DEA agent Syd Burnett.  Two of the writers from The Blacklist are working on a script and it's currently being shopped around to networks.
John Carpenter coming out of retirement for new project: The iconic John Carpenter is coming back behind the camera after being retired for about seven years to direct the pilot for a new SyFy anthology series called Tales for a Halloween Night, which is an adaptation of a comic John Carpenter is behind as well.
Channel Zero reveals Season 3 premise and cast: As No End House came to an end this past week, SyFy announced the cast and premise of Season 3 of Channel Zero, called Butcher's Block, which will be very loosely based on the series of Reddit posts called Search and Rescue Woods, which was a series of 8 posts from a person claiming to be a search and rescue crew member in an unspecified forest park and all the weirdness he and other SAR crew members have encountered, including mysterious staircases that appear out of nowhere and everyone is warned to never touch or climb.  That stair idea is the main idea being taken for Channel Zero as a young girl investigates a string of disappearances in the inner city of Chicago that seem to be tied to mysterious staircases that appear.  Olivia Luccardi, Holland Roden, Brandon Scott, Krisha Fairchild and the great Rutger Hauer will be the cast of Season 3 and it will apparently air in "early 2018".
Deathstroke solo movie coming from Gareth Evans: We haven't heard much from Deathstroke since Ben Affleck teased out test footage over a year ago but it was announced this week that The Raid director Gareth Evans will be directing a solo movie featuring the brutal mercenary.  Joe Manganiello was cast as Deathstroke for the stuck in development Batman solo movie and will star in this new Deathstroke solo movie and Evans seems like the perfect fit for a movie with Slade, just setup a target in some sort of fortress and have Slade fight his way to the top for 90 minutes or so.
TV Renewals and Cancellations: There were a number of cancellations and renewals this week for TV.  Including the aforementioned renewal for the aforementioned Preacher, Netflix's Big Mouth got renewed for a season 2 and Ray Donovan over on Showtime got a Season 6 that will take place in NYC.  CBS also renewed Star Trek: Discovery for Season 2 on their streaming service All Access but they cancelled Zoo after three seasons.
Dora the Explorer movie coming from Michael Bay: In maybe the most baffling news of the week, Michael Bay will be producing a Dora the Explorer movie with Neighbors director Nick Stoller.  Dora will apparently be aged up to a teenager who moves to a new city with her cousin Diego.  The studio's hope is to get Dora out for 2019.
CBS rebooting Magnum PI: Joining Hawaii Five-0 and MacGyver, CBS is bringing back Magnum PI for a rebooted TV series.  The new Magnum will be a recently returned Iraq vet who becomes a private investigator and joins up with fellow vets TC Calvin and Rick Wright and disavowed MI6 agent Juliet Higgins.
Lego Dimensions is dead: WB and TT Games announced that Lego Dimensions is ending, with no more expansion packs being developed or released but there will still be server and customer support for the game.  The most recent set of packs that included Beetlejuice, Teen Titans and Powerpuff Girls will be the last new ones that were released.
American Gangster prequel TV show coming: It's been a decade since American Gangster hit theaters but a prequel TV show is in the works set before the movie and following Frank Lucas' criminal mentor, Ellsworth "Bumpy" Johnson, who will be played by Forest Whitaker.  Bumpy rose to power in the 60's and was good friends with Malcolm X and the new show will apparently explore the collision of the criminal and civil rights side of the 60's.  Narcos co-creator Chris Brancato is behind the series and currently shopping it to networks.
Venom will be motion captured in the solo movie: Shooting began on Venom this week and it was revealed that Tom Hardy will portray the Lethal Protector via motion capture that was slipped out of Andy Serkis during an interview for Black Panther.
RIP Robert Guillaume: Actor Robert Guillaume passed away at age 89 this week from prostate cancer.  He is most famous for playing the title character in Benson and was also Rafiki in The Lion King and also appeared in movies like Meteor Man, First Kid and Spy Hard.
X-23 movie in the works: In what seems like a no brainer, James Mangold is working on a spin-off for Dafne Keene's Laura aka X-23.  Apparently the success of Wonder Woman helped Fox move forward and Mangold is currently working on a script.
Freddy Krueger joins Dead by Daylight: Freddy has joined the ranks of the other killers in the multiplayer game Dead by Daylight in their latest DLC pack.  Freddy has the power in the game to inflict sleepiness on the survivor players and they will gradually fall asleep, making them vulnerable to getting killed and Freddy is invisible to anyone who isn't asleep.
Vincent D'Onofrio back for Daredevil Season 3: Kingpin will return in some capacity for Daredevil Season 3 as Vincent D'Onofrio is returning to the show.  It's not clear if he will have a smaller role like in Season 2 or if he will return to full on big bad status, which is what a lot of fans are hoping for.
I'm like the J. Jonah Jameson of Everything Action, writing and editing and constantly demanding pictures of Spider-Man.
ace ventura
american gangster
bad boys
big mouth
channel zero
contra
daredevil
dceu
dead by daylight
deathstroke
dora the explorer
freddy krueger
gareth evans
john carpenter
konami
lego dimensions
lethal weapon 5
magnum pi
michael bay
morgan creek
News
news shotgun
preacher
ray donovan
robert guillaume
shazam
tom hardy
venom
vincent d'onofrio
what we do in the shadows
x-23
young guns
zachary levi
zoo