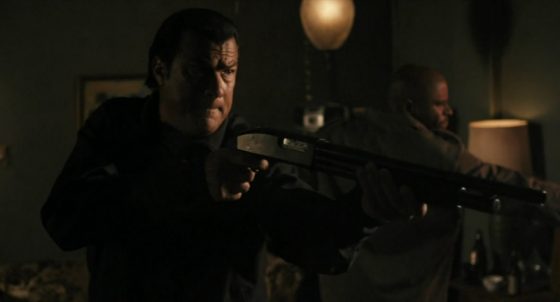 CBS orders a pilot for LA Confidential show: Along with reviving seemingly every 80's show in their back catalog, CBS is also turning every cop/crime movie they can get their hands on into shows, the latest being LA Confidential.  The network ordered a pilot for a reboot of the great Curtis Hanson adaptation of James Ellroy's novel which follows multiple cops in 1950's Los Angeles.  No word on possible stars or a showrunner.
Far Cry 5 DLC sounds insane: Although nothing will probably ever top Blood Dragon, Far Cry 5 sounds like it's going to have some insane DLC additions as Ubisoft revealed there will be a Vietnam War based campaign, a Mars sci-fi campaign and a zombie battling campaign plus if you buy the Season Pass, you'll also get the single player version of Far Cry 3.  Far Cry 5 is out on March 27th.
American Gods gets a new showrunner: After the very public leaving of Bryan Fuller and Michael Green, Starz has found a new showrunner for season 2 of American Gods and, fortunately, it's another Hannibal alum, Jesse Alexander, who also is working on Star Trek: Discovery.  Alexander will co-run the show with American Gods creator Neil Gaiman. The loss of Fuller and Green most likely pushed back the premiere of Season 2 and it's not clear when the show will return.
Fox orders a Gone Baby Gone show: Fox has ordered a pilot for a TV show based on Ben Affleck's adaptation of Dennis Lehane's neo noir Gone Baby Gone, which was actually the fourth novel in a series of mysteries following Dorchester detective duo Patrick Kenzie and Angie Gennaro.  There's no casting or if the show will be exclusively a rehash of the Gone Baby Gone story or if it will dive into some of the other novels.
Back to the Future turning into a Manga: Yuusuke Murata, the creator of One Punch Man, will be adapting Back to the Future into a Manga with supervision from Bob Gale and will feature "story content not seen in the films", which may include deleted scenes or the original ending where Doc and Marty break into a nuclear test site.  Kono Manga ga Sugoi! will serialize the comic in Japan but it's not clear if it will get translated and come to the States.
HBO orders new show from JJ Abrams: After a bidding war, HBO has gotten the rights to a new JJ Abrams sci-fi show called Demimonde.  The show will follow a woman who is in a car crash with her parents which puts her mother into a coma.  The mother is also a scientist and the daughter starts to dig into her experiments and discovers a portal to another universe where an evil, oppressive force is lurking.
Netflix's A Series of Unfortunate Events ending in Season 3: Netflix revealed their adaptation of Lemony Snicket's book series will end with it's third season.  The Neil Patrick Harris starring show returns in March for it's second season and then most likely the third and final season will debut in 2019.
NBC Universal allowing unrestricted cursing on USA and SyFy: Get ready for f-bombs and more on your favorite SyFy and USA shows as NBC Universal stated this week that they will allow unrestricted use of "fuck" on both networks.  The cable networks have been slowly moving in this direction with FX allowing f-bombs on American Crime Story and Taboo and the recently ended first season of Happy! on SyFy saw Chris Meloni dropping "fucks" left and right.
First Look at Rise of the Teenage Mutant Ninja Turtles:
I'm like the J. Jonah Jameson of Everything Action, writing and editing and constantly demanding pictures of Spider-Man.
a series of unfortunate events
american gods
back to the future
bad boys for life
cloverfield 4
demimonde
emily blunt
far cry 5
gone baby gone
HBO
hocus pocus
in search of
JJ Abrams
jungle cruise
la confidential
lin-manuel miranda
manga
men in black
metropolis
mister rogers
netflix
News
news shotgun
nintendo
ology books
overlord
rise of the tmnt
roswell
sam raimi
super mario
the kingkiller chronicles
tom hanks
valiant comics