The Pull List – Koshchei The Deathless #2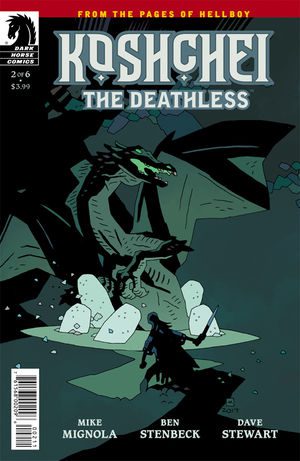 Koshchei continues his tale of his dragon hunt to Hellboy while the two sit in a pub in hell. Koshchei had made a deal with Baba Yaga to lead him back to his soul in exchange for killing the last dragons in the world. Koshchei is given a magic ball of string that will guide Koshchei to his next location for clues, but must sacrifice his army to Baba Yaga hungry birds. Koshchei betrays his almost all of his men, sparing only three of his best warriors to help him on his journey. Koshchei and his remaining warriors venture into the woods and encounter Leshii, a guardian of the woods and protector of animals. Leshii is hesitant to help Koshchei, but is willing to help Koshchei if it means removing the dragons from his watch. Koshchei must find a man whose father was a fish and whose mother was a cow (A very non traditional family structure, but not so strange in this world). The magic ball of string leads the group to Ivan. Ivan was one of three babies born under magical circumstances and was part of the search party looking for their sister that was taken by a dragon. Koshchei and his warriors prepare themselves for a fierce fight and hope to rid the dragons from terrorizing the lands any further.
Koshchei The Deathless is reads like a Brother's Grime fairy tale that has many oddities and gruesome twist that will give any child nightmares. And we think that's a hallmark of any good European fairy tale. Mike Mignola of folk lore is brings a level of authenticity with the super natural elements in his writing. Leshii (Sometimes known as Leshy, Leszy, Leszy and other variations) is based on a Slavic mythology about a forest deity that roams the woods scaring off humans from nature. The fact that Leshii is offering safe passage through the woods shows that the dragons are something out of Leshy control and aiding a murderous fiend like Koshchei is the better option. Comic readers looking to explore to know more about Koshchei before he was fell under Baba Yaga control should pick up this series. It's a good introduction to the Koshchei before he was a torment killer and it's a cool setting of two demons drinking at a bar.
 Koshchei The Deathless #2 is on sale February 7 2018.
Bitten by a radioactive video store rental employee and overcome by Pac-Man fever, Chris seeks new comic books, games, and movies to review.
dark horse comics
hellboy
Koshchei