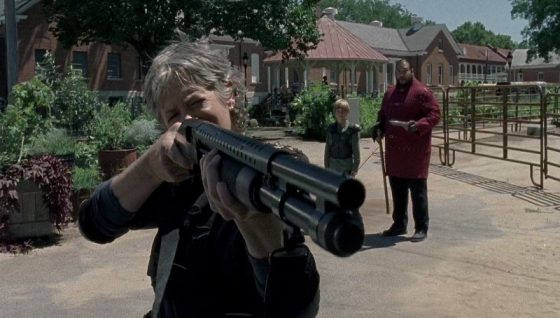 RIP Reg Cathey: Excellent character actor Reg Cathey passed away this week at age 59.  Cathey appeared in TV series like The Wire, House of Cards, Lights Out, Outcast, Law & Order: SVU and many more and was nominated for multiple Supporting Actor Emmys.

Child's Play TV series in the works: Don Mancini, writer of every movie in the series and director of the last three entries, is developing a Child's Play TV series with producer David Kirschner.  There weren't any details about what the show would be about but Mancini did say the end of Cult of Chucky will be the setup for this new series.
Universal wins bidding war for upcoming Rock movie: The Rock cannot be stopped and another of his upcoming movies, Red Notice, has been won by Universal in a massive bidding war that resulted in a $20 million payday for Dwayne Johnson.  Plot details are scarce but it seems like The Rock will play an Interpol agent who goes after a criminal that triggers the titular Red Notice, the highest and most serious warning/notice in the agency.  It will be directed by Rawsom Marshall Thurber, who directed Central Intelligence and this summer's Skyscraper for The Rock.
Netflix buys sci-fi film Extinction: Netflix continues to snatch up smaller sci-fi films from studios to debut directly on their streaming service.  We had the big Cloverfield Paradox drop this past weekend and Netflix this week purchased Extinction from Universal.  The movie was supposed to hit in January of this year and starred Michael Pena and Lizzy Caplan and is about a father trying to protect his family during an alien invasion.  No word on when the movie will debut on Netflix.
Action Man movie in the works: Paramount continues their quest for a new big franchise and this week got the rights to the action figure line Action Man.  Most popular in the UK, Action Man was a GI Joe sized action figure who debuted in the 60's and had a revival in the 90's and early 2000's as a more extreme sports superhero and got two animated series, one in 1995 and a CG one in 2000 from Mainframe, the same company that made Reboot.  It's not clear which version of Action Man will be featured in this new movie but Muppets director James Bobin is attached.
More cast members join What We Do in the Shadows TV show: FX's upcoming What We Do in the Shadows series has gotten some new cast members including the legendary Doug Jones, who most likely will play a character similar to the Nosferatuesque Petyr from the movie.  Jake McDorman, star of the short lived Limitless TV series, Mark Proksch, from Better Call Saul, The Office and This is Us, and Beanie Feldstein, co-star of Lady Bird, have also joined the series.
David Leitch may be in talks to direct Fast & Furious spin-off: The much anticipated Fast & Furious spin-off featuring The Rock's Hobbs and Jason Statham's Deckard Shaw teaming up may have found a director who can bring the level of action those two deserve in John Wick/Atomic Blonde's David Leitch.  Leitch is apparently in talks with Universal to direct the spin-off, which is looking at a Summer 2019 release date.  Leitch has Deadpool 2 coming out later this summer.
Comcast may thow hat in Fox buying ring: The Disney/Fox buyout is potentially one of the biggest stories in entertainment history but a new contender could throw a wrench into that plan as Comcast has apparently expressed interest in potentially outbidding Disney for the Fox assets in play.  Comcast may be biding it' time waiting for a decision of the Justice Department on the AT&T buyout of Time Warner, which if it passes would most likely mean Comcast's buying of Fox would have a much higher chance of being approved as well.  Disney apparently is "considering responses" if Comcast outbids them.
Robert Zemeckis directing sci-fi movie Steel Soldiers: After dabbling in somewhat creepy CG animated films like The Polar Express and Beowulf, Robert Zemeckis returned to live action with Allied and now he's signed on to direct a sci-fi movie called Steel Soldiers.  The movie follows a disgraced Special Forces soldier who is tasked with training a group of android soldiers for a rescue mission to rescue the creator of the androids in a future where human and android soldiers fight side by side on the battlefield.
Unproduced Planet of the Apes script becoming a comic: Rod Serling, legendary creator of the Twilight Zone, had written a script for the 1968 Planet of the Apes that went unproduced but will now come to life in a graphic novel from Boom! and 20th Century Fox.  The script was set in a city that was essentially the 60's but now with apes instead of humans and it was more of a satire on contemporary (at the time) society.
Michael Bay in talks to direct a Lobo movie: Lobo is one of the craziest and most over the top characters in DC's catalog and seemingly the perfect fit for Michael Bay, who is apparently in talks with WB to direct a Lobo movie.  Bay met with DC/WB and offered some notes on their current Lobo script.  A new script has been tasked with those notes and, if Bay likes the new script, he'll most likely sign on to direct.  WB wants this Lobo movie to be their answer to Marvel/Fox's Deadpool.
Joaquin Phoenix apparently close to becoming The Joker for Todd Phillips: Speaking of DC, Joaquin Phoenix may be close to signing on to play The Joker for director Todd Phillips for the upcoming stand-alone Joker film set in the 80's and produced by Martin Scorsese.  DC is apparently creating a, as yet unnamed, "imprint" of movies that will tell stand-alone stories with characters separate from the main DC Cinematic Universe films.  This Joker film would follow The Joker as he learns what it takes to become a criminal mastermind as he rises through the criminal underworld of the 80's, which with Scorsese on board, would probably feel similar to something like Goodfellas.
Disney developing a live action Kim Possible movie: The teenage super spy from the Disney Channel is coming to live action as Disney is developing a live action Kim Possible movie.  The studio is currently looking for a teen actress to play Kim and the original creators are writing the script and producing.  Kim was last seen in 2007 as the animated series ended and was voiced by Even Stevens' co-star Christy Carlson Romano.
Legion gets a premiere date: FX's trippy but excellent X-Men show Legion has gotten a season 2 premiere date of April 3, 2018.  The new season will be 10 episodes and will pick up about a year after the end of season 1.
Game of Thrones creators working on series of Star Wars films: Disney announced that David Benioff and D.B. Weiss, creators of Game of Thrones, are working on a series of Star Wars films that are separate from both the main Skywalker Saga films and Rian Johnson's new trilogy.  There's no word on what they will be doing but the fan theories/hope is that they are creating something set in the Old Republic timeframe, which seems like it would be a perfect fit to translate what they've done for Game of Thrones over to Star Wars.
Arnold starring in a new Amazon western called Outrider: Our patron saint, Arnold Schwarzenegger, has signed on to star in a western event series from Amazon called Outrider.  Arnold will play a ruthless federal marshall who is paired with deputy to track and capture a notorious outlaw in the Oklahoma Indian Territory in the late 1800's.
Michael Jai White reveals next project: Speaking of westerns, after a tease last month on his Twitter, Michael Jai White has revealed that he's working on the spiritual sequel to Black Dynamite called Outlaw Johnny Black.  White is playing the titular outlaw and the movie is inspired by things like Blazing Saddles and blaxploitation westerns like Buck & Preacher.  More info will probably be coming as the year goes on.
Amazon developing a Conan the Barbarian series: Continuing to try and find their Game of Thrones, Amazon has gotten the rights to Robert E. Howard's Conan the Barbarian and are developing a series based on the fantasy adventurer. Ryan Condal, co-creator of USA's Colony, is behind the series along with Fargo/Handmaid Tale producer Warren Littlefield and Game of Thrones/Altered Carbon director Miguel Sapochnik and will follow Conan's origins as becomes the legendary warrior and future king of Hyboria.  No casting yet on who will play Conan.
I'm like the J. Jonah Jameson of Everything Action, writing and editing and constantly demanding pictures of Spider-Man.
action man
amazon
arnold schwarzenegger
child's play
comcast
conan the barbarian
david leitch
dc cinematic universe
doug jones
dwayne johnson
extinction
fast & furious
fox
game of thrones
joaquin phoenix
kim possible
legion
lobo
michael bay
michael jai white
netflix
news shotgun news
outlaw johnny black
outrider
planet of the apes
red notice
reg e. cathey
RIP
robert zemeckis
star wars
steel soldiers
the joker
the rock
todd phillips
universal
what we do in the shadows