It's The Rock vs Monsters in Rampage (Trailer)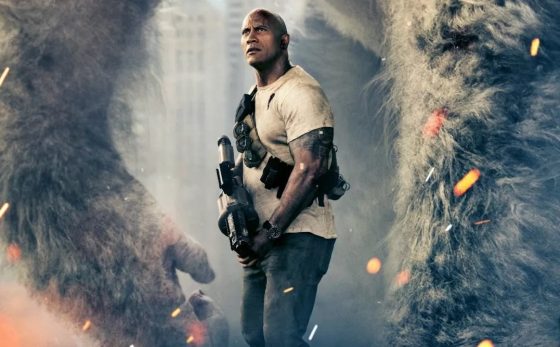 Dwayne "The Rock" Johnson has already dominated the beginning part of 2018 with Jumanji's reign at number one going through most of January and February but as far as new 2018 movies for the once and future People's Champ, the first one we're getting is Rampage in April.  The Rock stars as David Okoye, a primatologist who has bonded with an orphan gorilla he rescued named George.  A mysterious canister of chemicals falls into George's enclosure and causes him to grow bigger and more aggressive, which makes him a target of the government, who send a team to capture and/or destroy George led by Jeffrey Dean Morgan.  David teams with a scientist played by Naomie Harris to try and figure out a way to get George back to normal and stop the other two monsters who have been created by the same chemicals the mutated George.  Malin Akerman, Joe Manganiello, Marley Shelton, Jake Lacy, PJ Byrne and Jack Quaid co-star and The Rock is reteaming with his San Andreas director Brad Peyton.  The movie is also, obviously, based on the classic Midway arcade game where you choose either George, Ralph (a giant wolf) or Lizzie (a giant lizard) and destroyed cities around the globe but the game actually had the monsters be mutated people.  Rampage is out on April 20th and you can check out the new trailer below.
I'm like the J. Jonah Jameson of Everything Action, writing and editing and constantly demanding pictures of Spider-Man.
april 2018
arcade game
based on a game
brad peyton
david okoye
dwayne johnson
george
giant monsters
gorillas
jeffrey dean morgan
joe manganiello
kaiju
lizzie
malin akerman
marley shelton
midway
naomie harris
ralph
rampage
the rock
Trailer Park