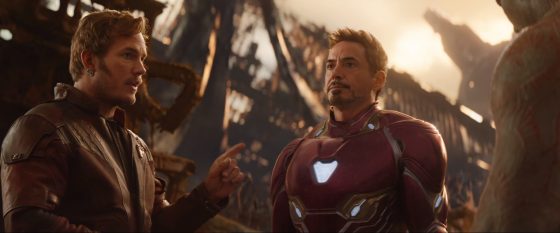 April 6th
Blockers: Three parents try to stop their daughters from having sex on Prom night.
Chappaquiddick: Depicting Ted Kennedy's involvement in the fatal 1969 car accident that claims the life of a young campaign strategist, Mary Jo Kopechne.
The Miracle Season: After the tragic death of star volleyball player Caroline "Line" Found, a team of dispirited high school girls must band together under the guidance of their tough-love coach in hopes of winning the state championship.
A Quiet Place: A family is forced to live in silence while hiding from creatures that hunt by sound.
April 13th
Borg vs McEnroe: The story of the 1980s tennis rivalry between the placid Björn Borg and the volatile John McEnroe.
Rampage: Primatologist Davis Okoye shares an unshakable bond with George, the extraordinarily intelligent gorilla who has been in his care since birth. But a rogue genetic experiment gone awry transforms this gentle ape into a raging monster. As these newly created monsters tear across North America, destroying everything in their path, Okoye teams with a discredited genetic engineer to secure an antidote, fighting his way through an ever-changing battlefield, not only to halt a global catastrophe but to save the fearsome creature that was once his friend.
Sgt. Stubby: An American Hero: A stray dog – Sgt. Stubby – gets adopted by a soldier while training for World War I. For his valorous actions, Sgt. Stubby is still recognized as the most decorated dog in American history.
Isle of Dogs: Set in Japan, Isle of Dogs follows a boy's odyssey in search of his lost dog.
Truth or Dare: A harmless game of Truth or Dare among friends turns deadly when someone — or something — begins to punish those who tell a lie or refuse the dare.
April 20th
I Feel Pretty: A woman struggling with insecurity wakes from a fall believing she is the most beautiful and capable woman on the planet. Her new confidence empowers her to live fearlessly, but what happens when she realizes her appearance never changed?
Super Troopers 2: When a border dispute arises between the U.S. and Canada, the Super Troopers are tasked with establishing a Highway Patrol station in the disputed area.
Traffik: A couple off for a romantic weekend in the mountains are accosted by a bike gang. Alone in the mountains, Brea and John must defend themselves against the gang, who will stop at nothing to protect their secrets.
April 27th
Avengers: Infinity War: The Avengers and their allies must be willing to sacrifice all in an attempt to defeat the powerful Thanos before his blitz of devastation and ruin puts an end to the universe.
I'm like the J. Jonah Jameson of Everything Action, writing and editing and constantly demanding pictures of Spider-Man.
a quiet place
april 2018
april movie preview
avengers: infinity war
blockers
borg vs mcenroe
chappaquiddick
i feel pretty
isle of dogs
rampage
sgt. stubby
super troopers 2
the miracle season
traffik
truth or dare