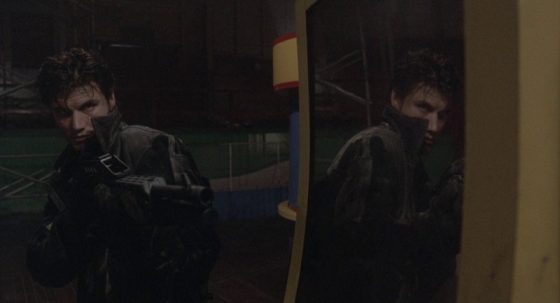 New Terminator Cast: Next winter's Terminator reboot, which will retcon everything except Terminator 1 and 2, has cast it's new Terminator with Agents of SHIELD's Ghost Rider, Gabriel Luna, becoming the newest robotic killing machine.  Natalia Reyes, Diego Boneta, Mackenzie Davis, Arnold and Linda Hamilton fill out the rest of the cast so far and Deadpool's Tim Miller is directing with James Cameron heavily involved on the producing side.
Bad Boys TV Spin-Off has an official title: NBC's upcoming Bad Boys spin-off show is now officially called LA's Finest and stars Gabrielle Union, reprising her role as Syd Burnett, leaving the DEA and joining the LAPD and being partnered with Jessica Alba for buddy-cop style hijinks.
USA orders a bunch of new shows: USA has ordered a ton of pilots for new shows, including a show based in the Bourne universe, Treadstone.  There's also a crime show starring Denis Leary called Erase, Briarpatch, based on a mystery thriller novel and coming from Mr. Robot creator Sam Esmail and Dare Me, a cheerleading drama coming from Peter Berg, also based on a book.
IT Chapter 2 Casting: We have one 100% confirmed member of the grown up Loser's Club and 2 most likely members as Jessica Chastain is on board to play the grown up Beverly Marsh while Bill Hader and James McAvoy are in talks to play the grown up Ritchie Tozier and Bill Denbrough respectively.  IT Chapter 2 is scheduled for September of next year.
Jessica Jones renewed for season 3: Jessica Jones has been renewed for another season at Netflix, the second season having debuted about a month ago on the streaming service.  It's not clear when the new season would debut but the specter of the Disney streaming service is coming and will pull all Disney and Marvel content off of Netflix.
Barry and Silicon Valley renewed at HBO: HBO has renewed their new comedy Barry and the now veteran Silicon Valley for new seasons.  It will be the sixth season of Silicon Valley and the second season for Barry.
Mulan live action casting: Disney's live action Mulan reboot has gotten some new cast members as Donnie Yen has been cast to play Mulan's mentor, Jet Li cast as the Emperor of China and Gong Li cast as the new villain, a powerful witch.  Liu Yifei was previously cast as Mulan and the movie is looking at a 2020 release.
David Leitch officially directing F&F Rock/Statham spin-off: John Wick, Deadpool and Atomic Blonde director David Leitch has officially signed on to direct the Fast & Furious spin-off movie starring Jason Statham's Deckard Shaw and The Rock's Hobbs, who team up for another insane, action packed mission.  The movie has a July 2019 release date and is being written by Chris Morgan, who wrote six of the eight Fast & Furious movies.
John Krasinski directing Life on Mars for next film: Actor/director John Krasinski has picked his follow-up to the wildly successful A Quiet Place with the sci-fi film Life on Mars.  Based on a short story, the movie is set in an abandoned Mars colony and follows a woman who is the descendant of the original colonists and is shocked to discover one day that she can breathe the air outside the colony.
The Rock says Black Adam could start shooting next year: Making the rounds for Rampage, Dwayne "The Rock" Johnson mentioned that the script for Black Adam is in and seems great and, if everything else works out, they could start shooting it next year.  Despite being his main adversary, Black Adam will not appear in next year's Shazam movie, which stars Zachary Levi.
Comedy Central doing a roast of Bruce Willis: Bruce Willis will be the latest target of a Comedy Central Roast, which will air sometime this summer.  The last Comedy Central Roast was Rob Lowe in 2016.
AMC picks up comic adaptation NOS4A2: AMC has picked up the rights to Joe Hill's horror novel NOS4A2 and will develop it into a ten episode TV series.  The novel follows Victoria McQueen, who has a gift for finding things and can teleport anywhere in the world thanks to a magical covered bridge and Charles Manx, a vampire who survives off the souls of children that he kidnaps and brings to an otherworldly theme park called Christmasland. Victoria is the only person to ever have escaped Manx but he has never forgotten her and their paths cross again.
Rick & Morty D&D crossover coming to comics: While the fate of Season 4 of Rick & Morty is in limbo, IDW and Oni Press are teaming up for a new Rick & Morty crossover that will throw the title duo into the world of D&D with Patrick Rothfuss and Jim Zub writing the story and Troy Little doing the art.  The crossover begins in August between the Rick & Morty book and the Dungeons and Dragons book.
Batgirl hires a writer: Despite losing Joss Whedon, the Batgirl movie is moving ahead and screenwriter Christina Hodson has been hired to write the script.  Hodson wrote the Transformers spin-off Bumblebee and also worked on Shut In and Unforgettable.
HBO turning I'll Be Gone in the Dark into docu series: HBO is turning the true crime book I'll Be Gone in the Dark by the late Melissa McNamara into a documentary series for the network.  The book follows McNamara's investigation into the Golden State Killer, who committed over 50 home invasion sexual assaults in Northern California before heading south and committed 10 murders and has never been identified.
Star Trek Discovery casts Captain Pike: A staple of the Star Trek universe, Star Trek Discovery has cast their version of Captain Pike with Inhumans/Hell on Wheels star Anson Mount.  Pike has been a character since the very beginning and was even supposed to be the actual main character before the switch to Captain Kirk and was most recently played by Bruce Greenwood in the Abramsverse.  The season finale of Discovery found the crew of that ship receiving a distress call from Pike's USS Enterprise.
I'm like the J. Jonah Jameson of Everything Action, writing and editing and constantly demanding pictures of Spider-Man.
anson mount
bad boys
batgirl
bill hader
black adam
bourne
captain pike
comedy central
D&D
david leitch
donnie yen
fast & furious
gabriel luna
gabrielle union
gong li
HBO
ill be gone in the dark
IT chapter 2
james mcavoy
jason statham
jessica alba
jessica chastain
jet li
joe hill
john krasinski
la's finest
life on mars
melissa mcnamara
mulan
News
news shotgun
nos4a2
rick & morty
roast of bruce willis
star trek discovery
the rock
the terminator
treadstone
true crim