EA at PAX East 2018 Part 2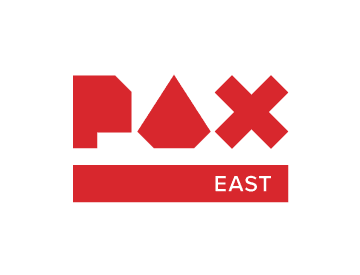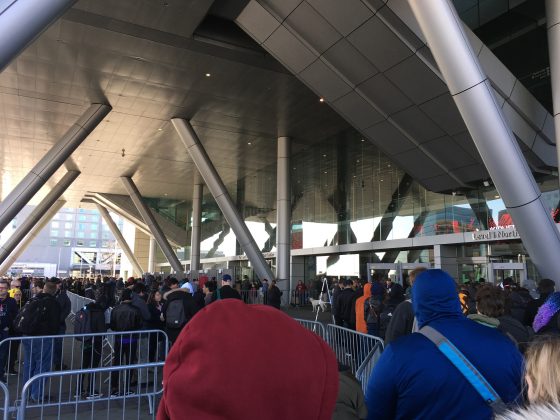 Friday of PAX East is normally when things really kick off. The crowds, the events and the swag is dialed up a notch. We paced ourselves pretty well the first day to try everything we could before the lines would be out of control, and this day would be no exception. So after a traditional Boston stop at Dunkin Donuts, the Everything Action headed into Day 2 for another jammed pack day of games on the show floor.
Dauntless: Dauntless is an upcoming co-op action RPG from Phoenix Labs that is similar to Monster Hunter but distinguishes itself with it's more stylized look and fast pace combat.  Players team up with fellow hunters and battle gigantic beasts in epic, protracted battles that go through different stages as the creature gets more injured or enraged. Players will have to utilize weapons and skills, and coordinate with teammates to use their skills and weapons efficiently as well.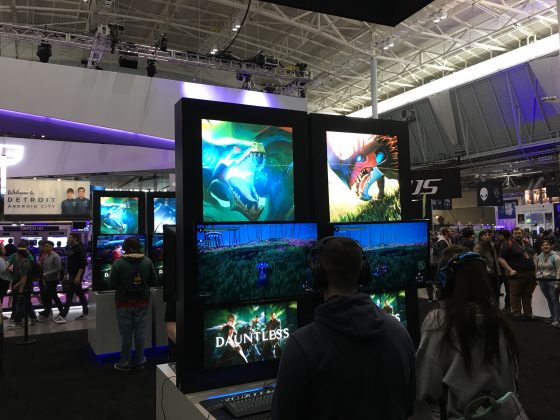 Unlike Monster Hunter, whose combat is much more methodical and requires more precision and knowledge of character animations, Dauntless is more arcade style and more accessible to a wide range of players. The attack system is similar to other action game like Bayonetta or Devil May Cry, although with not quite as robust a combo system. In our 15 minute play time, we quickly explored one level and teamed up to take on a huge owl beast called a Shrike. Good team work, power buffs and dodge rolls helped our team survive the battle and defeat the creature. There's an open beta for the game coming on May 24th, so definitely get your monster hunting party together and check it out.
Ion Maiden: 3D Realms is back with a new game running in the legendary Build engine that previously powered Duke Nukem and Shadow Warrior. Starring Shelly "Bombshell" Harrison, who previously appeared in the top down action game Bombshell from 2016, Shelly is a bomb defusal expert who has to defend the city of Neo DC from the evil cybernetic army of Dr. Jadus Haskel.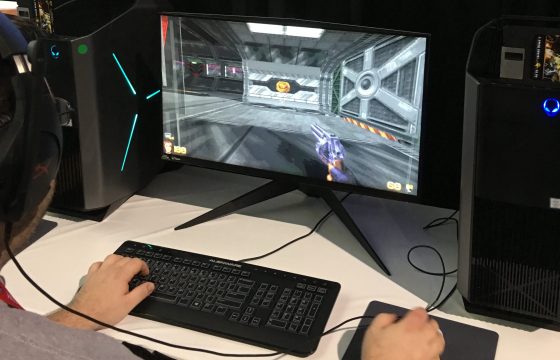 The awesome thing about Ion Maiden is that it's not just replicating the look of the Build engine, this is 100% the original engine, updated for current gen hardware and the look and feel will instantly transport you back to the 90's and trigger muscle memory for strafing and shooting in Duke Nukem or many other classic 90's FPS games.  There's fun weapons like enemy seeking bowling bombs and there's glorious retro explosions and gibs when enemies explode.  If you're a fan of classic FPS, this is a no-brainer must play and you can get the preview campaign right now on Steam.
Steel Rats: Coming from Deep Blue Studio, Steel Rats is a motorcycle action game in the vein of the Trials series but with a slightly less brutal difficulty/failure level and an emphasis on combat.  You control a group of four bikers who are battling an army of robots that have taken over the retro future world of the game. Each biker has a special ability they can charge and use against the robots and all of them have the ability to turn their bike's front wheel into a grinder that can cut through obstacles and enemies and allow them to ride straight up or straight down buildings a la Ghost Rider.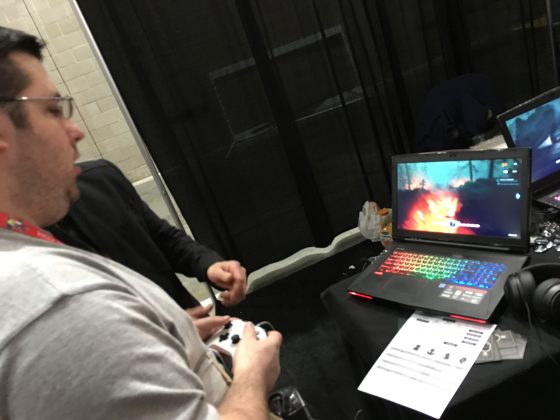 If one of your bikers goes down, you can pick another and continue the level but you can also switch between them on the fly if you need one of their specific skills.  The look of the game is dark and cool and the variety of moves and combat makes it seem more interesting than your typical Trials or other motorcycle side scroller. Steel Rats will be released sometime this year.
The Gardens Between: Coming from The Voxel Agents for PC and PS4, The Gardens Between is a mind bending puzzle game where two friends have to navigate a surreal world of gardens that seems to be built from their memories. Players don't directly control the two characters in The Gardens Between, instead you roll time forward and backward, effecting when characters interact with certain objects or manipulate the placement of certain obstacles in order for the two to reach the top of the level.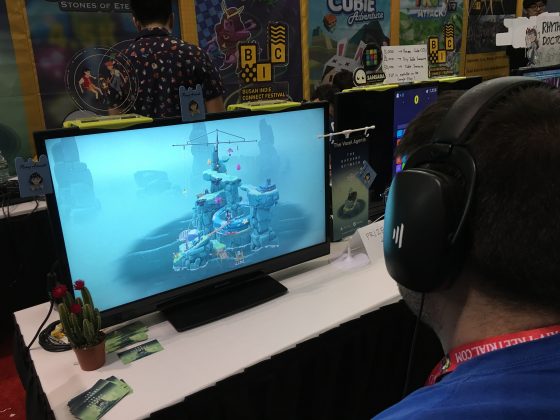 Each level must be completed by having a ball of light carried in a lantern be brought to the top of the garden and it will teleport to the next level. In each garden, you'll also hear conversations and noises related to old memories, which adds to the surreal nature of the gardens and the narrative of the game. After playing a few action games, it was nice to take a small break with a relaxing visuals and sounds while on the show floor. The design of the game is very interesting and beautiful, and the whole thing is incredibly unique. The development team was inspired by the works of Studio Ghibli, and it definite show in the game. The Gardens Between will be released later this year.
https://www.youtube.com/watch?v=vt3arxE-NDY
Dropmix: Hasbro and Harmonix were rocking the PAX East floor all weekend with their awesome music card game Dropmix.  It's been out for a while but we've never seen it really working outside of horribly abused Best Buy demo kiosks. It's an incredible idea that's mind blowing for how well it works with simple cards and an e-reader. The game utilizes a base, your phone or tablet and Dropmix cards that each contain a song on them. Each is color coded and, as you play them, they add beats and rhythms to the mix, ultimately creating an awesome sounding remix of all the cards in play. The variety of artists and genres is a healthy mix of a wide range of music, making for some unexpected remixes.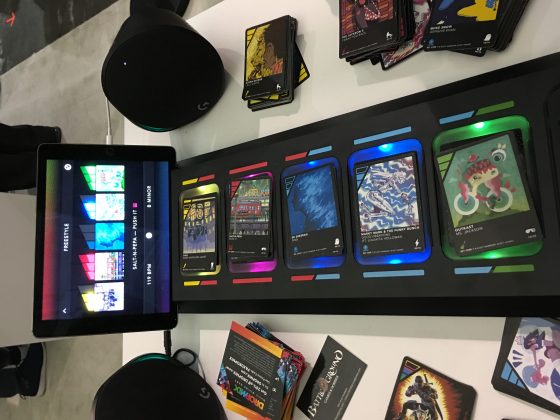 At PAX East there were special cards that featured a remix of the classic 80's GI Joe theme and the song Flutter Fly from Pyre's soundtrack. Harmonix is constantly releasing new expansion packs to go along with the 60 cards you get in the base game. Dropmix is a blast to just keep messing with the cards and making fun remixes, but there are also competitive and party modes as well if you want to see who is the better DJ with your friends. Dropmix is available now.
Double Kick Heroes: Speaking of music games, Double Kick Heroes from Headbang Club is injecting some much needed metal into the genre, along with some awesome pixel art. Playing a metal band trying to survive in the apocalypse, you ride the wastelands playing metal and blasting away zombies, mutant animals, crazy barbarians and anyone trying to take your band down. By hitting the beats correctly prompt on screen, the band's car will shoot it's weapons. Nailing a streak of combos levels up your weapons from a puny pistol to rocket launchers and massive cannons.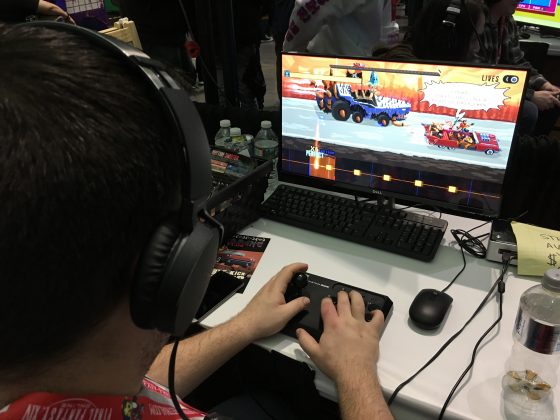 There are boss battles to take on that has you avoiding damage and maintaining bigger combos. The whole game has an awesome Mad Max/Metalocalypse vibe that we haven't seen in a rhythm game ever. It just hit Early Access on April 11th and if you like metal, shooters and music games, or any combination there of, Double Kick Heroes is definitely worth checking out.
Raging Justice: Coming to Xbox One, PlayStation 4, Nintendo Switch and PC, Raging Justice is an old school beat 'em up from MakinGames Ltd and Team 17.  The game lets you pick between three different characters and then sending you onto the mean streets to take down the army of goons causing chaos.The game is classic brawling with simple combos, weapons to pick up and special moves but you can also get bonuses for arresting goons instead of taking them out.  The game has a unique look that kind of seems reminiscent of the original Killer Instinct. That is due to the influence of lead designer at MakinGames Ltd, Nic Makin, who had previously worked at Rare.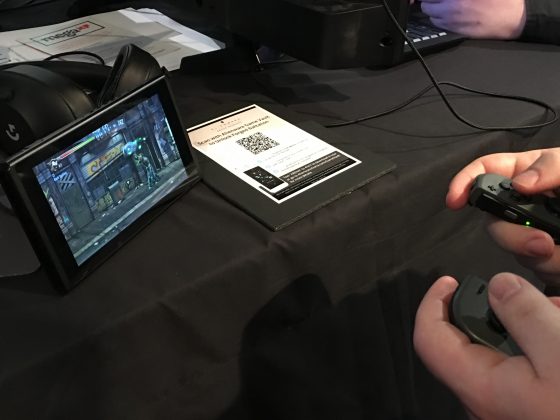 Much of the artwork was 3D models that have been rendered down and reused as sprites, creating an old school vibe on modern hardware. If you're a fan of the 2D beat em ups with a Switch (or the other consoles its hitting), this definitely worth keeping an eye out for.
Yoku's Island Express: Yoku's Island Express is an adorable looking platformer coming to PS4, Xbox One, Switch and PC this year from Villa Gorilla and Team17.  Players take the role of the bug Yoku and his new position of an island mailman. The unique highlight that sets Yoku apart from other platformers is that this game utilizes pinball gameplay like flippers and bumpers, to launch Yoku around the map and fulfill the various missions and side quests given to him by the residents of the island.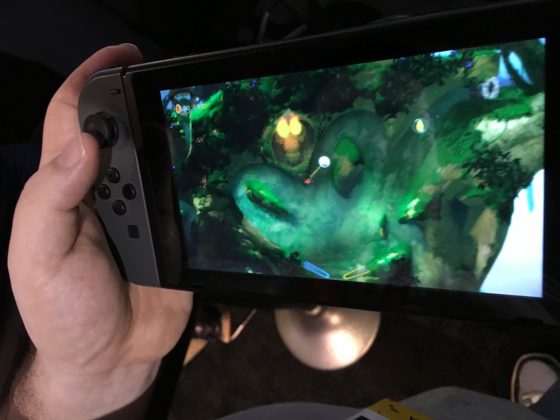 The pinball gameplay feels great and isn't some simple gimmick. You really need to have some experience with pinball to be able to nail certain lanes or hit certain targets. The game has a charming look that calls back to classic like Banjo-Kazooie mixed with adventure pinball games like Sonic Spinball or Pokemon Pinball. Prepare to be a pinball mailman wizard when Yoku's Island Express arrives later this year.

We finished up Day 2 without having to overextend ourselves, we had to rest our feet and prepare for two more days of this event. Chris enjoyed his time playing Dropmix, a fun party game that has to be played to experience the creativity and innovative designs that went into the idea, and to see what kind of music your friends could mix. Zach was extremely into Ion Maiden and it's return to old school FPS. It was also pretty cool to see a lot of third party developers making new content for the Switch, so not everything has to involve Link or Mario for a great Switch game.
3d realms
boston
Conventions
dauntless
double kick heroes
dropmix
gamebox 2.0
ion maiden
PAX East
Pax East 2018
raging justice
steel rats
the gardens between
video games
yoku's island express