EA at PAX East 2018 Part 4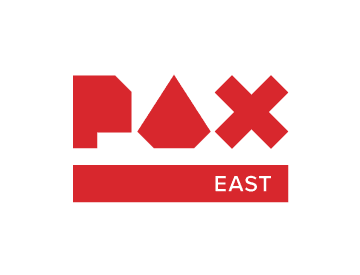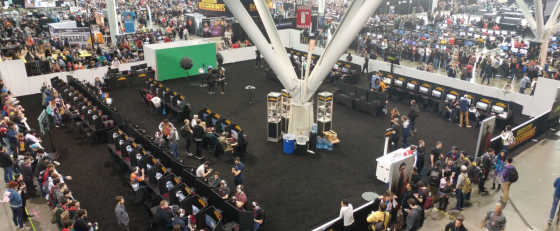 Sunday was the home stretch for the Everything Action crew at PAX East 2018. We wrapped our scheduled game interviews and got to roam about the showfloor one last time before we hit the road and recover. In our last entry in our PAX East 2018 series, we tried international indie games and recap our experience at two PAX East after parties.
Day 4
Hyper Jam: Coming from Bit Dragon, Hyper Jam is a Power Stone inspired brawler that is drenched in neon, Synthwave style. With a special musical focus with a soundtrack by the incredible synthwave groups Dance with the Dead and Vulta,  players pick from a roster of 80's inspired characters, and head into arenas and battle for a last man standing combat.  Hyper Jam features a fun progression building system that allows each player to choose a perk or ability after each round. The first loser of the round gets to choose first, and the winner gets the left overs. All the extra bonuses stack, so abilities can be combined or enhanced. The final winner of the battles are determined by reaching a certain point threshold by most wins, combos and other stats contributing to the final score. So winning a few rounds doesn't automatically give you the lead.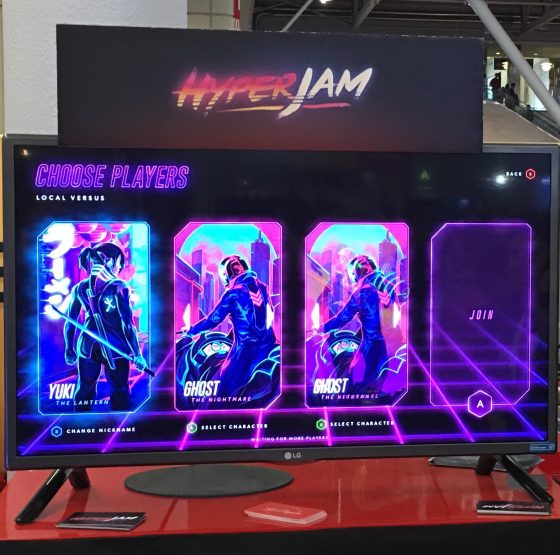 Players will find a range of weapons to pick up and use in combat, like katanas, grenade launchers, rocket launchers, machine guns and more, all which have a limited ammo count or usage meter. The gameplay is incredibly fast and brutal with up to four players battling it out. The different perks will make each round different, and it keeps the player guessing where the hits will be coming from. Hyper Jam will be released this year on Steam.
Earthfall: With competitive shooters and Battle Royale type games being all the rage, developer Holospark is looking to bring back co-op in a way we haven't really had since Left 4 Dead with Earthfall.  Basically "Left 4 Dead with Aliens", you and up to four friends play as survivors trying to make it through an Earth that is being invaded by vicious aliens. Players will have to achieve various objectives on each map and survive massive swarms of aliens. There are tons of weapons, equipment and gear to aid you in mowing down the swarm. Later parts of the game will have players customize their weapons and build new defensive and offensive objects. It definitely brings back that hectic Left 4 Dead feeling with the frantic shooing gameplay.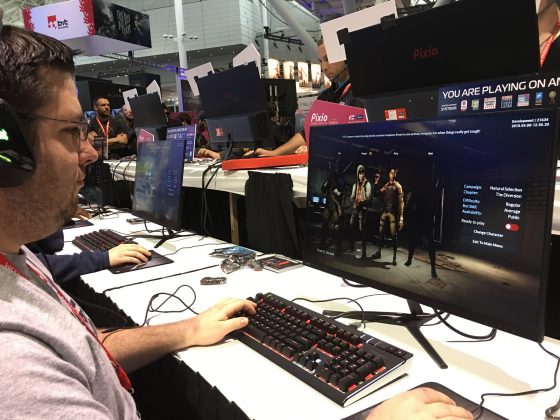 Borrowing another design from Left 4 Dead, there are different species of aliens that will attack the players. Mixed in with the regular grunts, special elite aliens will have powerful attacks that will pounce on you and try to eat your face, or ones that explode in a cloud of noxious acid.  When the swarm attacks and teammates are going down, it gets insanely intense. Fast shooting, quick decisions and good teamwork is vital to survive even the smallest objectives. If you've been jonesing for some great co-op action, and need a break from the screaming zombies, definitely check out Earthfall.  It's in Early Access right now on Steam and will be coming soon to PS4 and Xbox One.
My Memory of Us: My Memory of Us is an upcoming side scrolling adventure game that is inspired by life in Poland during World War II.  Playing as a young pair of friends, you have to make your away around The City and solve puzzles and avoid the evil robot army that has invaded. You can switch between characters and each of them have a unique ability that you'll need to use to solve puzzle. The gameplay is easy to follow as there are little clues that appear above characters heads, giving you an idea of what needs to be done. The game offers different game mechanics that require players to fetch items, quietly hide in openings, and misdirect enemies.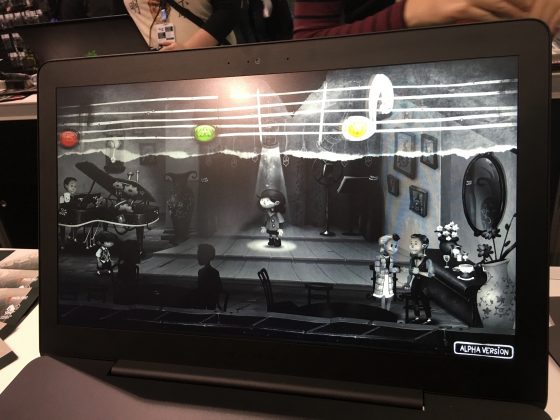 The story is told in a family friend approach to the horrible real life events. The grim realities that this game was based on are lightly translated to keep the message of the game focused and entertaining. The art style has a classic cartoon influence that expresses so much depth in simple grey scale colors. If you like games with a little bit deeper meaning on top of some solid, classic gameplay, like Valiant Hearts or This War of Mine, then definitely keep an eye out for My Memory of Us on Steam.
I Hate Running Backwards: I Hate Running Backwards, from Binx Interactive and being published by Devolver Digital, puts a new spin on the top down shooter by pitting you against enemies coming from the bottom of the screen as your character moves at the top of the screen, dodging obstacles and picking up power-ups.  You can choose from an all-star lineup of Devolver characters including Rambro from Broforce, Jacket from Hotline Miami, Sam from Serious Sam and more, each of them with a unique weapon and ability. There is also some insane, screen filling weaponry in each level, all of which are randomly generated.  You'll fight enemies from various games as well and levels are themed around the different characters as well, like an Egyptian Serious Sam level. It's some old school, arcade shooter style action that's coming soon to PS4, Steam, Switch and Xbox One.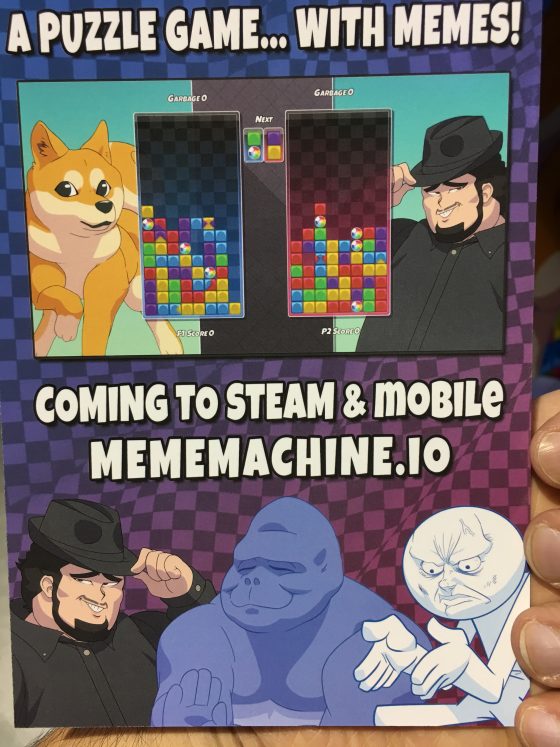 Meme Machine: Meme Machine is a new game from Screenwave Media and pits some of your favorite internet meme characters against each other in a puzzle fighter like Puzzle Fighter or Puyo Puyo.  There's Harambe, Doge, Fedorable and more and you can take on the AI in Arcade mode, a friend (or enemy) in Versus mode or try to get the high score in Score Attack. Gameplay should be familiar if you've played any sort of puzzle fighter in the last decade or so, you'll get bricks with two different colors and you want to build up combos of them to unleash attacks and send garbage blocks to your opponent side, eventually forcing them to hit the top of the drop zone area and lose. It's a funny joke built on a tried and true gameplay style and if you're into puzzles and dank memes, definitely check it out. Meme Machine will be released this coming 4/20.
Decay of Logos: Decay of Logos is a new action/adventure game in the vein of Breath of the Wild or Dark Souls from Amplify Creations and Rising Star Games.  You play as the elvish Ada, who is on a quest for revenge when her village is destroyed and she must make her way across the land. She will encounter many battles with strange and evil tree like creatures, explore dungeons and gain better weapons and armor.  Ada is also accompanied by her elk-like creature companion, who she can ride to get places faster.  It has a cool, unique art style and the enemies are very unique and different as well and require some Dark Souls style locking on and precision to defeat, as one or two hits will kill you.  It seems like a gigantic world to explore and fight through and it's coming to Switch, PS4, Xbox One and PC in the fall.
Trailblazers: Also coming from Rising Star Games and developer Supergonk, Trailblazers is a racing game that is unique for two reasons.  First, it's co-op as you won't be racing by yourself and instead players will be part of a 3 person team that will take on another 3 person team on the track. Second, it has a Splatoon style painting system where racers can lay down or shoot out paint. If you are driving over your own color, you get a boost while hitting the other team's paint will slow you down.  The game kind of has a Wipeout feel as the vehicles are all rocket powered hovercrafts but the look is much more colorful and cartoonish, sort of Borderlands-esque with the cel shading. There is a roster of weird and wacky drivers with different stats and abilities to suit any racing style as well. From the speeders to the precision handling, Trailblazers offers a new twist on competitive racing with a splash of paint.  Trailblazers will be out soon on PS4, Xbox One, Switch and PC.
After Parties
To celebrate a successful day at PAX East, we headed to a few after parties to get some overtime with more games and geeks. We tried to pace ourselves from getting too self indulgent on all the games and drinks. Well at least Zach did. Chris, not so much. The PreGamer event was lucky this year that they didn't serve that FallOut fishbowl size cocktail or else Chris would be THE King of the Hat there. Here are our highlights that were camera safe.
– Made In MA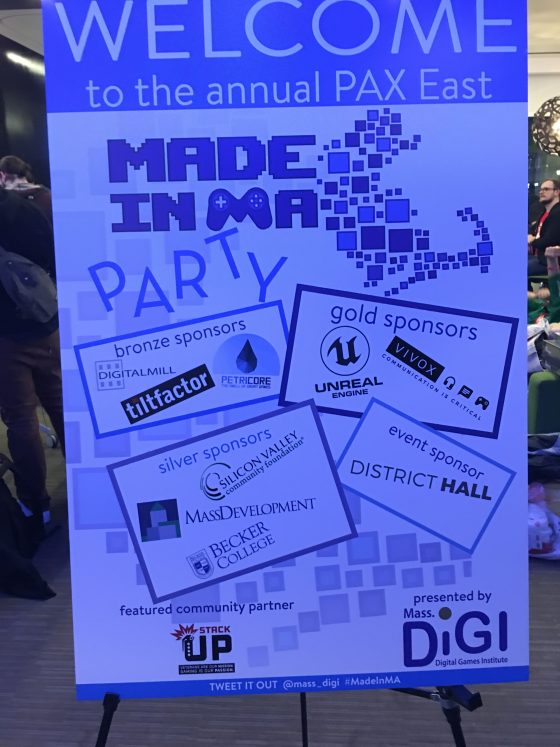 When we had wrapped up Day 1, we headed out to District Hall for the Made in MA party presented by MassDigi. It was a event that gathered developers from all parts of Massachusetts and showcased what the locals were making. There were student projects and a few bigger named studios set up to demo. That night was surprisingly chilly, so any event that's indoors and has good beer has an amazing promise to us.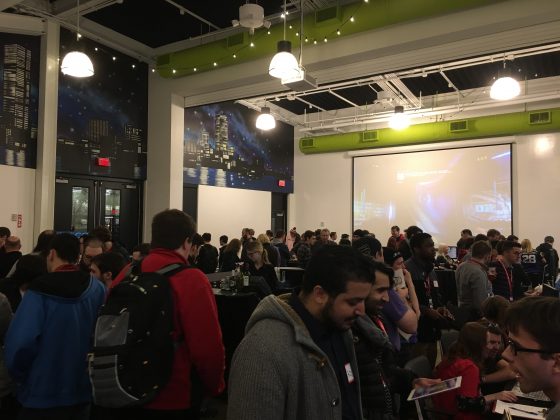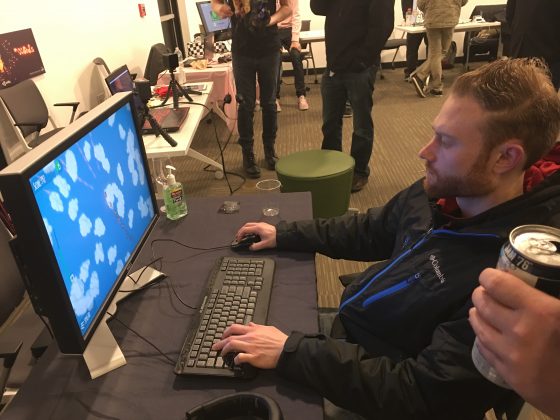 We tried some early prototypes of games and a really fun AR mobile game that had us twirl in place while trying to toss paint on monsters. It was cool to see so many up and coming developers, and it was a chill experience after hours on the show floor. We cant wait to check out where some of these games go from here at next year's event.
Acer Predator Afterparty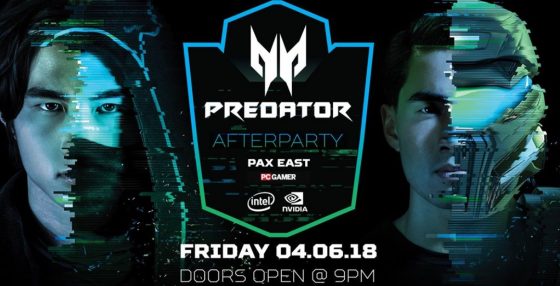 Returning for another year at PAX East, the Predator party is a gaming bash that features all the cool things about PC gaming. The event had stations for trying games in ultra setting graphics and a display for the newest gaming rigs and laptops. Plus we were invited an hour before the opening to hang out with various developers, content creators and get a quick bite to eat before the party started.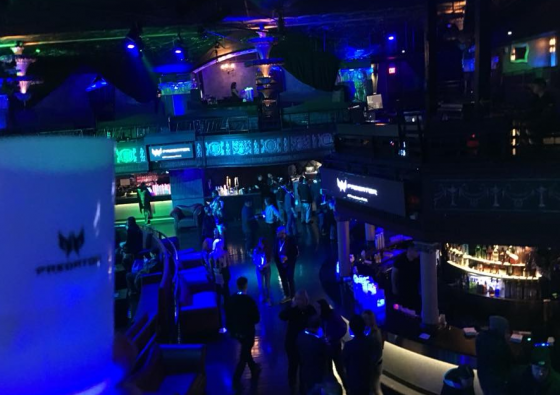 The Royale Nightclub is a big venue with multiple bars and plenty of space for gamers to camp out in. We jumped around the place, making fast friends and scoring some free swag.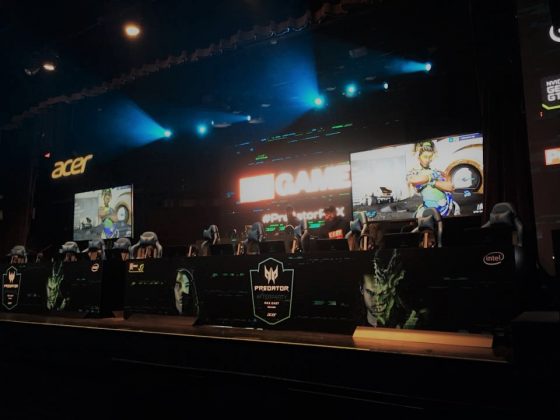 Attendees were able to get a chance to test their skills against a pro e-sports player, and see if they got what it takes to be the best.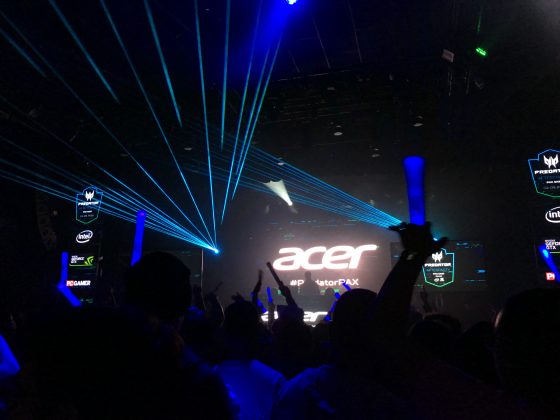 This @PredatorGaming don't stop till the crowd stops singing #predatorpax #predatorgaming #pax #paxeast #paxeast2018 #party #gaming #party pic.twitter.com/M2zwav12bN

— Everything Action (@evaction) April 7, 2018
Once the party picked up, the dance floor was flooded with people and the crowd loved the music. We got into the action with lots of singing and blinking light cup waving.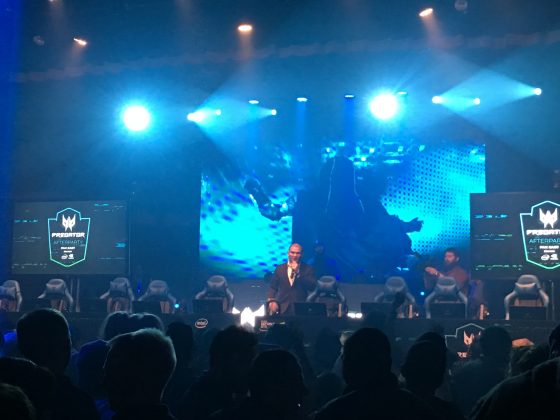 There was a contest for free computer gifts that ranged from accessories to a complete gaming rig if you had the right tweet at the event. You can bet we tried our best to get ourselves some prizes, but sadly we didn't win anything. Still, we were having a good time and we cheered for the winners.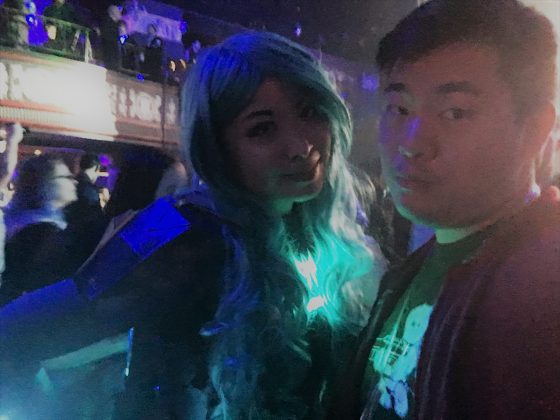 Chris got a quick selfie with the official Predator Gaming Cosplayer Vickybunnyangel. Her cosplay was designed and originally worn by Stella Chuu, who was at the PAX East show floor. It was cool to see the computer fans working and have their LEDs light up the costume.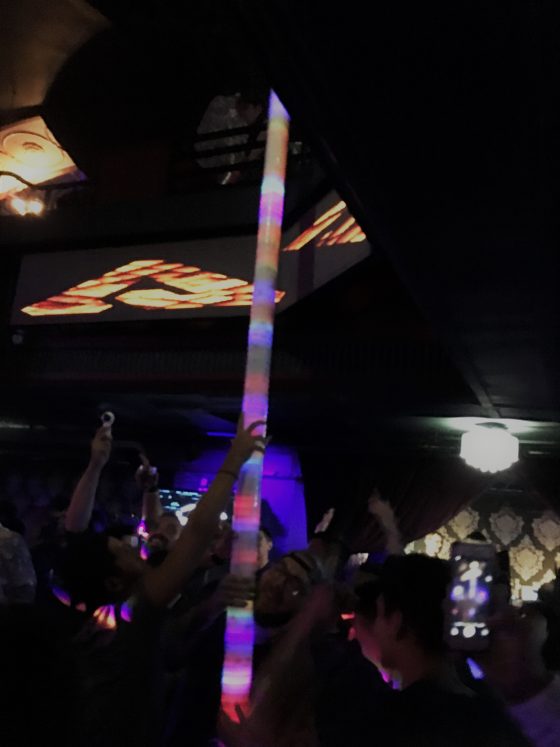 Just when we thought that maybe we were partying hard, this feature of teamwork, drinking and bad ideas walks by. A towering stack of 30+ brightly lit cups roamed the dance floor, thankfully they were empty. We hope so anyway. We didn't stick around to find out if cup #15 or #45 had any liquids.
Hot Pot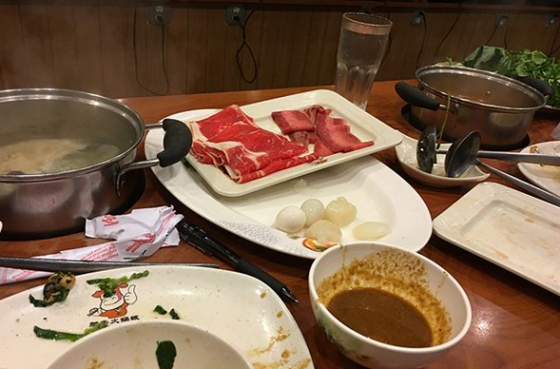 After all those days of gaming and partying, we deserved a break and take our time with our dinner. We hit up up Boston Chinatown's famous Hot Pot Buffet restaurant, and it was everything the yelp reviews promised it would be. It was a eaters dream with tons of options for meat, sea food and veggies to dip into a boiling broth. You can only eat so many burgers and sandwiches before you just crave something a bit more exotic.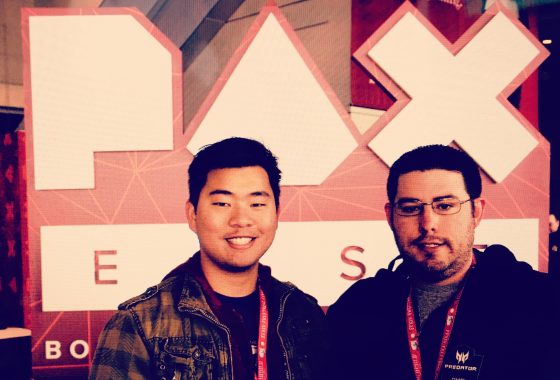 We close out another PAX East with a peak at new games coming our way through out the rest of this year and beyond. Lots of great titles are coming from indie devs and some fun twists on some classic genres. Once again PAX East proves why it's one of the best annual shows with a pleasant community, insightful developers and awesome after parties. We look forward to the next PAX event and all the exciting nerdy goods it offers.
Bitten by a radioactive video store rental employee and overcome by Pac-Man fever, Chris seeks new comic books, games, and movies to review.
Conventions
decay of logos
earthfall
gamebox 2.0
hyper jam
i hate running backwards
meme machine
my memory of us
PAX East
Pax East 2018
trailblazers