The Pull List – Koshchei The Deathless #5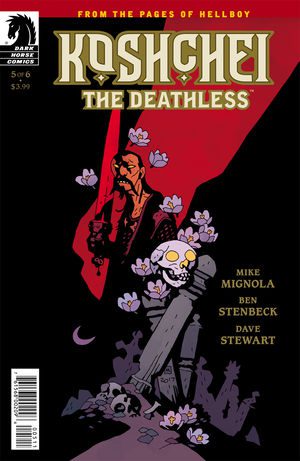 After a fierce battle with his own self, Koshchei realizes that his soul has been imprisoned Baba Yaga and now he now is her slave. Forced to do her bidding, Koshchei is Baba Yaga's personal assassin and starts to eliminate to all those who would challenge her power. Great beast, mystic creatures and innocent humans are slaughtered from orders of Baba Yaga. Koshchei almost gives up complete control to Baba Yaga, but his act of defiance will come at a great cost.
Koshchei had been an honorable warrior that fought for his own beliefs, having a small assurance that his own soul is protected. Issue 5 shows the turning point from when Koshchei lost all hope for his soul. Letting himself to do dark deeds for the wicked Baba Yaga. Koshchei reflects over this moment with Hellboy as he called himself Koshchei The Damned, taking no pride in the horrors that he caused. Issue 5 also shows connections to other characters and events that happen in the Hellboy series, such Koshchei hunting for the Bog Roosh and Vasilisa, two characters Hellboy had also encountered in his adventures. As with most European folklore, no good deed goes unpunished. Mike Mignola and Ben Stenbeck has lead the story to take a darker tone as Koshchei becomes corrupted. His own honorable ways and heroics are tarnished by as Koshchei is just a ruthless killing tool for Baba Yaga.
Koshchei The Deathless #5 will be released May 2nd 2018
Bitten by a radioactive video store rental employee and overcome by Pac-Man fever, Chris seeks new comic books, games, and movies to review.
comics
dark horse comics
hellboy
Koshchei
Koshchei the Deathless