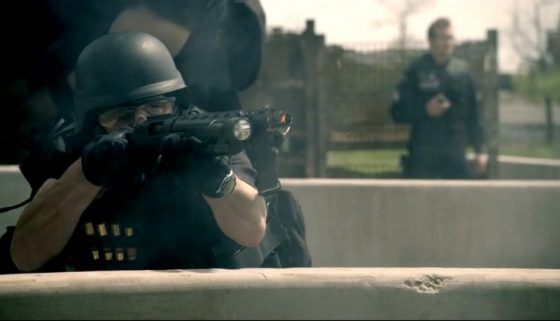 Scary Stories to Tell in the Dark begins shooting soon: The Guillermo Del Toro produced adaptation of Alvin Schwartz's collection of horror stories will begin shooting this summer.  The movie version will find a group of young teens investigating sudden and macabre deaths in their small town.  André Øvredal is directing the film for GDT, he previously directed The Autopsy of Jane Doe and Trollhunter.  There's no main cast set yet.
John Wick Chapter 3 synopsis revealed:
"John Wick (Keanu Reeves) is on the run for two reasons… he's being hunted for a global $14 million dollar open contract on his life, and for breaking a central rule: taking a life on Continental Hotel grounds. The victim was a member of the High Table who ordered the open contract. John should have already been executed, except the Continental's manager, Winston, has given him a one-hour grace period before he's "Excommunicado" – membership revoked, banned from all services and cut off from other members. John uses the service industry to stay alive as he fights and kills his way out of New York City."
Marvel looking into Eternals and Nova movies: Kevin Fiege, the main producer of the MCU, said that future plans for the universe are going even more cosmic as they are looking to make a Nova solo film, featuring possibly original Nova Richard Rider or the more recent and younger Sam Alexander.  They are also looking into developing a movie based around Eternals, a group of characters created by Jack Kirby that leans hard into weird, insane side of the Marvel universe, as The Celestials, five million years before the present day of the Marvel universe, created two races of superpowered beings, the Eternals and the Deviants, and this eventually led to the creation of the mutants as things evolved.
Fast & Furious animated series coming to Netflix: Kids are getting their own slice of the Fast & Furious universe as a new animated series is coming from Dreamworks and Netflix.  The new show will follow Dominic Toretto's cousin, Tony, who is recruited, along with his friends, by a secret government agency to infiltrate a street racing ring and take down a criminal organization that is behind it. Tim Hedrick, one of the showrunners of Voltron on Netflix, and Bret Haaland, showrunner on All Hail King Julien, are the showrunners of this new series.
Goosebumps 2 gets an official title: Goosebumps 2 is now officially Goosebumps: Haunted Halloween.  Slappy, the villain of the first movie, is back and supposedly still voiced by Jack Black, even though it's not clear if he'll also be back as RL Stine.  The cast is completely new from the first movie and includes Wendi Mclendon-Covey, Chris Parnell, Ken Jeong, Madison Iseman, Ben O'Brien, Caleel Harris and Jeremy Ray Taylor and is out this October.
Peter Parker cast for Into the Spider-Verse: Sony is releasing the animated Spider-Man: Into the Spider-Verse movie this December and previously cast Dope star Shameik Moore as Miles Morales and now New Girl and Jurassic World co-star Jake Johnson has been cast as Peter Parker.  Lord & Miller produced the film and the trio of Peter Ramsey, Bob Persichetti, and Rodney Rothman are directing.
Jumanji 2 confirmed: Afer making almost a billion dollars worldwide, a sequel to Jumanji: Welcome to the Jungle is a no-brainer and it's arriving in December of 2019 and will face off directly against the next Star Wars movie.  Dwayne "The Rock" Johnson is definitely returning and it's probably a safe bet that Jack Black, Kevin Hart and Karen Gillan will return as well, because a sequel without any of that quartet will break the special comedic sauce that made Welcome to the Jungle so fun.
An HD version of Turkish Star Wars is out in the world: Film historian Ed Glaser, back in 2016, discovered the last remaining 35mm print of The Man Who Saves the World, the 1982 film that became the cult sensation Turkish Star Wars.  Glaser has restored and color corrected the print and now has an HD, 2K version of the film available, although right now it will only be shown in two special screenings in Europe on May 4th but there are discussions with distributors to get a wider release and possibly DVD/Blu-Ray release in the future.
Double Dare is returning to Nickelodeon: The classic Nick game show Double Dare is coming back to Nickelodeon this summer with 40 new episodes hosted by Marc Summers.  The new version will retain the classic format of two teams answering trivia questions or forcing each other to do physical challenges and the winning team eventually going through a massive obstacle course to gain prizes.
Harrison Ford doing his first voiceover role: Harrison Ford will be doing his first ever animated voiceover role in the upcoming The Secret Life of Pets 2.  It's not clear who Ford will play but he'll be joined by Nick Kroll, Pete Holmes and Tiffany Haddish, who are all joining the original cast that are coming back, with the big exception of Louis CK, who is being replaced by Patton Oswalt.
Megan Fox hosting Travel Channel mystery show: The Transformers/TMNT star will travel around the globe for a four episode Travel Channel show where she will talk to experts and reexamine the biggest mysteries and myths of history, including if the Trojan War actually happened or if Amazons were real.  The show will premiere sometime later this year.
A Quiet Place 2 on the way: The surprise horror hit A Quiet Place is getting a sequel from Paramount with "the same group of people that made the first film" without confirming if John Krasinski will be back to direct or if the same cast, including Krasinski and his wife Emily Blunt, will be back to star.  As of right now, the movie has made almost $216 million worldwide.
New Star Wars animated series on the way: Coming this fall to Disney XD, a new Star Wars animated series is coming called Star Wars Resistance.  Dave Filoni, the showrunner of The Clone Wars and Rebels, will be back to showrun this new series, although the visual style will be drastically different from those prior shows, adopting a 2D, anime inspired look and the show will be set before The Force Awakens and follow a young pilot and spy in the ranks of General Organa's Resistance. Gwendoline Christie and Oscar Isaac will reprise their roles as Captain Phasma and Poe Dameron on the show and Christopher Sean, Suzie McGrath, Scott Lawrence, Myrna Velasco, Josh Brener, Donald Faison, Bobby Moynihan, Jim Rash and Rachel Butera round out the voice cast.
Official synopsis for The Predator revealed:
From the outer reaches of space to the small-town streets of suburbia, the hunt comes home in Shane Black's explosive reinvention of the Predator series. Now, the universe's most lethal hunters are stronger, smarter and deadlier than ever before, having genetically upgraded themselves with DNA from other species. When a young boy accidentally triggers their return to Earth, only a ragtag crew of ex-soldiers and a disgruntled science teacher can prevent the end of the human race.
Fox announces cell phone controlled theatrical experience: Fox announced and showed off a demo of a technology called CtrlMovie at the recent Cinemacon.  The tech has been in development since 2016 and would put up prompts on the movie screen and the audience would vote for what they want to happen in an app.  Fox is developing a Choose Your Own Adventure movie, as they acquired the rights to that classic book series last year, that will use this tech.
Splatoon 2 doing a TMNT themed event: Splatoon 2 is doing a "Splatfest" event that will be based around the upcoming Rise of the TMNT cartoon on Nickelodeon.  Players can vote on a bracket to determine which Turtle is best and can buy TMNT themed cosmetic items for their Inklings.  The event is on now and the final voting bracket will end on May 19th.
I'm like the J. Jonah Jameson of Everything Action, writing and editing and constantly demanding pictures of Spider-Man.
animated series
choose your own adventure
ctrlmovie
double dare
dwayne johnson
eternals
fast & furious
goosebumps
guillermo del toro
harrison ford
into the spider-verse
jake johnson
john wick chapter 3
jumanji 2
MCU
megan fox
news shotgun
nova
peter parker
rise of the tmnt
scary stories to tell in the dark
splatoon 2
star wars resistance
synopsis
the predator
travel channel
turkish star wars