The Pull List – Hellboy and the B.P.R.D. 1955 TPB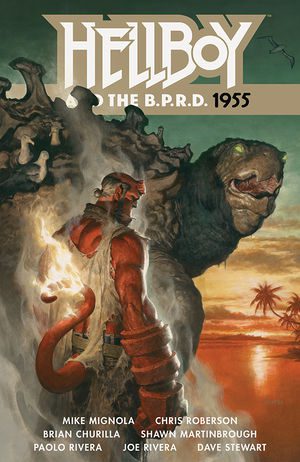 Before Hellboy was the rough and gruff paranormal veteran investigator, he spend the 1950's as was the short temper field in the Bureau for Paranormal Research and Defense (B.P.R.D.). After being discovered in 1943, his training and early missions in the 1950's would prove his capabilities as a loyal agent, work along side other B.P.R.D. agents and partnerships with other agencies. Through it all, his missions would help mold the rookie Hellboy from the misunderstood outcast to a respected and dependable agent he will come to be known. Hellboy and the B.P.R.D. 1955 TPB contains three complete story arcs; Secret Nature, Occult Intelligence and Burning Season, each telling different parts of the B.P.R.D. investigations in the 1955. In additional, there is a gallery of notes and photos of the creative teams work on drafting the comics, with insights about the development process from the artists.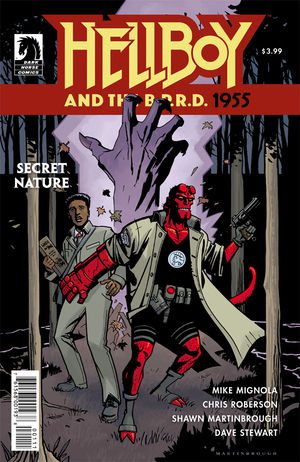 Originally released in August 2017, Secret Nature is a tale about Hellboy and cryptozoologist Woodrow Farrier hunting down a unknown beast in the farmlands of Sutherlin, Oregon. After getting a call from a local farmer, the two B.P.R.D agents explore the dense woodland area in hopes to catch their target. Written by Mike Mignola and Chris Roberson, with art by Shawn Martinbrough and Dave Stewart.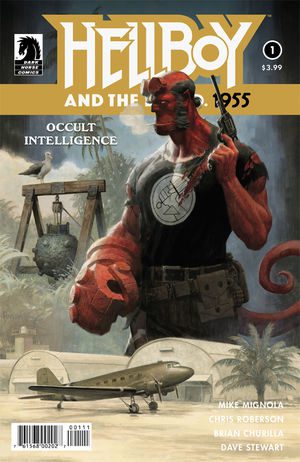 Originally released in September 2017, Occult Intelligence tells two parallel stories. In the South Pacific, B.P.R.D agents are temporary stationed at a government facility that houses many secrets. The facility is a testing ground for new weapons and could turn the tide in any future wars. But when strange creatures begin to emerge from the sea and adventure technology goes missing, the B.P.R.D step in. Meanwhile in London, England, Professor Bruttenholm digs deeper into a mystery group conducting their own investigations. Written by Mike Mignola and Chris Roberson, with art by Brian Churilla, Dave Stewart and Paolo Rivera.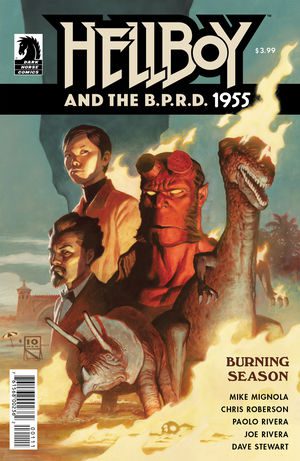 Originally released in February 2018, Burning Season teams Hellboy, Professor Bruttenholm and psychic Susan Xiang as they investigate a case of spontaneous human combustions in a Port Orange, Florida. The supernatural phenomena provides too real and the agents must figure a way to quell the flames. Written by Mike Mignola and Chris Roberson, with art by Paolo Rivera, Joe Rivera and Dave Stewart.
This collection is a great addition for fans that wanted to explore more of the B.P.R.D agents and their crazy adventures solving odd cases. These adventures has Hellboy working with teammates and solving their problems through teamwork, and a little helping hand from Hellboy's brute methods. This series is a fun throwback to a a supernatural detective comics as the 1950 had limited technology. So good old fashion investigation work, a book of the paranormal and some fast trigger hands is how the B.P.R.D. approach their missions during this time. For long time readers, it's neat to see a nostalgic step back in time with the fan favorite characters dealing with ghostly encounters without their hard earn experience yet. There are lots of references to past and present events that reward knowledgeable fans of the series, but is easily approach about for new readers.
Hellboy and the B.P.R.D. 1955 TPB will be on sale June 6th 2018
Bitten by a radioactive video store rental employee and overcome by Pac-Man fever, Chris seeks new comic books, games, and movies to review.
hellboy
Hellboy and the B.P.R.D. 1955
mike mignola