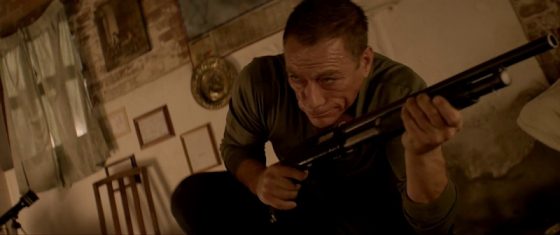 New additions to Men in Black: The supporting cast for the new Men in Black is starting to fill out with Silicon Valley's Kumail Nanjiani and Fallen Kingdom baddie Rafe Spall joining Chris Hemsworth, Tessa Thompson and Liam Neeson.  The movie is being directed by F. Gary Gray and is hitting next June.
Netflix orders Iko Uwais martial arts series: The Raid bad-ass Iko Uwais will be starring in a new Netflix martial arts series called Wu Assassins.  The description of the show is: "Set In San Francisco's Chinatown. The series stars Iko Uwais as Kai Jin, an aspiring chef who becomes the latest and last Wu Assassin, chosen to round up the powers of an ancient triad and restore balance once again"  Byron Man, recently seen on The Expanse and Altered Carbon and also Ryu from Van Damme's Street Fighter, is co-starring and the series will shoot this August for a 10 episode season probably sometime next year.
Doctor Strange 2 confirmed: MCU head honcho Kevin Feige confirmed that Doctor Strange 2 is on the way.  There were not really any solid facts but Feige said it will most likely take place a few years after the first movie and, obviously, post Infinity War, so Strange will probably in a much different head space going forward.
New Danny McBride comedy coming to HBO: After the fantastic Vice Principals, Danny McBride and Jody Hill returning to HBO with John Goodman for The Righteous Gemstones.  McBride and Goodman are father/son televangelists, with McBride's character looking to take over his father's empire and outshine him.  Expect some dark, biting satire about mega-churches and the religion business.  Hopefully Walton Goggins can show up for a guest spot at some point.
RIP Harlan Ellison: Sci-fi legend Harlan Ellison passed away this week at age 84.  Ellison was famous for a number of short stories and novels, including "I Have No Mouth and I Must Scream" and also wrote for a variety of shows in the 60's like Star Trek and The Outer Limits and won nine Hugo Awards, five Bram Stoker Awards, and four Nebula Awards over his career.
Official LEGO Voltron set coming: An official Voltron LEGO set is coming soon based on the iconic Lion version of the team.  The set is an insane 2,321 pieces and will allow you to build each lion and then combine them into a 15 inch tall Voltron.  The set will be $180 and available on August 1st on LEGO's website but it will also be available in limited quantities at SDCC next month.
Rebecca Ferguson joins Doctor Sleep: Mission Impossible's Rebecca Ferguson has joined Ewan McGregor in the upcoming adaptation of The Shining sequel, Doctor Sleep.  She'll be playing Rose the Hat, the main villain and leader of a cabal of "psychic vampires".  Mike Flanagan is directing and the movie hits theaters in January 2020.
Next Laika film gets a release date: The next film from the stop-motion masters at Laika has a release date as Missing Link will arrive on April 19th next year.  The movie stars Hugh Jackman as Sir Lionel Frost, a mythological investigator who is looking for the Missing Link aka Bigfoot.  Zach Galifinakis, Zoe Saldana, Emma Thompson and Stephen Fry co-star and Paranorman director Chris Butler is directing.
Chuck and Killer Klowns coming to Halloween Horror Nights: You'll have to survive killer toys and avoid by turned into cotton candy at Universal Orlando's Halloween Horror Nights this year as Child's Play and Killer Klowns from Outer Space scare zones will be part of the event.  Chucky's area will be "Revenge of Chucky" and will have guests trying to survive a deadly toy fair with horrific versions of beloved toys of the past while the Killer Klowns area will obviously be circus based and have the guests being attacked by the titular alien creatures.  Horror Nights starts on September 14th and goes to November 3rd.
Ghosted and Comic Book Men cancelled: Two more shows got the axe this week as Fox cancelled the Adam Scott/Craig Robinson paranormal comedy series Ghosted after it's first season and AMC cancelled the Kevin Smith series Comic Book Men, which lasted 5 seasons and 96 episodes.
Showtime developing a Halo series: Showtime is developing a series based on the Halo video game series with a show that's a co-production between Showtime, Spielberg's Amblin and Microsoft/343 Industries.  Showtime has ordered 10 episodes for the first season but details are vague about what it will be about or where it will fit in the Halo timeline, only saying that it will detail the war between humanity and the Covenant. Kyle Killen, who previously created the shows Awake and Lone Star, will be executive producing the series.
Details on DC Universe streaming service: WB/DC finally revealed details on their upcoming streaming service, DC Universe.  The service will include a selection of original content, like the live action Titans series an adult oriented Harley Quinn cartoon, classic TV shows like Batman: TAS and Wonder Woman '77, movies like the Nolan Batman trilogy, the Richard Donner Superman (and it's sequels), most of the DC Animated movies and also a curated collection of comics available to read.  The mockups of the design of the app look slick and, now that we have some solid details, it definitely seems like it would be worth $10 bucks a month (No definite pricing or release date were revealed yet).
Toby Kebbell joins Bloodshot: Planet of the Apes (and Hurricane Heist) actor Toby Kebbell has joined the adaptation of Valiant Comics' Bloodshot.  Vin Diesel is playing the title character, a genetically engineered super soldier, and along with the recently added Kebbell, the movie will co-star Eiza Gonzalez, Sam Heughan and Michael Sheen.  The movie is hoping to start shooting in July and potentially kickstart a Valiant Cinematic Universe.
Top Gun 2 looking to cast Goose's Son: Top Gun 2 aka Top Gun: Maverick is looking to cast Goose's grown son and has apparently narrowed the search down to Miles Teller, Nicholas Hoult or Glen Powell.  Tom Cruise is obviously back as Maverick and Val Kilmer will also appear as Iceman and Tron: Legacy/Oblivion director Joseph Kosinski is directing.
Jared Leto cast as Morbius the Living Vampire: Sony's "Spider-Verse" series of spin-offs to Spider-Man that don't include the web-crawler himself has expanded with Jared Leto cast as Michael Morbius aka Morbius the Living Vampire.  A biochemist, Morbius is testing an experimental cure for a rare blood disease that uses bat DNA and it turns him into a "Living Vampire" who needs to drink blood to survive.  The character was created in the 70's and appeared on the 90's animated series.  Daniel Espinosa, who directed Life and Safe House, is directing the Morbius movie.
First Look at Kristen Wiig in Wonder Woman 84: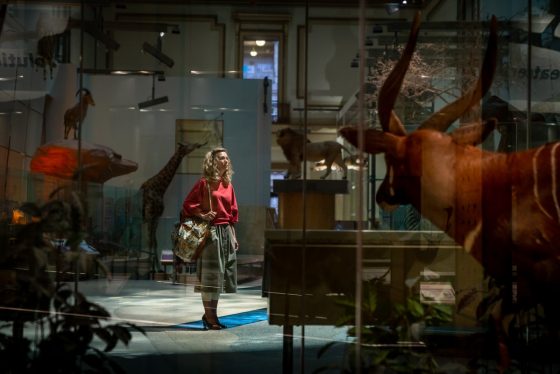 Demolition Man coming to SDCC: To celebrate it's 25th anniversary later this year, SDCC will have a Taco Bell sponsored Demolition Man pop-up attraction.  The attraction will be outside the convention center and will not require an SDCC badge and will offer free food, including the return of Nacho Fries, along with exclusive Demolition Man and Taco Bell merchandise for sale.  The pop-up will be outside the convention and you won't need an SDCC badge to check it out.
First Look at Once Upon a Time in Hollywood:
I'm like the J. Jonah Jameson of Everything Action, writing and editing and constantly demanding pictures of Spider-Man.
alamo drafthouse
child's play
comic book men
danny mcbride
dc universe
demoliton man
doctor sleep
doctor strange 2
dr eggman
dr. robotnik
ghosted
goose
halo
harlan ellison
hugh jackman
iko uwais
IT chapter 2
jared leto
jeremy irons
jim carrey
john goodman
killer klown from outer space
kristen wiig
kumail nanjiani
la's finest
laika
lego
men in black
missing link
morbius
neflix
News
news shotgun
nightbreed
once upon a time in hollywood
pet semetary
rafe spall
rebecca ferguson
SDCC
showtime
sonic the hedgehog
spectrum
spider-man: far from home
streaming service
the righteous gemstones
top gun 2
voltron
watchmen
wonder woman 84
wu assassins