The Pull List – Predator: Hunters II #1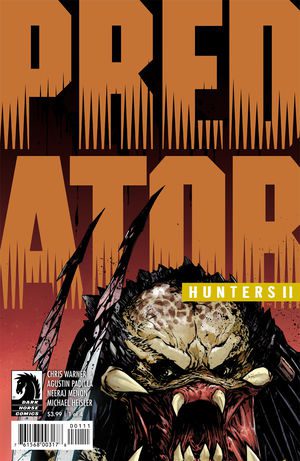 The hunt for Predators leaves the dense green jungles for the isolated mountains of Afghanistan. Still licking their wounds from battling predators in the South Pacific, the Hunters prepare for a new yautja that has made it's presence known after an attack on a Jihadis' base. This hunt will take the hunters to the open deserts of Afghanistan, a place where former private contractor Tyler Swain had lost his squad in a predator attack. Despite the time away from Afghanistan, Swain is still haunted by the experience. But with precious time counting away and the predator hidden in the rocks, the hunters will have to survive threats from all forms out in the mountains.
Chris Warner returns to the Predator series in a direct follow up to the Hunters series. A short time has passed after the events of Predators: Hunters, and the surviving members are facing some loses. Barely walking away after the elimination the Predator threat in the South Pacific, Jaya Soames eagerly plans her hunting team's next mission. The consequences for survival weight heavy on their shoulders.of some of the characters, particularly Tyler Swain would already has guilt from previous battles. This adds some vulnerability to tough egos of the typical battle harden warrior, looking to settle up against a Predator. Tyler Swain was one of the stand out characters from the previous series that was a bit of a jerk for hidden reasons. It is possible Warner is going to lay out an arc of Tyler Swaim or make him easy prey. A notable early scene of the issue shows off some gory kills, displaying that this new predator isn't afraid to get up close and personal. It seems like there will be some build up before the Hunters get their chances with this new Predator in the mountains. For Predator fans looking for more stories their favorite green blooded, invisible cloaking, killing machine. Predator: Hunters II will be the new experience to check out in stores this week.
Predator: Hunters II #1 will be released August 8th 2018.
Bitten by a radioactive video store rental employee and overcome by Pac-Man fever, Chris seeks new comic books, games, and movies to review.
comics
dark horse comics
predator
predators
Predators: Hunters II