The Pull List – Usagi Yojimbo & Teenage Mutant Ninja Turtles: The Complete Collection TPB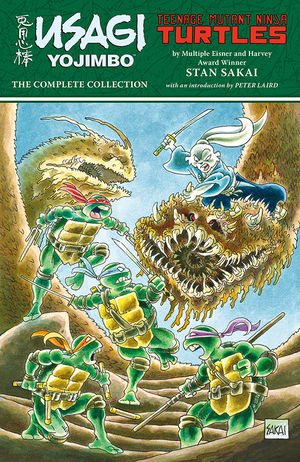 When people think of martial arts animals, undoubtedly the Teenage Mutant Ninja Turtles comes to mind. A veteran comic reader can also picture the long eared rabbit, Miyamoto Usagi, and his adventures in an anthropomorphic re-imagining of feudal Japan. Stan Sakai had published a few stories under the publisher Mirage Studios, the same company that was owned by Teenage Mutant Ninja Turtles creators, Kevin Eastman and Peter Laird. Both comic series contained animals and martial arts and delved into epic action stories. While TMNT focused on secret ninjas in the modern day, Usagi Yojimbo was set in the past with an honorable ronin. A beautiful partnership between the different series would come together in the late 80's that would crossover the characters in long-running team up appearances.
This trade paperback collection brings fives stories of the times Miyamoto Usagi and the Turtles have teamed up, with a gallery of character drafts, artist notes, and alternate comic covers. Starting from their first appearance together in 1987 to the latest crossover story from 2017, these stories tell parts of one continuous tale of Miyamoto Usagi's experience with encountering the Turtles in his world, either by complete accident or by summoning them for help. Stan Sakai and Peter Laird lend their talents to create action packed tales with plenty of martial arts action and charming characterization that fans of each series will enjoy.
Turtle Soup and Rabbit Stew
Created by Stan Sakai in 1987, this was the first crossover event that featured Leonardo mysteriously teleporting to Usagi's universe. In this ancient world, Leonardo finds himself faced with other creatures, dressed in Japanese clothing and defends himself from a horde of bandits. At the same time, Usagi is battling a clan of Ninjas to avoid capture. The two fierce warriors fend off the attacks but find themselves facing off.
The Crossing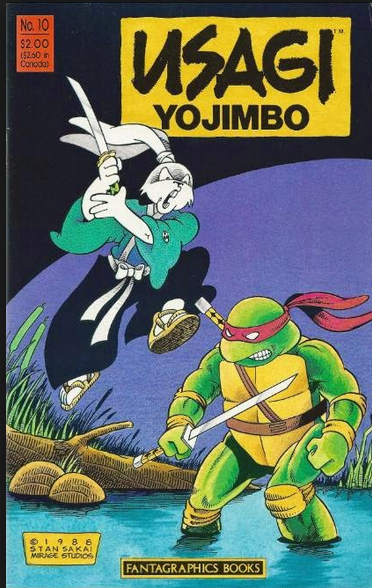 Written and illustrated by Peter Laird and lettering by Steven Lavigne in 1988, this tale picks back up with the fight between Leonardo and Usagi. Now on equal terms, the bladed warriors have a duel to prove whose skills are the best.
Shades of Green

Created by Stan Sakai in 1993, this tale brings together the full set of TMNT into Usagi's world. When a village comes under attack by a Ninja clan. The mystic Kakera summons four warrior turtles found in a different universe to aid Usagi and his companion Gen, to defend the village.
Namazu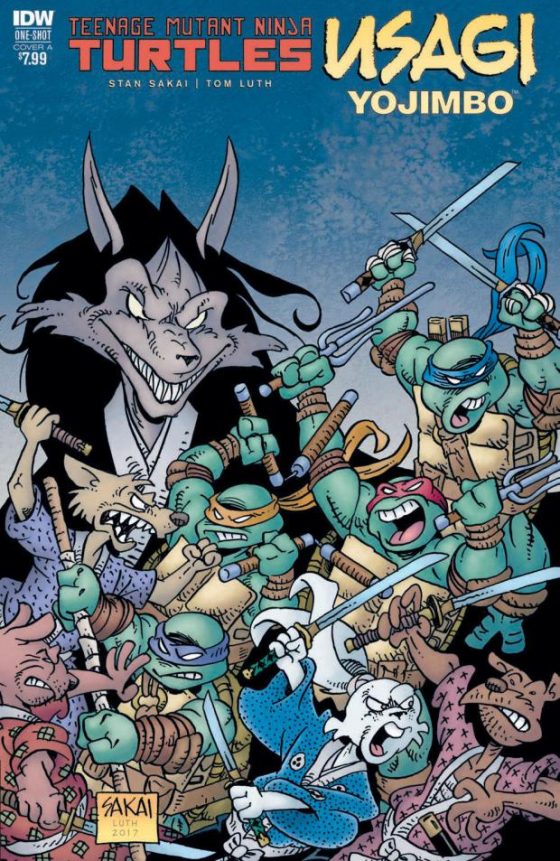 Created by Stan Sakai and colored by Tom Luth in 2017, this tale has another set of Turtles summoned to help Usagi defend Kakera as the mystic tries to contain a beast dwelling under the earth's surface. Jei, a powerful warrior wielding a dark blade, has come to stop Kakera and ensure the destruction of the world.
These stories tell an amazing adventure of great warriors coming together and kicking butt. Stan Sakai's interpretation of the Turtles is exciting and blends nicely with his style. The Turtles have no problem jumping into the fights that Usagi normally encounters and they have great chemistry in the stories. The Crossing features an excellent crossover that not only showcases Laird's representation of Stan Sakai's designs but has a powerful and simple epic narrative that establishes a great flow between Leonardo and Usagi as honorable leaders. This collection is definitely worth a read for fans of either series that have grown up watching Usagi on the TMNT TV shows or have seen TMNT characters with Usagi in the comics.
Usagi Yojimbo & Teenage Mutant Ninja Turtles: The Complete Collection will be on sale September 26th, 2018.
Bitten by a radioactive video store rental employee and overcome by Pac-Man fever, Chris seeks new comic books, games, and movies to review.
comics
dark horse comics
IDW Publishing
Mirage Studios
peter laird
Stan Sakai
teenage mutant ninja turtles
tmnt
Usagi Yojimbo