The Pull List – Stranger Things #3
By Chris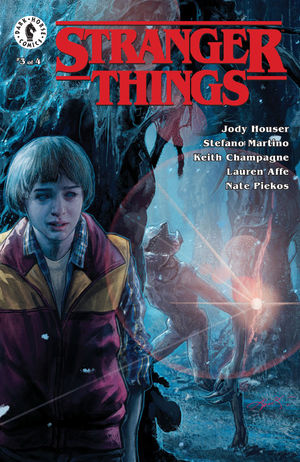 Will manages to contact his mother from the Upside Down but is forced to abandon communications after the demogorgon followed Will's trail. Fleeing to other areas, Will encounters more unusual sights and traces of visitors that found the Upside Down. Eerie radio transmissions, dead victims and portals to the outside world appear. Something is connecting the two worlds at the moment, and it might be the only chance Will has to escape. But making a dash for an exit draws the demogorgon back on the hunt once again.
Issue three gives Will hope for survival as he gets the chance to send a message to his panicked mother, Joyce. Will is able to touch a wall, sending electrical static to the other world. This connects Will's comic adventure to Season 1's "Chapter Three: Holly, Jolly" where Will is selecting letters with Christmas lights. Will's perspective on this event was frustrating as Will is scared and confused. His attempts to contact his mother gives him some assurance that there is hope just yet. But Will's nightmare is far from over as the demogorgon seems to know where to find Will whenever he starts to feel safe.
The Upside Down is a harsh landscape with a distorted order to it. Time seems to stop and the night lasts forever, silencing all the life in the area and covering the many horrors in darkness. Jody Houser develops Will's story to be a physical and mental challenge at every turn. Sprinting for safety whenever the demogorgon appears, concealing himself in small spaces and keeping his mind sharp. His story is not of a soldier, but one of a young boy caught in a demonic situation. Will waits for his chance to escape one more time in the fourth and final issue next month.
Bitten by a radioactive video store rental employee and overcome by Pac-Man fever, Chris seeks new comic books, games, and movies to review.
comics
dark horse comics
netflix
stranger things