The Pull List – The Witcher: Of Flesh and Flame #1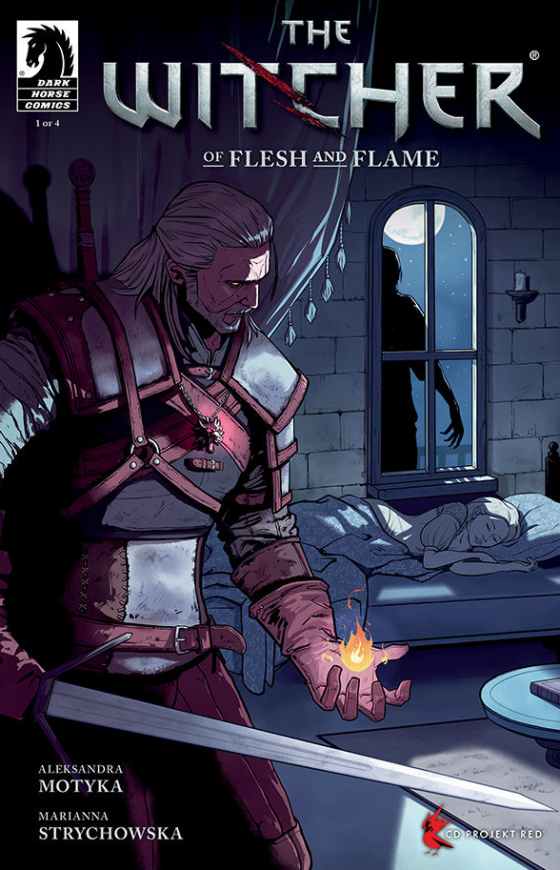 Geralt of Rivia rides off for another quest in Of Flesh and Flame, a new comic mini-series based on the novels of Andrzej Sapkowski, and made internationally famous in CD Projekt Red video games. In Of Flesh and Flame, Geralt is asked by a friend to investigate mystery about his daughter. Awaiting inside a locked tower bedroom, Geralt waiting patiently for any strange sightings. But suddenly a surprise visitor and an ancient device transports Geralt to far away land, and much further than he expected from his witcher contract. 
The roguish hunter for hire finds himself on a task to help a friend, and earn a reward. Typically Geralt takes jobs that give him a challenge, but a good friend needed his service for a personal matter, What starts as a simple job because so much greater, throwing Geralt for a crazy ride that he surely didn't not prepared to expect. Aleksandra Motyka, a writer for The Witcher 3: The Wild Hunt, is at the helm of this story to keep the portrayal of Geralt as fan worthy as possible. Geralt carries himself as a professional warrior but isn't afraid to be fierce or charming when the moment is right. He won't back down from a fight or not smile at a pretty face. Marianna Strychowska provides wonderful artwork that showcases a great emotional depth to Geralt's mood and a taste of what kind of action sequences we would be seeing in future issues. 
Fans of The Witcher series that are craving more content on their favorite white hair monster hunter should be following along this official comic adaption. For in-comers to the series, this is a simple drop-in point to get acquainted with the characters and setting. The first issue is an easy introduction that focuses on Geralt and does a fun job showing how he handles himself.  This story doesn't involve any research on the grand lore of The Witcher stories and feels like an extended side quest.  With more twist and turns ahead for Geralt, he has to steady himself once he figures out what kind of magic teleported him and how he will find his way back home in the next issue. 
The Witcher: Of Flesh and Flame #1 will be on sale December 19th, 2018. 
Bitten by a radioactive video store rental employee and overcome by Pac-Man fever, Chris seeks new comic books, games, and movies to review.
CD Projekt Red
comics
dark horse comics
the witcher