Battle at the Box Office 12/31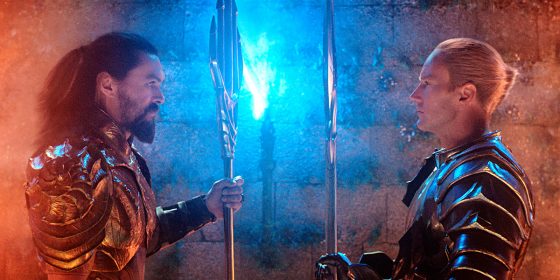 Aquaman took the top spot at the box office for the final weekend of 2018 as the year goes down as the highest grossing year in film history with the total grosses domestically pushing over $11.8 billion.
Aquaman was the #1 movie for the second weekend in a row, also topping last week's jam-packed and confusing weekend leading into Christmas.  Aquaman made $52.1 million this past weekend and it's already made over $189 million domestic and, thanks in large part to China, over $751 million worldwide. It's already made more in 2 weeks than Justice League, Suicide Squad and Man of Steel made worldwide in their entire runs and it's also already the fifth highest grossing film worldwide based on a DC comics property, which adds in movies like the Nolan trilogy into the mix.
Mary Poppins Returns stayed in second (the entire top 5 actually remained exactly where they ended up after the dust settled before Christmas last week) with another $28 million, which is actually up almost 20% from last week.  It's made just shy of $100 million in its two weeks out with $98.9 million and $174 million worldwide.
Bumblebee took third with another $20.9 million, dropping a minuscule 3.5% from last week thanks to actual positive word of mouth and extremely positive critical reception.  Despite it's clear improvements at pretty much every level though, it seems like it will be the lowest grossing entry in the live action franchise.
Spider-Man: Into the Spider-Verse and The Mule rounded out the top 5, both actually making more than last weekend much like Mary Poppins Returns.  Spider-Verse has made $104 million so far domestically while The Mule has taken in $61.1 million.
The two new Christmas Day releases were toward the bottom of the top 10.  Holmes and Watson took seventh place with $7.4 million for the weekend and $19.8 million for its six-day total, which is half of what Step Brothers made in just a regular three day weekend.  Reviews were abysmal going in, with the movie sitting at 0% on Rotten Tomatoes for a good length of time. Vice, the latest from director Adam McKay, took sixth place, just edging out Holmes and Watson with $7.7 million for the weekend but actually making less for the full six days, making $17.7 million so far.  It's McKay's lowest wide release although to be fair, his other movies are gigantic comedic blockbusters like Anchorman.
Ruth Bader Ginsberg biopic On the Basis of Sex took the Per Screen average for the weekend, making $20,758 on each of the 33 screens it debuted on.
Also, since we're at the end of the year, here are the top ten biggest movies worldwide for 2018:
Avengers: Infinity War $2.048 billion
Black Panther $1.346 billion
Jurassic World; Fallen Kingdom $1.304 billion
Incredibles 2 $1.242 billion
Venom $855.2 million
Mission Impossible: Fallout $791 million
Aquaman $751.8 million (and climbing)
Deadpool 2 $735.6 million
Bohemian Rhapsody $702.5 million
Fantastic Beasts: The Crimes of Grindelwald $627.5
I'm like the J. Jonah Jameson of Everything Action, writing and editing and constantly demanding pictures of Spider-Man.
adam mckay
aquaman
Battle at the Box Office
biggest movies of 2018
bumblebee
christian bale
christmas
dick cheney
holmes and watson
jason momoa
mary poppins returns
new year's
on the basis of sex
ruth bader ginsberg
spider-man: into the spider-verse
vice
weekend box office totals