The Pull List – Unit 44 #1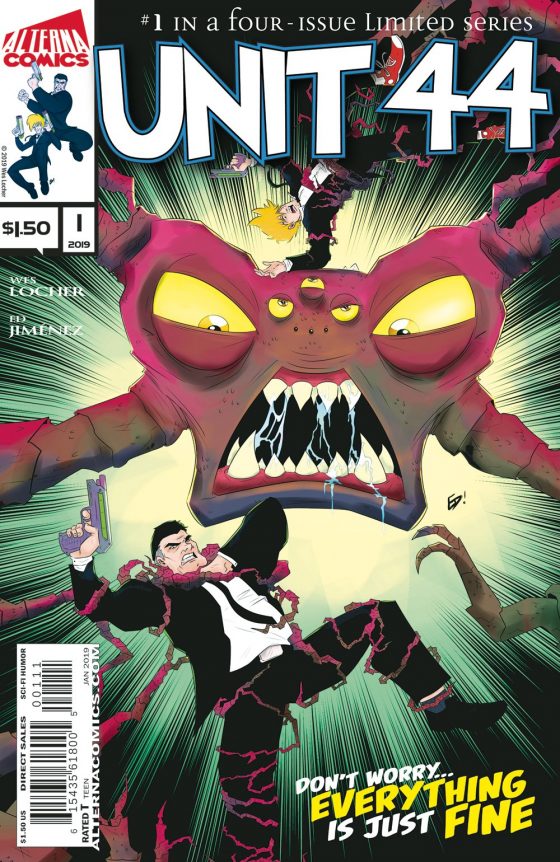 When Area 51's offsite storage unit gets behind on its rent payments, a super-secret government agency suddenly loses a lot of valuable and classified items to storage locker auction. Things go back from bad to worst when two buyers win the contents of the unit and begin to poke around the items. Sent in to fix this mishap, agents Hatch and Gibson are on a mission to find the lost items before it falls into the wrong hands.
Unit 44 is written by Wes Locher and illustrated by Eduaro Jimenez, and was heavily inspired by the The Men In Black series. Hatch and Gibson are a pair of mismatched and disorganized agents who are forced to take this mission. Hatch's stern, by the books approach clashes with Gibsons laid back attitude, leading to them butting heads many times. It also doesn't help the agents that their boss, Ballard is threatening the partners if they mess up. Eduaro Jimenez artwork is very cartoony and it matches well with the story. At every moment when someone is shouting and finger pointing, there's always some hilarious expressing on someone's face and the scene is over acted.  Unit 44 is for any comic reader that loves silly science stories and is worth a checking out when it hits comic selves.
Unit 44 #1 was release in comic shops January 30th, 2019.
Bitten by a radioactive video store rental employee and overcome by Pac-Man fever, Chris seeks new comic books, games, and movies to review.
Alterna Comics
comics
Unit 44