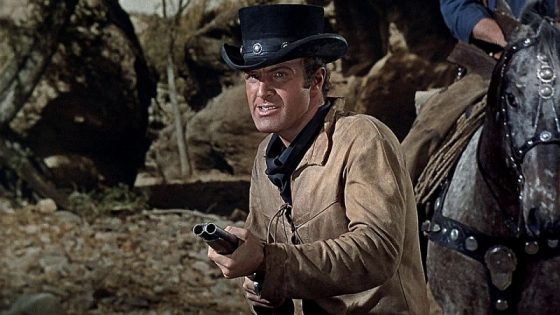 Jorma Taccone has pitched a MacGruber TV series: MacGruber is one of the greatest cult comedies of all time and director Jorma Taccone revealed in an interview this week that he's recently been pitching a MacGruber TV series to several streaming services.  He said it would be 8-10 episodes and "expand the world" of MacGruber.  Taccone also mentioned that Will Forte, Ryan Phillippe and Kristen Wiig would all be back on board if it materializes and also, somehow, Val Kilmer, despite the fate of Dieter Von Cunth in MacGruber.
WB working on Aquaman spin-off The Trench: Aquaman became the highest grossing DC film of all time recently with over $1 billion made worldwide and WB is apparently already ready to bleed their golden goose dry.  It was announced this week that they are developing a spin-off based on The Trench, the fallen Atlantean kingdom that settled in the Mariana Trench and mutated into the horrific monsters that Arthur and Mera had to outswim in Aquaman.  None of the Aquaman cast are expected to show up in this new movie, which will be a lower budget horror movie.  James Wan will produce the movie.
RIP Albert Finney: Legendary actor Albert Finney passed away this week at age 82.  Finney was a five-time Oscar nominee and appeared in movies like Skyfall, The Bourne Ultimatum, Murder on the Orient Express (the 1974 version), Erin Brockovich, Scrooge, The Duelists, Annie and more.  Finney announced he had kidney cancer in 2011 but he died from a chest infection.
Sony Developing Shrink Adaptation: Sony has picked up the rights to Shrink, a comic created by Deadpool creator Rob Liefeld, to develop into a film.  The comic follows a psychiatrist to super-powered individuals and is a comedy in the vein of Analyze This and Sony actually started developing an adaptation in the early 2000s but the success of the Deadpool movies seems like it made Sony want to get in on the Rob Liefeld action.
Monster Hunter Movie Arriving in 2020: Speaking of Sony, they've also announced that their adaptation of the extremely popular Capcom series Monster Hunter will arrive on September 4th, 2020.  The movie is being directed by Paul WS Anderson and stars Milla Jovovich and Tony Jaa and features Jovovich's character, Lt. Artemis and her squad of soldiers being transported from our world to the world of Monster Hunter and having to survive against the world's gigantic and dangerous creatures.
The Muppets are coming back on Disney+: The Muppets are coming back on Disney+ with a new series being developed by Josh Gad and the creators of Once Upon a Time.  ABC most recently had the mockumentary style The Muppets, which was canceled back in 2015.  The series is expected to debut on 2020 on the new streaming service.
TV Renewals: The Simpsons was renewed this week for Seasons 31 and 32 and The Walking Dead was renewed for Season 10, although Danai Gurira will not return, leaving another huge gap in the show's cast after Andrew Lincoln and Lauren Cohan left this season.
World War Z 2 dead at Paramount: Paramount has pulled the plug on the long-developing sequel to World War Z.  The movie was set to bring back Brad Pitt with David Fincher in the director's seat and production was expected to begin in June 2019.  The movie's expected budget (around $190 million) and the length of time developing the sequel are the two most likely factors of it being killed and Paramount is also focusing most of their resources on Mission: Impossible, with two sequels being filmed back to back soon.
Bob Iger assures that Deadpool and other Fox properties will retain their ratings: Disney CEO Bob Iger reiterated this week on a Disney earnings call that properties like Deadpool and the Alien franchise will maintain their R ratings once they are fully folded into Disney.  He did mention it would be important that they "carefully brand them" to make sure people know that they are still not for kids even with Disney at the helm.
Captain Marvel will be the first Marvel film to debut on Disney+: On the same earnings call, Iger also confirmed that Captain Marvel will be the first movie that will be held back from Netflix and instead stream exclusively on Disney+.  Netflix currently has all the recent Marvel and Star Wars films streaming on their service.  With the loss of licensing to Netflix and other platforms in favor of Disney+, the company expects around $150 million in lost revenue for 2019 but that's essentially pocket change for the House of Mouse.
Disney/Marvel will look for a new Wolverine: Lauren Schuler Donner, an X-Men producer at Fox, confirmed to /Film this week that Kevin Feige will be overseeing all decisions for the X-Men once they are fully merged with Disney and that they will be looking for a new actor to play Wolverine, although there are no hints about who could possibly fill Hugh Jackman's claws.
Netflix and Nickelodeon making an animated TMNT movie: Netflix and Nick are teaming up to bring an animated TMNT movie to Netflix.  There are conflicting reports, so it's not clear if this will be an original animated movie or an extension of the current Rise of the Teenage Mutant Ninja Turtles series on Nick.  Nick/Viacom are building a strong relationship with Netflix, also co-developing a live action Avatar: The Last Airbender series and other projects for the streaming service.
Legion will end with Season 3, Professor X will appear: FX announced that the upcoming third season of Legion will be the show's last, although that's according to plan for creator Noah Hawley.  The show will finally feature David Haller's parents, with Stephanie Corneliussen playing his mother Gabrielle and Harry Lloyd playing Charles Xavier. The show has teased Professor X since the first season without specifically naming him.
Archer Season 10 coming this April: The tenth season of Archer will debut in April on FXX.  As teased at the end of last season's Danger Island plot, the tenth season will continue the last two season's gimmick of completely changing the show's premise as fantasies of Archer's coma induced mind and the tenth season will be Archer:1999 and will be a parody of sci-fi shows like the titular Space:1999, Star Trek and more.
FX developing an adaptation of Shogun: FX is developing a limited series of James Clavell's beloved and best-selling novel Shogun.  The novel followed British sailor John Blackthorne as he is shipwrecked in Japan and becomes involved with the local samurai and the power struggles of Feudal Japan.  The novel was previously adapted in the 80s and that miniseries won the Emmy.  FX will shoot the series in Japan and will cast a mostly Japanese cast but its release date is currently unknown.
Fargo Season 4 begins production this winter: Fargo Season 4 will finally get underway at the end of this year, with shooting beginning in the winter, and Chris Rock is starring as the head of an African-American crime family in 1950 Kansas City that has an uneasy truce with the Italian mafia that is also operating in the city.
Y: The Last Man officially picked up at FX: The long in development adaptation of Brian K. Vaughn's acclaimed Y: The Last Man comic is officially getting a full season at FX.  Barry Keoghan stars as Yorick Brown, who is the last surviving human male on Earth after a mysterious event kills every other creature with a Y chromosome.  Brown's pet capuchin monkey Ampersand is the only other male creature that survives and the comic follows Yorick as he journeys with Agent 355 of the Culper Ring to try and figure out why he survived and if there's any way to save humanity now that they are potentially facing extinction. The show is expected to debut sometime in 2020.
I'm like the J. Jonah Jameson of Everything Action, writing and editing and constantly demanding pictures of Spider-Man.
albert finney
aquaman
archer
bob iger
captain marvel
deadpool
disney
fargo
jorma taccone
legion
macgruber
monster hunter
netflix
News
news shotgun
nickelodeon
paramount
professor x
rob liefeld
shrink
the muppets
the simpsons
the trench
the walking dead
tmnt
wolverine
world war z 2
y the last man