The Pull List – The Umbrella Academy: Hotel Oblivion #6
By Chris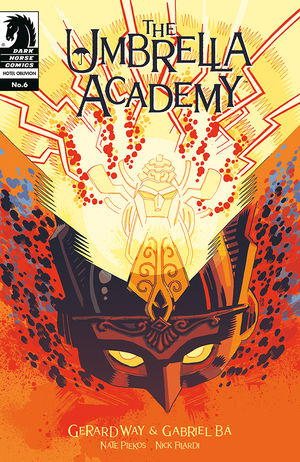 The villains of the Umbrella Academy's past have spilled out into the streets. The locked up criminals are making up for the lost time. Robbing, killing and destroy anything they can get their hands on. Fortunately, the Umbrella Academy has answered the call for help. Number Five and the Rumor escaped from the Perseus Corporation building during the panic. Spaceboy and the Kraken managed to follow the gateway from Hotel Oblivion and back to earth. The teams make an effort to take back the streets, unaware of the real danger looming in the skies.
John Perseus' journey to Hotel Oblivion to find his father unleashed a flood of evil back into the world. John had believed he has noble intentions, but now sees the mistake and wants to correct it. All most all the criminals instantly resume their villainous ways and terrorize the streets. Those years of being locked up in Hotel Oblivion did not reform the villains as Reginald Hargreeves intended. While some villains are happy to be on earth again, others seek revenge and they don't plan on checking back into the hotel ever again.
The Umbrella Academy get a reunion in only the fashion they are familiar with; there is big trouble and they are the only ones that can stop it. Spaceboy and the Kraken had traveled deep into the cosmos, just to come full circle back to the Perseus Corporation building. Number Five's assassination mission was more problematic than he thought, and now his family is involved in the job. And Klaus manages to come back from the dead, again.
The story has built the tension to a dramatic showdown for the villains seeking payback against the Hargreeves family. While the Umbrella Academy was fractured, they were able to come together in time to handle this new crisis. What vindicative plans does John Perseus has up his sleeves and can the Umbrella Academy stop one of their most powerful enemies from consuming the city? The stage is set for the Umbrella Academy to face off with their old foes in the upcoming climax issue.
The Umbrella Academy: Hotel Oblivion #6 will be on sale on March 27th, 2019.
Bitten by a radioactive video store rental employee and overcome by Pac-Man fever, Chris seeks new comic books, games, and movies to review.
comics
dark horse comics
The Umbrella Academy
The Umbrella Academy: Hotel Oblivion