The Pull List – The Girl in the Bay #3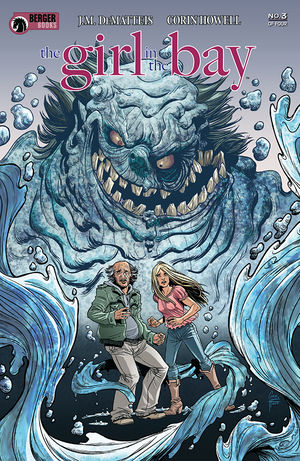 As one life is taken away, another one continues the search for answers. The teenage Kathy Sartori learns more about the life of her alternate self, becoming acquainted with woman's husband Kenneth and her granddaughter Jennifer. Experiencing the emotional depths of her other life, she struggles to keep her real identity a secret. Meanwhile, Hugh Lansky reflects about his life since that fateful night when dropped Kathy into Sheepshead Bay. His night of murderous passion lead to a mental break and his obsession over Kathy only grew worse over time. Hugh's ghastly companion leads him to give in to his desire to kill again, yearning for more blood to be spilled. Can Kathy avoid her grisly death a second time or is she bound to never finding peace?
The memories and emotions are alive in the teenage Kathy Sartori, filling her a life that she never lived. Carrying this other experience, she is tormented by being close the people closest to the older Kathy who only see her as a stranger. However, Kathy agonizes over the many mysteries surrounding her return.  Her ability to bring the spirit of dead rocker Winston Burton to life is confusing for the pair. The memories of older Kathy reconnected a missing half she never knew. And now a painting of a divine entity called the Green Woman calls out to her.
J.M DeMatteis has readers on the edge, waiting for the big reveal behind Kathy's reincarnation and the bond with the power in the waters of the bay. Hugh Lansky has lost control of his life, and only the death of Kathy is on his mind. The story has been calmy setting up the dramatic tension until Kathy is now forced to confront her past head-on. The thrilling story sends Kathy to meet her fate in the climax final issue.
The Girl in the Bay #3 will be on sale on April 3rd, 2019.
Bitten by a radioactive video store rental employee and overcome by Pac-Man fever, Chris seeks new comic books, games, and movies to review.
Berger Books
comics
dark horse comics
The Girl in the Bay