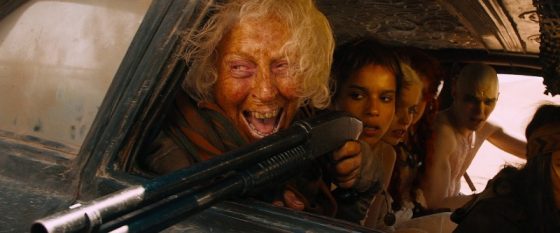 Sega Genesis Mini on Sale in September: Sega is releasing a mini console in the same vein as the NES and SNES Classics on September 19th with the Genesis Mini.  The console will have 40 games, with different titles based on region (although some games might have multiple different region versions) and six-button Genesis controller.  The software was developed by M2, who are behind the highly acclaimed Sega Ages releases and the menu music will be a new piece composed by the legendary Streets of Rage composer Yuzo Kushiro.  There's no US price yet but it will be 6,980 yen, or about $60, for a version with one controller or 8,980, or about $80, for a version with two controllers.
Law & Order SVU renewed and breaks record: The venerable Law & Order: SVU has been renewed for a record-breaking 21st season, passing Gunsmoke as the longest-running TV drama in history. Mariska Hargitay's Lt. Benson is now also the longest-running character in a primetime live-action series.
New Viceland series explores the dark side of wrestling: Viceland is debuting a new six-part docuseries on April 10th that is called "Dark Side of the Ring" and explores some of the more infamous and tragic stories from the world of pro wrestling.  The Montreal Screw Job, the Von Erich Curse, the marriage of Macho Man and Miss Elizabeth, and the overdose of Gorgeous Gino Hernandez are some of the stories that will be explored.
District 9 is getting a board game: WETA Workshop is producing a board game based on District 9, a film they did the special effects for back in 2009.  The game has four different factions and takes place over the same three days as the film.  You have to take control of zones and try to salvage the most tech while making sure the Prawn population doesn't build to a riot.  Sharlto Copley's Wikus is a figure but none of the players control him and he'll instead wander randomly through zones causing chaos and unrest.  The game is currently up on Kickstarter.
Adi Shankar developing a Hyper Light Drifter series: One of producer Adi Shankar's new projects is an anime-inspired animated series based on indie game Hyper Light Drifter.  The games' creator, Alx Preston, is working with Shankar to adapt his game to a non-interactive medium and they are currently looking for writers.
The Order renewed at Netflix: Netflix's recent horror/drama series The Order has been renewed for a second season.  The show follows a college freshman who joins a secret society and uncovers a world of magic and monsters, including werewolves.
Borderlands 3 announced: Gearbox announced Borderlands 3 this past week, the fourth entry in the proper Borderlands series.  There was no release date or platforms announced but Gearbox said it would be out before the end of the fiscal year, which is next April, and there will be more news this coming week on April 3rd.
Joel Cohen directing a new Macbeth: Joel Cohen is branching off from his brother Ethan for a new adaptation of Shakespeare's Macbeth.  Denzel Washington and Frances McDormand are in talks to star and Cohen also wrote the script.  The most recent Macbeth adaptation featured Michael Fassbender and Marion Cotillard back in 2015 directed by Justin Kurzel.
Dead by Daylight getting Ash from Evil Dead: Dead by Daylight is getting a big addition next week when Ash Williams joins the game as a survivor in the newest DLC.  Ash will be voiced by Bruce Campbell himself and will be based on his appearance in Ash vs Evil Dead with specific perks based on his skills.
Angelina Jolie in talks to join MCU's The Eternals: Angelina Jolie is in talks to possibly join the MCU in the upcoming film based on The Eternals.  Director Chloe Zhao is directing the movie, which follows the cosmic beings The Eternals as they battle The Deviants, with both groups having been created by the Celestials.
Blumhouse rebooting The Craft: Blumhouse is rebooting The Craft, the cult 90s witch classic, with director Zoe Lister-Jones directing.  Lister-Jones directed the indie movie Band Aid and appeared as an actor on shows like Life in Pieces and New Girl.
Avengers: Endgame is 182 minutes: Make sure you have your bathroom breaks planned or train your bladder to hold it's liquid because Avengers: Endgame is going to be an epic 3 hours and 2 minutes in length, by far the longest movie so far in the MCU.
Iron Man VR game coming to PS VR: Speaking of Marvel, Playstation VR is getting a VR game based on Iron Man sometime this year.  The game is being developed by Camouflaj, who developed the game Republique, and it puts gamers in the Iron Man suit as Tony Stark, using the motion controls to fly and use Tony's various gadgets against classic villains.
New Lord of the Rings game announced: The Lord of the Rings franchise has gotten extended life in the gaming world through the Mordor games and now there is a new upcoming game that will put you in the role of Gollum.  The game does not have the movie rights and is instead is an original story based on the books and will be set before his appearance in The Hobbit.  Gollum's dual personality will be a factor as you'll come to decisions where two different voices will be telling you what you should do.  The game is coming from Daedelic, who have created games like Deponia and Shadow Tactics, and has a 2021 release date.
Apple announces Apple TV+ streaming service: At their big event this past week, Apple announced its entry into the streaming wars, Apple TV+.  There was no price announced but it will be out in the fall of this year.  The service will feature original series and movies and all the content will be available to download locally to your device.  Some of the original shows are a reboot of Amazing Stories from Steven Spielberg, The Morning Show starring Steve Carrell, Reese Witherspoon, and Jennifer Anniston, See, a sci-fi series starring Jason Momoa, Little America from Kumail Nanjiani, Little Voice from JJ Abrams and singer/songwriter Sara Bareilles and documentary specials from Oprah.
RIP: Two favorites from the genre world passed away this past week.  Joe Pilato, co-star of Day of the Dead, passed away at age 70.  Pilato also appeared in movies like Wishmaster, Knightriders, Gung Ho, Pulp Fiction and Terminal Force.  Larry Cohen also passed away at age 82.  Cohen was a writer/director who worked on projects like Phone Booth, It's Alive, The Stuff, Black Caesar and Hell Up in Harlem.
Marvel's Runaways Renewed: Hulu has renewed their Marvel series Runaways for a third season.  The show is based on the comic created by Brian K. Vaughn and follows a group of teen superheroes who find out their parents are all supervillains and they run away from home and team up to try and figure out how to stop them.
William Sadler confirmed to return for Bill and Ted 3: Besides the late George Carlins Rufus, William Sadler's Death is one of the most beloved characters in the Bill and Ted universe and it was officially confirmed this week that he will return for Bill and Ted Face the Music.  The third entry in the series sees Alex Winter and Keanu Reeves return as Bill & Ted, who have to go on a journey to craft the perfect song that Rufus told them would bring harmony and peace to the universe and it's out in August of next year.
I'm like the J. Jonah Jameson of Everything Action, writing and editing and constantly demanding pictures of Spider-Man.
adi shankar
angelina jole
apple
apple tv+
ash williams
avengers: endgame
bill and ted 3
blumhouse
board game
borderlands 3
bruce campbell
dead by daylight
death
denzel washington
district 9
frances mcdormand
gollum
hyper light drifter
iron man VR
joe pilato
joel cohen
larry cohen
law & order: SVU
lord of the rings
macbeth
marvel's runaways
MCU
News
news shotgun
playstation vr
pro wrestling
sega genesis mini
the craft
the eternals
the order
viceland
william sadler