The Pull List – Bronze Age Boogie #1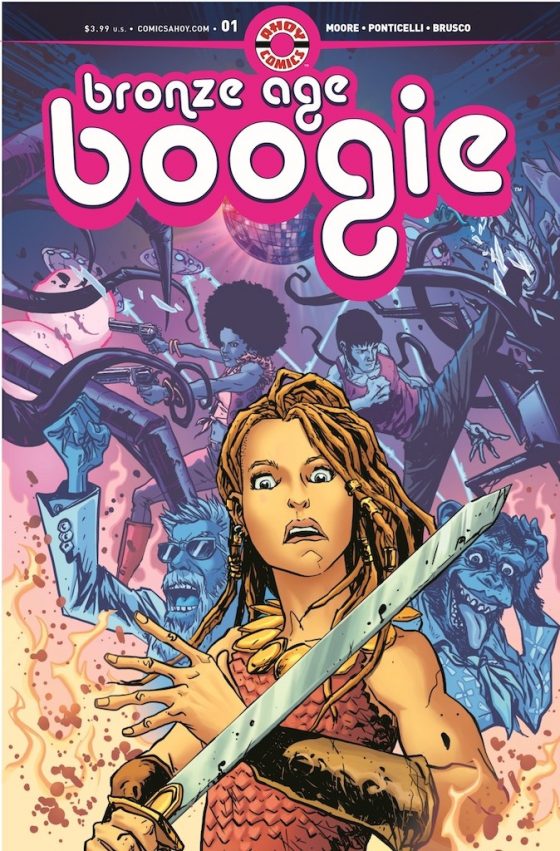 When Martians invade Earth, heroes from across time will join forces to defend the Earth. Stuart Moore and Alberto Ponticelli present Bronze age Boogie, a new comic featuring a diverse set of adventurers fighting back hostile foes. In the inaugural issue, the story follows Brita Constantina, warrior princesses from a barbaric era. Brita rides with her father King Domnall Constantine, into battle. Brita and her horde are in a war against wizards and their army of zombies. Just when the next assault begins, Brita is taken for a trip through time.
The secondary comic introduces the first chapter of Major Usra, a tale about a NASA trained bear astronaut. The first chapter shows the astrobear Elvis as he is preparing for his flight into space. Elvis was selected to become a test subject on the effects of space radiation. The experiment begins, but a malfunction causes the rocket to spiral out of control. Elvis' short time in space will change his life forever.
I found Bronze age Boogie #1 to be an exciting entry that draws attention with some of its imaginative characters and settings. The prelude takes place in 1975 when disco was king and intelligent apes time traveled. The fun backdrop prepares for an exhilarating story, leading to Brita Constantina taking on an undead army. Stuart Moore wonderfully builds up the plot without revealing too much in the first issue.  Alberto Ponticelli and Giulia Brusco offer a great visual overload with evil resurrected warriors and animals. Minor spoiler alert, there's a gnarly zombie dinosaur cameo and I want more of it.
Major Usra takes the reader to the dawn of the space age. When mankind wanted to reach the stars by seeing what would happen to animals in space first. Instead of the typical monkeys, Tyrone Finch and Mauricet give a bear a leading role. Elvis is a gentle and lovable astronaut, undergoing intense training and still acting like a bear in between. I enjoyed Mauricet cute artwork, which allows Elvis to have strong emotional depth to his expressions. It's charming to see by Elvis' body language show his joy, angry and the sudden outrage when his spaceship becomes unstable. The funny concept of a bear astronaut gives Elvis a new trait.
Also included in this issue: a document of various sightings of animals running wild at one household in Animal Control Incident Reports: 437 Red Cedar Lane by Bryce Ingman and Shawn Crystal. Kek-W has some tips about working pass the dreaded writers' block in How to beat Writers Block, featuring an illustration by Darick Roberston.
Bronze Age Boogie #1 will be on sale on April 3rd, 2019.
Bitten by a radioactive video store rental employee and overcome by Pac-Man fever, Chris seeks new comic books, games, and movies to review.
Ahoy Comics
Bronze Age Boogie
comics