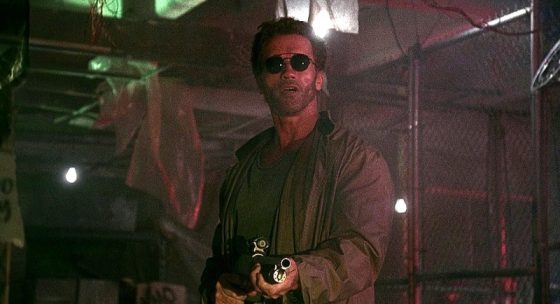 The Collector 3 is on the way: A sequel to 2012's The Collection seems to finally be on the way as series star Josh Stewart posted a poster for The Collector 3 on his Twitter and it was confirmed the third film in the series is in development.  The Collection ended on a cliffhanger where it seemed like the serial killer/home invader The Collector may be set to get some of his own medicine at the hands of Stewart's thief Arkin.
Cobra Kai renewed for a third season: Youtube has renewed their critically acclaimed Karate Kid series, Cobra Kai, for a third season with a pretty significant change to how it will be available.  The first two seasons had their first two episodes up as free episodes but the others were locked behind the Youtube Premium subscription.  Season 3 will still be available immediately for Youtube Premium members but there will also be a window for most Youtube Premium content where it will be available for free with ads, although the windows will vary between properties.
Sonic's design is being changed for the movie: After the disastrous reception to the trailer released this week, director of the Sonic the Hedgehog movie Jeff Fowler took to Twitter to announce the design of Sonic would be redesigned before the movie arrives in November, which is not a lot of time for completely reworking a fully CGI character.
RIP Peter Mayhew and John Singleton: We lost two big names in the world of film this past week as Peter Mayhew, who played Chewbacca through The Force Awakens before he became a consultant and passed the role to Joonas Suotamo.  Mayhew was by all accounts a purely wonderful person who loved the Star Wars community and founded a foundation that raised money for various charitable enterprises and supported the fan run 501st Legion.  He was also just naturally tall at 7ft 3in.  John Singleton passed away at age 51 following a stroke.  He directed the extremely iconic and influential Boyz in the Hood along with movies like Shaft, 2 Fast 2 Furious, Rosewood and Baby Boy and was most recently an executive producer on FX's drama Snowfall.
Willow series may be in talks for Disney+: Most recently a plot point on The Goldbergs, Ron Howard's Willow may be coming back as Disney+ series, as Howard revealed he was in discussion with Disney during Solo about how to possibly bring back the fantasy movie.
Ghost Rider coming to Hulu: Ghost Rider is coming to Hulu in a new live action Marvel series with Agents of SHIELD's Gabriel Luna returning to play the Spirit of Vengeance/Robbie Reyes.  Luna appeared on the excellent fourth season of SHIELD and is currently going to be seen as the newest Terminator in Terminator: Dark Fate.  Hulu is also getting a series based on Helstrom, which follows Daimon and Ana Helstrom, two children of a serial killer who travel the world hunting down the worst of humanity.
New Earthworm Jim game in development: Video gaming's grooviest earthworm is coming back in a new game with many of the original development team back on board.  Tommy Tallarico, the current president and CEO of Intellivision, who also provided the music and sound for the original two Earthworm Jims, announced the new game will be on the upcoming Intellivision Amico, a new console that is arriving next year.
The Suicide Squad casting: Two members of the new Suicide Squad have been cast for the upcoming James Gunn movie.  Daniela Melchior, best known for variety of telenovelas, is in talks to play Ratcatcher, which would be her first major Hollywood role, while Ant-Man actor David Dastmalchian is in talks for Polka-Dot Man.
Saints Row movie in development: F. Gary Gray, who has MIB: International out this summer and directed The Fate of the Furious, has signed on to direct a film version of the batshit insane Saints Row franchise.  Greg Russo, who is currently working on the Mortal Kombat reboot film, is writing the script.  It's not clear if the movie will be based on a specific game but hopefully it's more in tune with the style of The Third and 4 than the generic GTA knock-off style of the original game.
A Terminator musical is on the way: Playing at the Fallout Theater in Austin, TX, Terminator: The Musical is now playing ever Friday and Saturday through May 25th.  A musical parody of the first two Terminator movies, the production was written and directed by Breanna Bietz.
The Twilight Zone renewed for Season 2: Jordan Peele's reboot of The Twilight Zone has been renewed by CBS for a second season on their All Access service.  The first season has currently aired 5 out of 10 episodes and has been a bit of a mixed bag, with fantastic cinematography and great acting but is also very heavy handed at times and has featured some truly nonsensical and lackluster twists in certain episodes.
Mary Elizabeth Winstead starring in action movie Kate for Netflix: Mary Elizabeth Winstead will get the chance to kick some ass on Netflix soon in the upcoming action movie Kate.  Winstead plays the title character, who is an assassin that is poisoned, and only has 24 hours to find the person that poisoned her in Tokyo and get revenge.  Cedric Nicolas-Troyan, who directed The Huntsman: Winter's War, is directing the movie that will start shooting this fall and arrive on Netflix probably sometime in 2020.
Santa Clarita Diet cancelled: Speaking of Netflix, they've cancelled their critically acclaimed series Santa Clarita Diet after three seasons.  The series focused around Drew Barrymore becoming a zombie (who maintains a normal human appearance) and her and her family's attempt to hide that fact from the neighborhood.  Timothy Olyphant co-starred and it developed a pretty significant fanbase and petitions and hashtags were launched pretty much immediately after the cancellation was announced.
John Cena joining Fast & Furious 9: Another WWE star turned actor is joining the Fast & Furious universe as Vin Diesel announced that John Cena is joining the franchise in next year's Fast & Furious 9 in an unspecified role.  This year sees the Diesel less Hobbs & Shaw theaters in August.
I'm like the J. Jonah Jameson of Everything Action, writing and editing and constantly demanding pictures of Spider-Man.
cbs all access
cobra kai
earthworm jim
f. gary gray
fast & furious 9
ghost rider
helstrom
hulu
john cena
john singleton
kate
mary elizabeth winstead
netflix
News
news shotgun
peter mayhew
saints row
santa clarita diet
sonic the hedgehog
terminator: the musical
the collector 3
the suicide squad
the twilight zone
willow