The Pull List – Bronze Age Boogie #2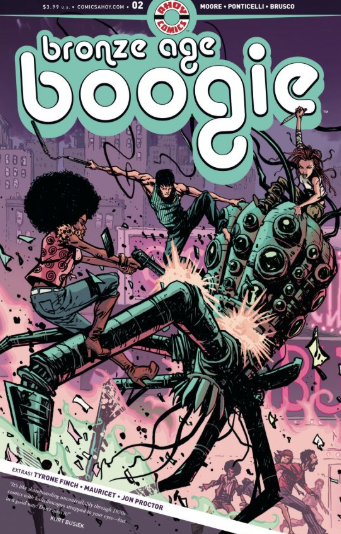 Bronze Age Boogie #2 is back to deliver two high flying sci-fi comics. Bronze Age Boogie: Welcome to Fear City! follows Brita Constantina as she arrives in a new era. Major Ursa continues the second chapter of astronaut bear Elvis has gained newfound intelligence and a jealous peer. Also included is a short story about a deadly encounter in the woods in The Pascagoula Run written by Tyrone Finch and illustrated by Jon Proctor.
In Bronze Age Boogie: Welcome to Fear City!, the barbarian princess Brita Constantina has been pulled through time arrives in 1975 A.D. She arrives to witness a different Martian invasion in Times Square, NYC. Early Brita joinned her father in battle against the Martian forces in 1975 B.C. Overwhelmed by the strange events, Brita is saved by Lynda Darrk and Jackson Li, two citizens fighting to save the city. The trio of warriors will unite to understand the Martians plans and a way to stop them from conquering the Earth.  
The second chapter to Bronze Age Boogie delves into the background story of the alien attackers and the retro warriors that try to fend them off. As a 70s martial arts exploitation films fan, I enjoyed distinct character designs that give the reader all the clues about Lynda Darrk and Jackson Li. Lynda Darrk is a fast-talking, quick drawing shooter that has a history with the aliens. Jackson Li is a zen material arts expert with a mysterious past. The characters have a fun introduction that gives them a unique background, and I interested in seeing how the story builds up their connections. 
Part two of Major Ursa picks up as Elvis shocks NASA with his new intelligence. A magnetic space storm caused Elvis' spaceship to malfunction, sending it crashing at launch. However, the accident enhanced the bear's mind and now Elvis can speak and think at a genius level. The bear uses new abilities to design a better spacecraft and advance space travel. Although some NASA scientists are marveling at Elvis' work, an envious Colonel has different plans to prevent the bear. Instead of preparing for more space missions, Elvis gets assigned a new position at NASA.
The astronaut bear Elvis embraces his new powers to help, but a vengeful Colonel becomes his great enemy. The story of Major Ursa has been a surreal experience that has been comedic and shows some dramatic elements. The visuals of a bear explaining schematics and growing frustrated are hilarious. Mauricet's artwork gives Elvis an extra level of overemotional detail. Major Ursa continues to be an enjoyable story that shows there's more to being a bear astronaut than expected.
Bronze Age Boogie #2 will be on sale on May 8th, 2019.
Bitten by a radioactive video store rental employee and overcome by Pac-Man fever, Chris seeks new comic books, games, and movies to review.
Ahoy Comics
Bronze Age Boogie
comics
Major Ursa