The Pull List – Elvira: Mistress Of The Dark: Spring Special 2019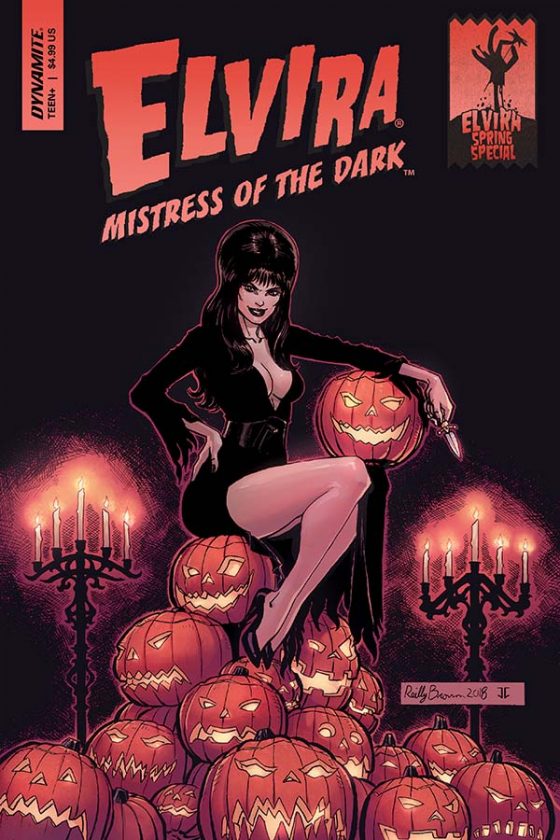 Just because it's the warm and sunny season, that doesn't mean there can't be some Halloween style horror! Elvira: Mistress Of The Dark: Spring Special has two exciting adventures with Elvira get herself in wacky trouble. Drive-In of the Dead sees Elvira go from festival hostess to a movie star in a horror movie. Once on set, Elvira discovers that the special effect look a little too realistic and her costars are taking their roles too seriously. Elvira might need to escape her breakout role before it even starts. The Satan 500 has Elvira trying to get a Halloween party ready but finds herself in a race against Satan. The Dark Princess offers Elvira a chance to get three wishes if she wins. However, if she loses, she must marry the devil. The race is on but it wasn't stated the Devil couldn't use his tricks.
Drive-In of the Dead is written and illustrated by Fernando Ruiz and Dan Parent, with color work by Valentina Pinto. This story is a hilarious romp with Elvira trying to make it big in a few horror flicks. There are fun parodies of famous movie monsters and even a certain zombie director in the form of George Rottmero. The navie Elvira tries her best to act in the increasingly bizarre movie studio, even ignoring some obvious hints. But Elvira is sarcastic and quick-witted to call out the strange sights and comments on her fellow actors. The artwork is great, it has a very cartoony vibe that perfectly captures the silly nature of the story. The character models have a vintage look that works well to show off the mix comedy and horror.
The Satan 500 is written by Scott Bryan Wilson, with illustrations by Fernando Ruiz, and color by Brittany Pezzillo. This story follows Elvira and Satan facing off to claim their own prize. Elvira is willing to wage her hand in marriage for the chance to get three wishes granted. The story is pretty straight forward, aiming for quick laughs and lets Elvira drop some funny double entendres. The artwork is lively, with great emotional delivery on character's faces, even if one of them is a tattoo-faced clown.
Elvira: Mistress Of The Dark: Spring Special 2019 will be on sale on May 22nd, 2019.
Bitten by a radioactive video store rental employee and overcome by Pac-Man fever, Chris seeks new comic books, games, and movies to review.
dynamite
dynamite comics
elvira
elvira: mistress of the dark
Elvira: Mistress Of The Dark: Spring Special