The Pull List – She Could Fly: The Lost Pilot #3
By Chris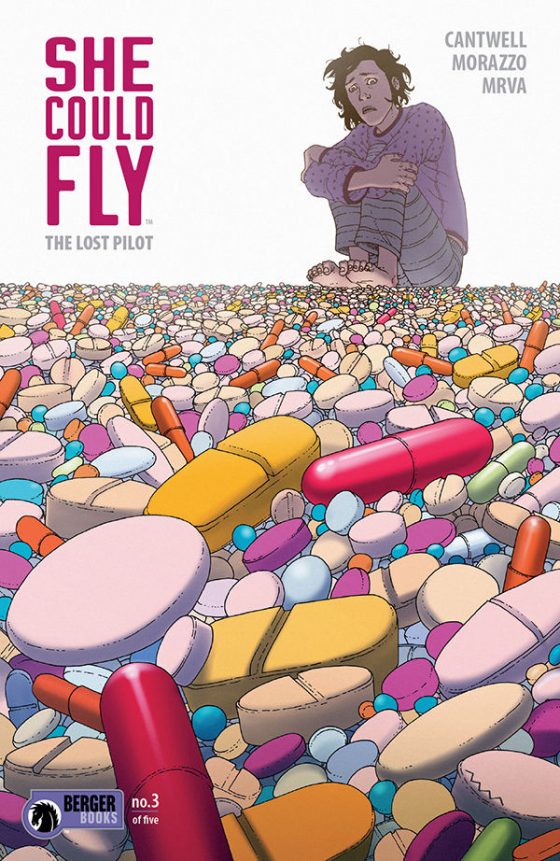 Luna Brewster is torn between moving on with her life and an infatuation with someone else's past. Luna begins a relationship with Gary, a teenage outcast with a crush for the mischievous Luna. Gary's presence gives Luna hope to feel like a teenager, but her obsession with Mayura Howard's still lingers. Meanwhile, Mr. Laudermilk, a former black ops agents for Eon-Def Industrial, brought Bill Meigs to Russian military leader Clockovich. In Cape Dehznev, Russia, Bill is forced to fix a prototype jetpack created by Mayura. As the jetpack is almost complete, will this end the frantic search for Mayura Howard's secrets or will this only bring more trouble?
Writer Christopher Cantwell's dive into Luna's fractured psyche takes a shocking turn in this issue. Luna never thought she could have normal events in her life again. Especially not after chasing conspiracies and witnessing too much bloodshed. However, Gary's is charmed by Luna's quirky behavior. Now Luna has a chance to feel something other than the terrifying thoughts in her head or the numbness of her medicine. While this looks like a blossoming teenager romance that Cantwell could explore a bit, Gary has no idea the real horror that's ahead.
Artist MartÍn Morazzo cranks up the action and gory visuals in this issue. If you though the previous issues were missing a bit of the shock values, Morazzo use of jolting graphics is abundant. The setups for the unsettling moments are sudden and perfectly catch the reader off guard. The tone can feel very calm for a moment, then quickly escalate into gruesome visuals.
The Lost Pilot ramps up the intensity and continues to grab the reader's attention with its thrilling narrative and explosive artwork. There is still room for the characters to discover more twist about Mayura Howard past in the next issue.
She Could Fly: The Lost Pilot #3 will be released on June 12th, 2019.
Bitten by a radioactive video store rental employee and overcome by Pac-Man fever, Chris seeks new comic books, games, and movies to review.
comics
dark horse comics
She Could Fly
She Could Fly: The Lost Pilot