The Pull List – The Boys Omnibus Volume Two
By Chris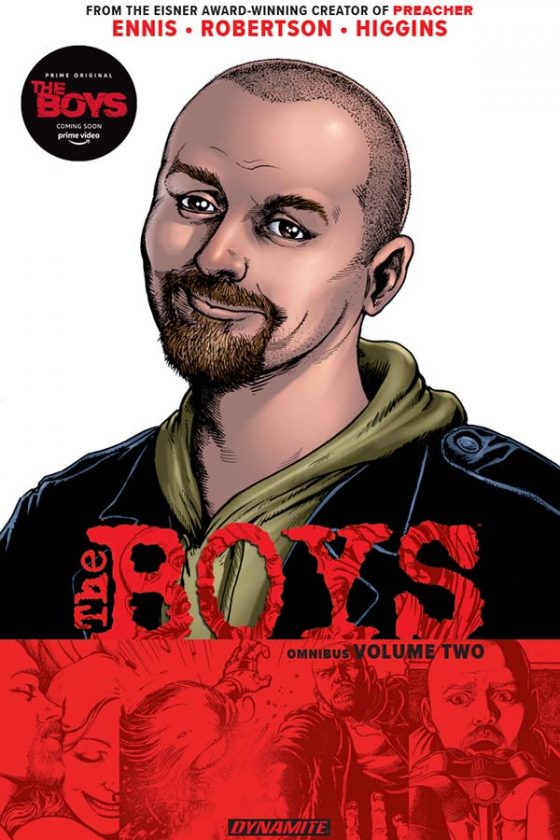 Back to keep the superheroes in line, The Boys return in a new edition omnibus. This second volume collects issues 15-30, covering the four chapters in the series: Good for the Soul, I tell you no lie, G.I., We Gotta Go Now, and Rodeo Ruck. Packed with scandalizing secrets of superheroes and over the top violence, this collection goes straight for the shock value and keeps cranking it up.
Good for the Soul sees The Boys taking some downtime to sort their own personal time. The Female has gone to do some wetwork for the Mafia, and Frenchie is tailing her. Mother's Milk ventures out to see his mother. Annie January visits her old teammates for a surprise visit. The rookie Hughie spends time with the comic book creator and information collector, the Legend. Meanwhile, the Seven discover the activities of the Boys and decide to send a message.
I tell you no lie, G.I. has the Legend spin a tale about Vought-American, private military contractor that has been producing weapons of war since WW2. As superheroes began to take popularity, Vought-American was the first to market a brand of heroes that would serve their needs. But every product as their faults and the Vought-American heroes are no better.
We Gotta Go Now places Hughie undercover to one of the uncanny collection of outcast heroes known as the G-Men. Lead by John Godolkin, these heroes are Vought-American most bankable stars. But before Hughie can gather information about John Godolkin, he will have to start at the bottom tier group, the G-wiz. The Boys follow Hughie as he gets the first-hand experience to be a G-men trainee and try to not get his cover blown in the process.
Rodeo Ruck follows the Butcher as he investigates into the strange occurrences that have brought the Boys into peril. Hughie's relationship with Annie January blossoms, giving Hughie some sembles of hope in his future. Meanwhile, the Homelander learns more of the Boys exploits and his anger towards Butcher deepens.
This omnibus brings another excellent twisted entry that satires the usual superhero stories. Instead of noble and honorable heroes, we see a world populated by arrogance and corruption. The Boys continues to deliver an intense narrative that is gleefully written by Garth Ennis. There is a great pace to exploring each of the main characters while giving some depth to fun, disposable bit joke characters. The art team of Darick Roberston, John Higgins, and Tony Aviña is wonderfully designed and detailed. Characters give off clear emotions with great expressive looks. Both Roberston and Higgins play around with size and scale, giving some character's great realistic proportions and others with lampoonable frames. This is a must read for comic fans needs a story that dares to go against the grain and isn't afraid to get dirty. 
The Boys Omnibus Volume Two will be on sale June 12, 2019.
Bitten by a radioactive video store rental employee and overcome by Pac-Man fever, Chris seeks new comic books, games, and movies to review.
amazon prime
darick robertson
dynamite
dynamite comics
garth ennis
the boys