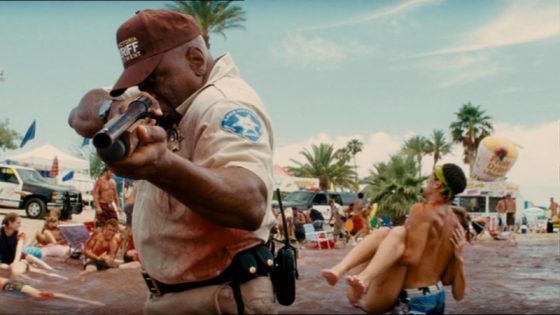 Pop-up Good Burger opening in LA: If you live in LA or can get there early in July, you can have the chance to eat at an actual Good Burger, as a pop-up of the cult Nick fast food joint is opening on July 10th for an extremely limited time.  You can sign up to buy a reservation to get in on June 17th at www.goodburgerpopup.com
Black Christmas remake coming from Blumhouse: Blumhouse had a surprise announcement this week and revealed they have a new spin on the cult classic slasher film Black Christmas coming in December this year.  The remake will star Imogen Poots, Aleyse Shannon, Brittany O'Grady, and Caleb Eberhardt and is directed by Sophia Takal, who directed Into the Dark's "New Year, New You" entry for Blumhouse.
Lobo getting a spin-off series: Debuting in the closing minutes of this past week's Season 2 premiere of Krypton, Lobo may be getting his own series soon on SyFy.  Emmett J. Scanlan plays Lobo on Krypton and would star in the new series that would follow the intergalactic bounty hunter around the universe.
The Boondocks is getting rebooted: The Freemans are apparently coming back to TV in a new reboot from Sony Pictures Television.  The new series is a "reimagining" of the cult Adult Swim series with Boondocks creator Aaron McGruder back on board and would find Woodcrest under the tyrannical rule of Uncle Ruckus, who is now a high ranking member of the local government.  John Witherspoon hinted he may be back as Grandad but it's not clear if Regina King would return to voice Huey and Riley.
Arcade1Up releasing TMNT and Marvel arcade machines: Arcade1Up has been cranking out smaller versions of iconic arcade games that you can assemble yourself and at E3 they announced two highly anticipated releases, a TMNT cabinet, and a Marvel-based cabinet.  The TMNT cabinet will feature both the original arcade game and Turtles in Time and feature the four-player layout of the original cabinet while the Marvel cabinet will feature Marvel Superheroes, X-Men: Children of the Atom and The Punisher and have two players.  Both will be out later this year, Turtles will most likely be $349 and Marvel will be $299.
Oblivion Song movie in the works: Walking Dead creator Robert Kirkman's post-apocalyptic sci-fi comic Oblivion Song will be turned into a movie. Universal picked up the rights to the comic, which follows a man named Nathan Cole, who makes constant journeys into Oblivion, which is the ruins of Philadelphia after a horrific event wiped out 300,000 people, but some may still be trapped inside.
Turbografx-Mini on the way: Konami announced a new entry in the mini-console market, the Turbografx-16 mini.  They announced an initial six games, including R-Type, YS Book I & II, Super Adventure Island, Ninja Spirit, Alien Crush and Dungeon Explorers.  There is a different lineup in Japan that includes Bonk's Adventure and Dracula X.  Each region will get a mini that matches what was originally released there, so the US gets a mini Turbografx-16 while Europe and Japan will get a PC Engine Mini and PC Engine Core Grafx Mini.  There's no release date, price or the total number of games released at the current time.
Atari VCS coming next year: Speaking of retro-inspired consoles, the Atari VCS was announced to be coming out in March of next year, although if you backed it on Indiegogo, you can expect your console in December.  Unlike the aforementioned Turbografx-16 Mini or the NES/SNES Classics, the Atari VCS is more than just a retro game console, it will have classic Atari titles and a retro joystick but it also features a modern controller and will feature new  and original games as well as multimedia options with 4K and HDR, all running on an AMD Ryzen processor.
The Division movie coming to Netflix: Ubisoft's multiplayer co-op shooter franchise The Division is coming to Netflix as a movie.  A Division movie has been in the works for a while but Netflix picked up the distribution rights.  Jessica Chastain and Jake Gyllenhaal are co-starring as Division agents activated when a massive pandemic is launched against New York City. David Leitch, director of Deadpool 2 and Atomic Blonde, is directing but there doesn't seem to be a release date yet.
Michael Rooker joins The Dark Tower TV series: Michael Rooker has joined the cast of the upcoming Amazon prequel to The Dark Tower.  It wasn't announced who Rooker will play but the series is mostly going to be adapting Wizard and Glass, the fourth book in The Dark Tower series but it told a story of the Gunslinger Roland Deschain before the events of the first novel.  Sam Strike is signed on to play Roland and Jasper Pääkkönen is playing the Man in Black.  Glen Mazzara is the showrunner for the series and it will have a 13 episode first season sometime soon on Amazon Prime video.
Love Death and Robots renewed for second season: Netflix's experimental animated anthology series Love Death and Robots has been renewed for a second season.  The first season was 18 shorts and overseen by David Fincher and Tim Miller and Kung Fu Panda 2 and 3 director Jennifer Yuh Nelson is joining the series to be the supervising director.  There wasn't a release date or if the second "volume" will have the same number of shorts.
I'm like the J. Jonah Jameson of Everything Action, writing and editing and constantly demanding pictures of Spider-Man.
amazon
arcade1up
atari vcs
black christmas
blumhouse
good burger
krypton
lobo
love death and robots
marvel superheroes
michael rooker
netflix
News
news shotgun
oblivion song
syfy
the boondocks
the dark tower
the division
tmnt
turbografx-16 mini