The Pull List – Red Sonja & Vampirella meet Betty & Veronica #2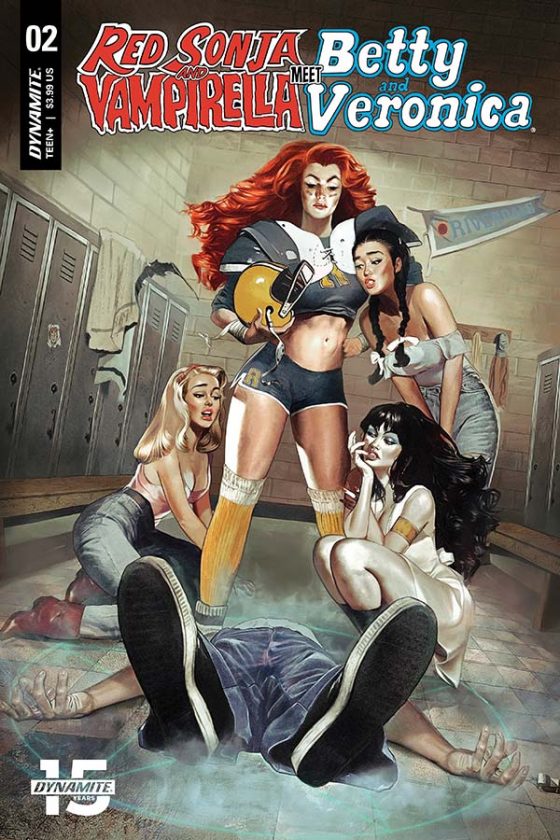 Demonic forces are converging in Riverdale, and only one team is prepared to stop it. Betty and Veronica help Sonja and Vampirella blend into Riverdale High to uncover the mystery behind the series of deaths. But when another body is discovered, the police are looking at the odd group. Sonja and Vampirella quickly mingle their way into the high school cliques without stepping on too many toes. Meanwhile, Betty and Veronica get some push back from their newspaper editor and have a suspicion that someone does not want the truth to be known.
Amy Chu sets the stage for a chilling adventure filled with a cast of famous characters. The story further develops the relationship between the high schoolers and the pair of hunters. Red Sonja and Vampirella learn what it takes to be a modern teenage but still finding a way to be themselves. Sonja finds herself a rising football star, easily overpowering the anyone that stands against her on the field. Vampirella has been around modern people longer but her diet of blood is kept secret. Chu incorporates many elements from the two series into a interconnect narrative that works well.
Maria Sanapo character work is well drawn. Characters have funny expressive looks and gorgeous details. Colorists Vinicius Andrade adds some great shading and lighting that nicely level of suspense. Some panels are heavily shadowed, making the moment tense without too much effort. The art is clean and easy to follow and does not distract from the story.
Red Sonja & Vampirella meet Betty & Veronica #2 will be on sale June 19th, 2019.
Bitten by a radioactive video store rental employee and overcome by Pac-Man fever, Chris seeks new comic books, games, and movies to review.
archie comics
Betty & Veronica
comics
dynamite
dynamite comics
red sonja
Red Sonja & Vampirella meet Betty & Veronica
Vampirella