The Pull List – No One Left to Fight #1
By Chris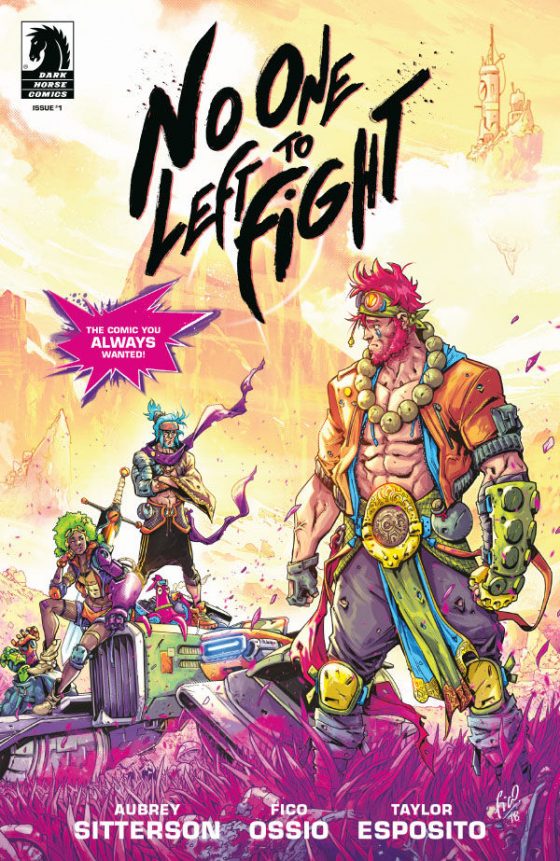 When the world's greatest evil is vanquished, what happens to the heroes without a foe? Vâle, the champion hero that saved the world from the villainous Gor Despo, is on a journey to relive his glory moment and figure out his next phase in life. Looking to revisit the site of his grand battle, he meets with his old teammates Krysta and Timór. The group sets off on an adventure and will see if their past is finally behind them.
The introductory issue gives picks up to Vâle's reunite with his old friends. Time has passed since the group met, Krysta and Timór have started a family, while Vâle has been missing his fighting spirit. But a rivalry between Timór's and Vâle turns the warm welcome into a fierce competition. Before the group can start their outing, they have to exchange some punches first.
No One Left to Fight pays homage to classic manga series with a bright, colorful twist. Writer Aubrey Sitterson and artist Fico Ossio, and letterer Taylor Esposito present a standout world with imaginative character designs, shiny visuals, packaged in a comfortable narrative. Sitterson lays down many dramatic elements to distinguish Vâle's character. Emotions run high between the group of friends and the defeat of Gor Despo was just the turning point for their relationship. Fico Ossio gives the story eye candy designs and a dazzling coat of paint. There are lots of details in the character designs; the fashion has a fun mix of retro and futuristic aesthetics that gives the story a spunky martial arts vibe.
Issue one grabs the reader's attention and patiently explores many of the story elements without over complexing the pace. The explosive action the series is calming is teased a little, focusing more on the character drama. This can be a worthwhile read for fans that grew up on 90s manga and want to take a nostalgic trip back.
No One Left to Fight #1 will be on sale on July 3rd, 2019.
Bitten by a radioactive video store rental employee and overcome by Pac-Man fever, Chris seeks new comic books, games, and movies to review.
comics
dark horse comics
No One Left to Fight