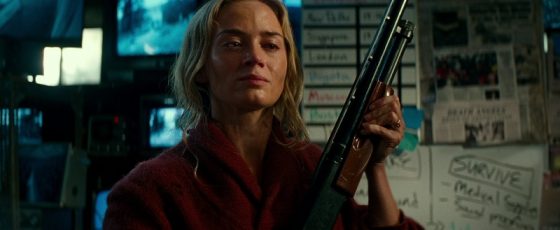 IDW publishing Cobra Kai comic: With the success of Cobra Kai on YouTube, IDW is going back to the original Karate Kid to tell the events from Johnny's perspective in a new comic, Cobra Kai: The Karate Kid Saga Continues.  Denton J. Tipton will write the comic and Kagan McLeod will draw the art and it will arrive in October this year.
New Akira anime series in the works: Akira is going to be coming back in a big way in the near future with Taika Waititi's live-action remake and now a new anime series set in the universe.  Director Katsuhiro Otomo was at Anime Expo recently and said he's working with animation studio Sunrise on a continuation of Akira as a TV series.  He's also working on a new original anime film called Orbital Era.
Heat prequel novel coming next year: Director Michael Mann tweeted out an update on a prequel novel to Heat he's been working on for years and he confirmed it will be out sometime next year.  Working with New York Times bestselling author Reed Farrel Coleman, the novel will tell stories about the "formative years" of characters like Vincent Hanna, Neil McCauley, Chris Shields and more.
MAD Magazine shuttered: The end of a comedic era occurred this week as it was announced that MAD Magazine is shutting down.  They will be publishing previous content to fulfill subscription responsibilities but it will be shut down after that.  DC currently owns the MAD brand and was publishing the magazine after a complete relaunch in 2017.
Ariel cast for The Little Mermaid remake: Disney has found their next live-action princess for The Little Mermaid with Grown-ish actress Halle Bailey cast as Ariel.  Bailey is a singer as well and Awkwafina and Jacob Tremblay joined the cast as well and Melissa McCarthy is in talks to play Ursula.
JA Bayona directing the Lord of the Rings series for Amazon: Fresh off Jurassic World: Fallen Kingdom, JA Bayona is heading over to Amazon to direct the upcoming Lord of the Rings prequel series.  The show is set during Middle Earth's Second Age and will bring in some of Tolkien's stories from things like the Silmarillion along with original ideas.  Amazon is hoping the show will last at least five seasons and are pumping in over $1 billion for the production.
The Lost Boys show being completely retooled: The CW was working on a TV reboot of 80s classic The Lost Boys but they are basically going back to scratch after passing on the original pilot.  The entire show is being extensively reworked and only two cast members from the pilot will be returning.  A new pilot will be shot possibly this fall so the show may have a chance of getting picked up for the Fall 2020 season.
The Flash movie may be getting a new director…again: The Flash standalone film has been languishing at WB/DC since Batman v Superman (and probably before) and has chewed up and spit out directors.  The latest duo, John Francis Daley and Jonathan Goldstein, recently left the project and now IT director Andy Muschietti is in talks to direct.  Ezra Miller is still attached to star and had been battling the former duo over the movie's tone, having written a "darker" take with comic legend Grant Morrison.  That script won't be used and yet another new script is being written by Christina Hodson, who worked on Bumblebee and the upcoming Birds of Prey movie.
WarnerMedia streaming news: Two pieces of news came out this week about the upcoming WarnerMedia streaming service.  Apparently, there may be plans to reboot classic TGIF shows that are under the Warner umbrella, like Perfect Strangers, Family Matters and Step by Step, most likely in a response to the success Netflix had with Fuller House.  There was also news that the animated Gremlins series is officially confirmed to be an exclusive of the service.  Gremlins: Secrets of the Mogwai will be a prequel to the films, following a ten-year-old Sam Wing, who eventually owns the antiques store in Gremlins, who finds Gizmo and goes on an epic adventure across the Chinese countryside, battling creatures from Chinese folklore with his friends and trying to stop an evil industrialist who is creating an army of Gremlins to find an ancient treasure.
Sandman series coming to Netflix: Neil Gaiman's iconic comic series The Sandman is coming to Netflix with an 11 episode order for a TV adaptation.  Gaiman will be an executive producer along with David S. Goyer.  The comics followed Morpheus, lord of dreams, and his interactions with other characters called The Endless, who all represented some sort of universal ideal, like Death, Delirium, Destiny, etc.  Lucifer was also a character in the books, who got his own series on Fox, then Netflix for the final two seasons.
I'm like the J. Jonah Jameson of Everything Action, writing and editing and constantly demanding pictures of Spider-Man.
akira
amazon
andy muschietti
ariel
cobra kai
family matter
gremlins
gremlins: secrets of the mogwai
heat
idw
ja bayona
lord of the rings
mad magazine
michael mann
neil gaiman
News
news shotgun
perfect strangers
step by step
TGIF
the flash
the karate kid
the little mermaid
the lost boys
the sandman
warnermedia streaming