The Pull List – Red Sonja: Birth of the She-Devil #2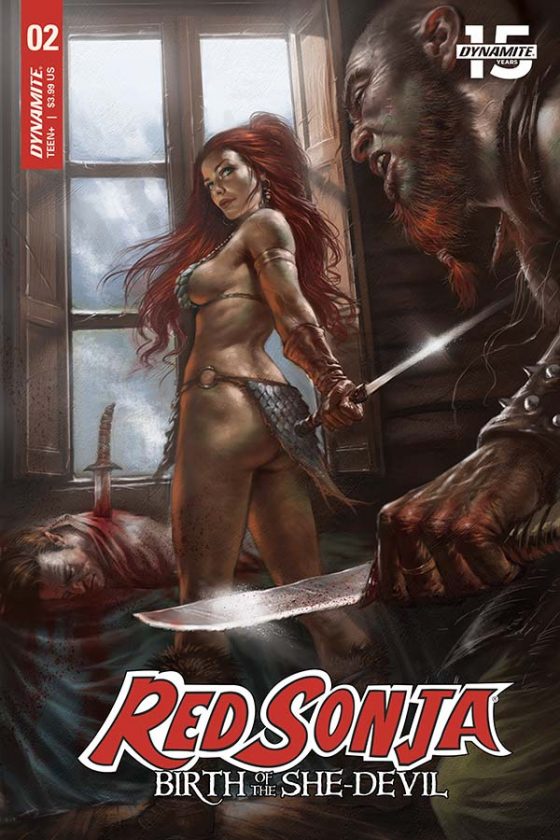 Sonja and Ozzyus set out to defeat Raka, but must first find safe passage across the Vilayet Sea. Ozzyus paid a group of pirates to wait for his return with Sonja, but that was before Sonja became a wanted fugitive. With a price on Sonja' head for murdering a sultan, Ozzyus's hired help might try to score a bigger reward. It'll be a rough departure for the pair as they make their way out to sea.
Honor among thieves is tested when enough gold is on the line. Sonja and Ozzyus quickly find themselves the center of attention after Sonja brazenly assassinate a regional sultan. Discarding Ozzyus lessons about a subtle approach, Sonja has gained many greedy eyes looking to cash in on her bounty. However, the open sea means fewer people around her. But the sea has its own terrors. Just because Sonja is surrounded by water, she can't escape from trouble.
Luke Lieberman and Sergio Davila offer an exciting and bloody addition, with Sonja slice and dicing anyone that will get in her way. However, Sonja's rage and reckless thinking have been challenging for Ozzyus. From deep resentment and guilt between the mentor and mentee, there is still friction in the relationship. Sonja and Ozzyus will try to overcome their differences and rescue an old friend from the control of the cult leader Raka. The next chapter brings the pair closer to their goal but could drive them further apart. Fans will have to ride out the wait when the next issue comes out next month.
Red Sonja: Birth of the She-Devil #2 will be on sale on July 10th, 2019.
Bitten by a radioactive video store rental employee and overcome by Pac-Man fever, Chris seeks new comic books, games, and movies to review.
comics
dynamite
dynamite comics
red sonja
Red Sonja: Birth of the She-Devil