The Pull List – Red Sonja & Vampirella meet Betty & Veronica #3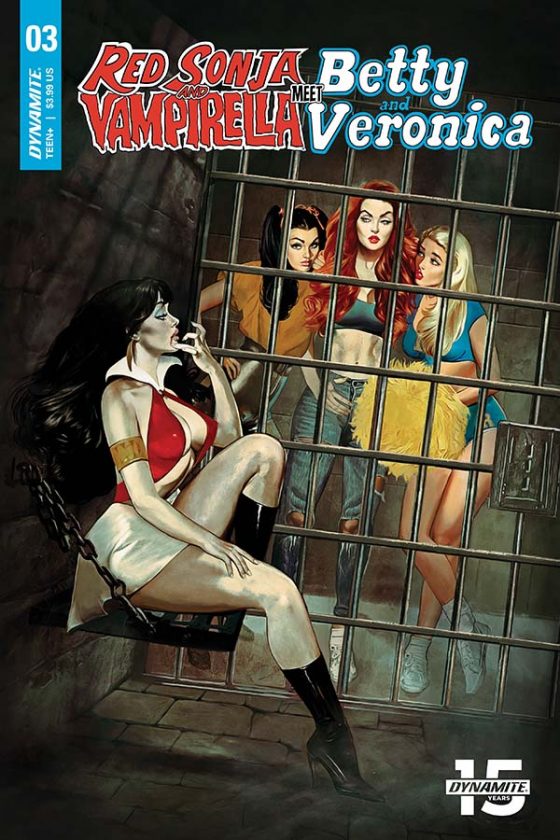 A killer is on the loose in Riverdale and racking up a body count. Betty and Veronica try to help Red Sonja and Vampirella hunt for the killer but are too late for the latest victim. When the police start looking closer at murders, a pair of detectives some suspect the barbarian redhead and her vexing goth companion to be involved. Can the heroes continue their hunt, if they are being hunted?
Betty search for clues in the library finds some unexpected results about Riverdale's past. An old photo from the 70s shows a group that looks eerie similar to Betty, Veronica, Sonja, and Vampirella. But before Betty has a chance to show the group the photo, the crazed killer attacks the libertarian Dilton and makes a quick escape. However, Riverdale P.D already thinks they have the killer's identity and it may be the one that has a taste for blood.
The dangers hit close to the group as Amy Chu pens another excellent adventure with thrills and chills, and a few laughs. Betty and Veronica try their best to help Sonja and Vampirella look for evil, but it's proving to be a challenge. The two fierce warriors would have an easier time fighting demonic creature than keeping up appearances at Riverdale than fighting demonic creatures. Maria Sanapo artwork complements the horror and comedy elements of the story. The character designs are expressive and capture everyone's individual personalities.
This series is a refreshing look at fan-favorite characters that are caught up into something sinister. It's an enjoyable read that is engaging with a new twist and turns with each issue. The series hints at bigger trouble ahead for Riverdale and it's up to the heroes to stop it.
Red Sonja & Vampirella meet Betty & Veronica #3 will be on sale on August 7th, 2019.
Bitten by a radioactive video store rental employee and overcome by Pac-Man fever, Chris seeks new comic books, games, and movies to review.
archie comics
Betty and Veronic
comics
dynamite
dynamite comics
Dynamite Entertainment
red sonja
Red Sonja & Vampirella meet Betty & Veronica
Vampirella