The Pull List – Bronze Age Boogie #5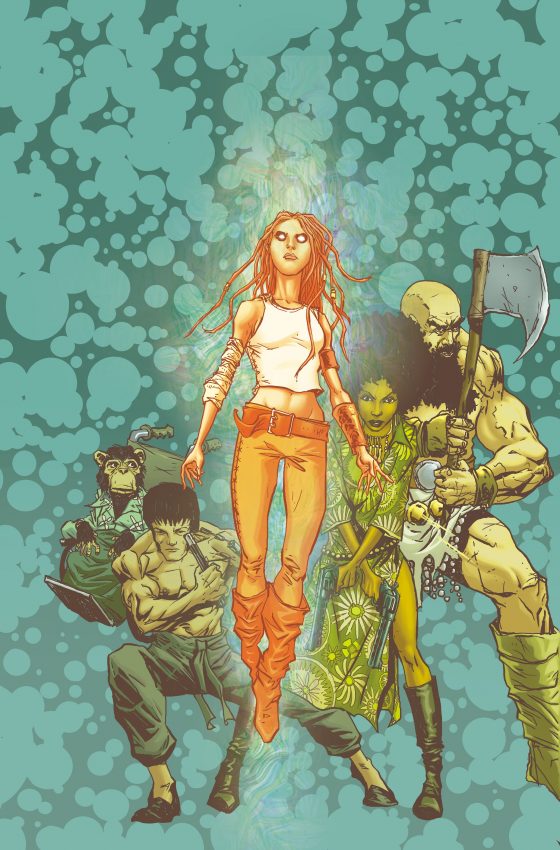 Barbarians, Martians and complex family relationships come pouring out of the pages in this issue of Bronze Age Boogie. The fight to stop Martians taken back to 1975 B.C in Bronze Age Boogie: Hard to be a Godd. King Domnall and his horde charge the Martian stronghold, hoping to end the alien invasion once and for all. Brita has been teleported away from the battle and meets a strange entity that claims to know how to stop the Martians. But will it be enough to stop the Martain mastermind? Also featured in this issue is a bonus secondary comics and a short story. Stuart Moore, Shawn Crystal, and Lee Loughridge present a comic about a tormented creature trying to figure out his own identity in Who is…The Moon Thing?  Kek-W and Max Keet tell a retro space adventure from a visionary future of 2010 in Beware the Chairmen of Altair-9.
Bronze Age Boogie: Hard to be a Godd brings the time-warped heroes to the past and discover shocking revelations. Li has been taken prisoner and it is revealed that his estranged father Thomas Eckhart, has been controlling the Martians. Eckhart has been warping throughout time to gather the resources possible to open a gateway and lead something terrifying to the planet. Meanwhile, Brita learns about the Martian's plans from Godd, an alien creature that has been watching the events unfold. Godd informs Brita about the gateway and how they must stop it, or else the timelines and the fate of the world are doomed.
With everything finally explained, the main characters must confront an evil that hits close to home. Thomas Eckhart's greedy path to world domination has thrown Earth into chaos, allowing for more sinister forces to be invited. Li is shocked to learn the truth about his father and struggles with his identity to the mad man. Eckhart is everything Li opposes and finds his will to stand against his father is slipping. This issue has some awesome action sequences, with barbarians tearing into Martians and excellent martial moves drawn by Alberto Ponticelli. The stage is set for a final confrontation and will see if this boogie ends on a high note.
Bronze Age Boogie #5 will be on sale on August 21st, 2019.
Bitten by a radioactive video store rental employee and overcome by Pac-Man fever, Chris seeks new comic books, games, and movies to review.
Ahoy Comics
Ahoy Comics Mag
Bronze Age Boogie
comics